Women News
All About Alicia Keys and Swizz Beatz' Son Who Has Exceptional Musical Talent
A crazy romance between singer Alicia Keys and rapper-producer Swizz Beatz led to their marriage and the birth of their first child – Egypt, who is brimming with musical talent.
In her new book "More Myself," the RnB musician has revealed never-before-seen details about her relationship with Swizz Beatz.
Their romance began when 14-year-old baby-faced Alicia Keys, born Alicia Augello-Cook, met her future husband Kasseem Dean, known professionally as Swizz Beatz, through a friend common in high school.
Alicia Keys and Swiss Beatz at the Met Gala 2022 in New York on May 02, 2022 | Source: Getty Images
Despite running in the same circles for years and crossing paths at award shows, Keys showed no interest in a relationship with him.
But everything changed when the two worked on a musical project; they spent more time together and got to know each other better. In her book, Keys writes that she realized there was more to him:
"The more we talked, the more I noticed how his mind worked. Beyond the baggy jeans and arm tattoos, there was depth. He was so aware of what was going on in the world.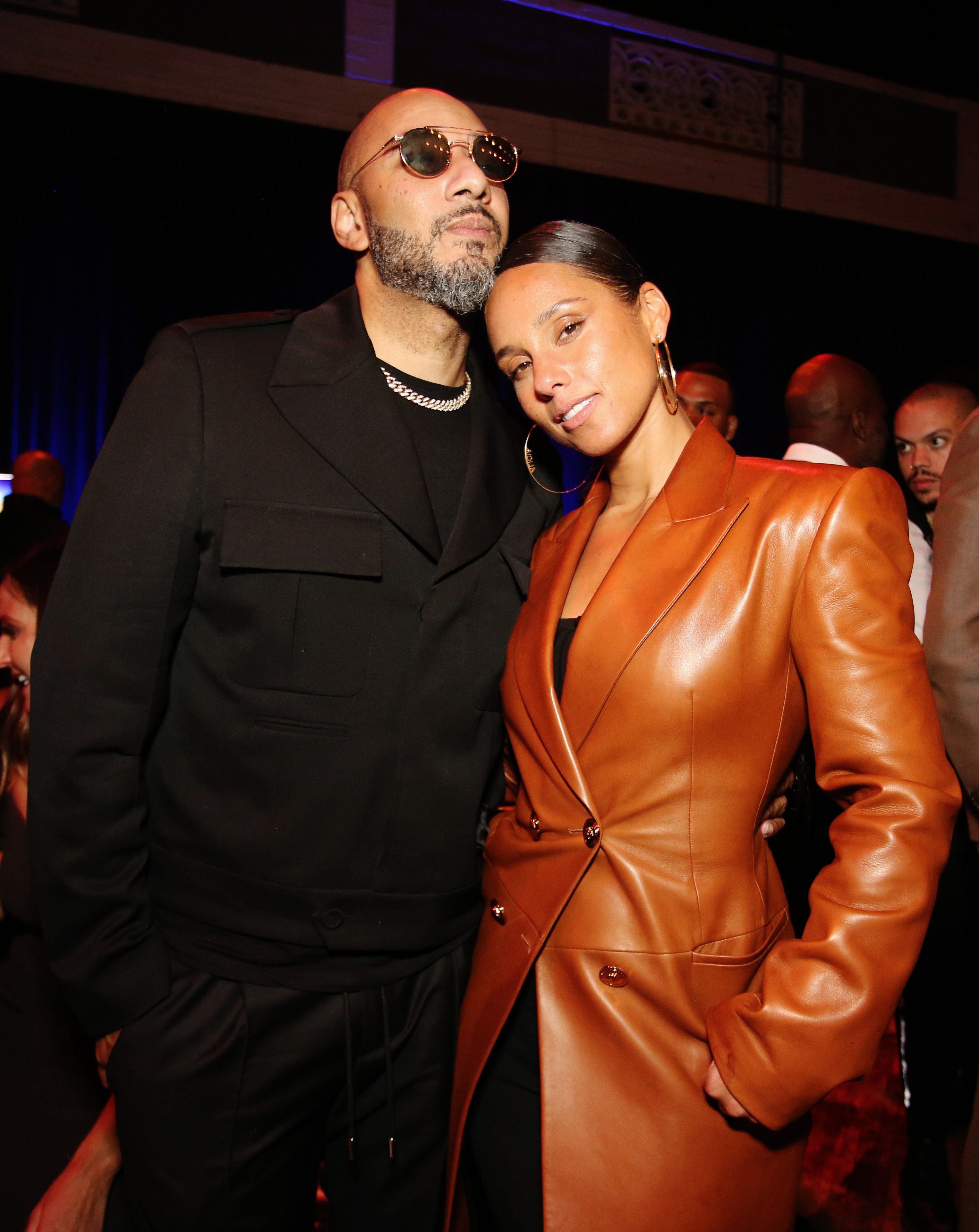 Swiss Beatz and Alicia Keys at a special screening of "The Harder They Fall" in California on October 13, 2021 | Source: Getty Images
Keys had planned their first date in midtown Manhattan, but he was running late! Luckily, she couldn't resist his humor and charm. After their date, Beatz gave her a painting of a piano.
The couple have been in love ever since. Swizz Beatz popped the question while on a romantic getaway to Hawaii in 2010, the same year they welcomed son Egypt.
ALICIA KEYS' SON, EGYPT IS A PIANO PRODIGY: EVERYTHING WE KNOW ABOUT HIM
In a statement to PEOPLE, Alicia and Beatz's rep confirmed that their son, Egypt Daoud Dean, was born on October 14 in New York City. Egypt is the couple's first child and Beatz's fourth.
Born of a singer mother and a rapper-producer father, little Egypt inherited the musical gene. Playing the piano since the age of four, he shows off his impressive skills in a Youtube video of him and his mother playing the piano.
Alicia was a proud mother when her 11-year-old son collaborated with her on her 'Keys' album. Gushing about her son, she broke down in tears watching him participate in the creative process of her music.
Praising him for his beautiful voice and musical abilities, Alicia shared that her son sometimes joins his parents on tours, jumping at any opportunity to play the drums or any other instrument. She says:
"When I hear him play, I definitely stop in my tracks… I listen to his chords and I listen to his choices. It's no surprise because he's always been connected to it.
Egypt made his musical debut when he collaborated with his mother on a version of "Somewhere Over the Rainbow", released on Apple Music.
Egypt also made his stage debut at a young age. During a clip from her documentary "Noted: Alicia Keys the Untold Story," the mother-son duo performed at the 2019 iHeartRadio Music Awards, where Egypt performed alongside her mother on the piano as she sang. Raise a Man".
Not usually one to be emotional, Keys shared that she was always in tears as she watched her son play:
"[But] you just get so sensitive [thinking] about how life goes on, and seeing him next to me and remembering that moment. That moment was his first time performing with me on stage, and I remember being completely absorbed in the fact that he was okay because I asked him to."
EGYPT'S YOUNGEST BROTHER WANTS TO GO ON STAGE TOO: GET TO KNOW GENESIS ALI DEAN
In 2014, Alicia and Beatz welcomed their second son together, Genesis Ali Dean. With a resemblance to her mother, Alicia revealed that Genesis was starting to like the stage as well.
The little boy keeps pestering the RnB star, asking him to join her on stage. And he finally did when Alicia performed at the Apollo Theater in New York on November 11, 2021.
amomama