Business
Breakdown of profits from JPMorgan, Citi and Big Bank
For the second straight quarter, the market reacted positively to Citigroup's C quarterly earnings report after showing its collective disappointment with what it saw from JPMorgan JPM. Citi's past underperformance is partly to blame for this divergence, reflecting persistent company-specific operational challenges that likely framed market expectations. That said, some parts of Citi's report were significantly better than what JPMorgan had published.
Citi easily beat the high and low estimates, unlike JPMorgan which missed both.
Both JPMorgan and Citi showed strength in Main Street banking, helping to partially offset weakness in Wall Street business.
The market knew that investment banking activities such as mergers and acquisitions, IPOs, etc. would be down in the second quarter, while trading activity would be above the level of the previous year. JPMorgan's investment banking revenue fell -54% in Q2, with Citi's revenue down -46%. On the trading front, JPMorgan's second-quarter trading revenue was up +15%, while Citi's was up +25%.
JPMorgan and Citi both showed positive momentum in their loan portfolios and net interest margins, with net interest income up sharply. Spending on Chase credit cards increased by +21% while Citi cards increased by +16%.
Mortgages fell across the board, due to rising interest rates. This impacted Wells Fargo WFC more than others given its position as the nation's largest mortgage lender. Mortgage originations fell -46% at JPMorgan and -36% at Wells.
Overall, second-quarter 2022 earnings for JPMorgan, Citi and Wells Fargo were down -27.6%, -22.9% and -48.4%, respectively, from the same period last year.
While weakness in investment banking and mortgages contributed to the sharp year-over-year declines, the main driver was loan loss provisions. Each of these three banks set aside small amounts under this heading in the second quarter of 2022, which compares to very large releases of reserves in the prior year period. Just to give you an example, Citi recorded $375 million in provisions in the second quarter of 2022 while it released $2.4 billion in the prior year period.
For the Zacks Major Banks sector, which includes Citi and JPMorgan and accounts for about 40% of total financial sector profits, total second-quarter profits are expected to fall -28.2% from the same period last year, with revenue up +2.1%.
Had it not been for the high reserve releases in the prior-year period, second-quarter earnings for the industry would have been essentially flat.
The table below shows the industry's expectations for earnings and revenue for the second quarter at the industry "average" level in the context of what space has reported in the prior period and what which is expected in the following quarter.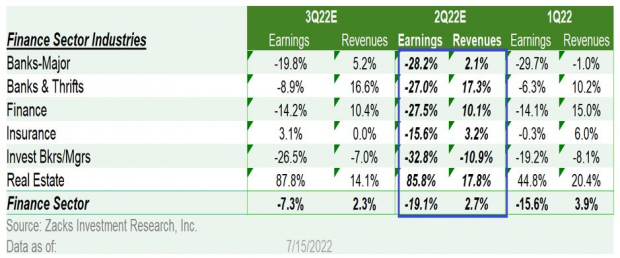 Image source: Zacks Investment Research
The chart below shows the year-to-date performance of Citi (green line, down -17.3%), JPMorgan (blue line, down -28.6%) and the index S&P 500 (red line, down -20.7%) in the year-to-date period.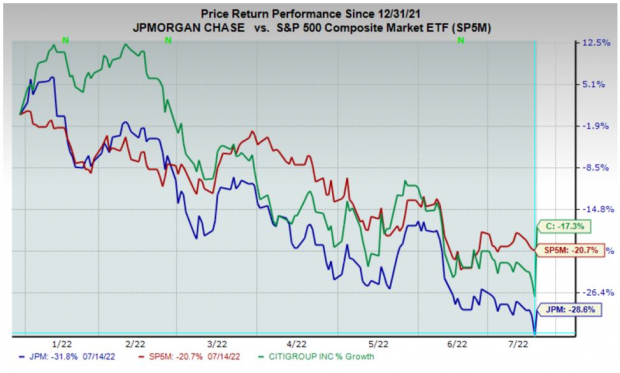 Image source: Zacks Investment Research
As you can see above, Citi shares have held up better this year, but the picture is dramatically different longer term, reflecting the stock's recent catch-up move.
Why the pessimistic sentiment on bank stocks?
Given the cyclical orientation of banking activity, they remain vulnerable to growing risks of recession for the economy. We don't think a recession is imminent, but we fear that a prolonged and aggressive Fed tightening cycle could push the US economy into recession. This risk manifests itself in the flattening of the yield curve, with the difference in yield (or spread) between 2- and 10-year Treasury bonds currently in an "inverted" form.
I won't repeat why yield curve inversions are scary things and why it is useful for all of us to keep an eye on the risk of such a development. But I want to stress here that I am sympathetic to the idea that the current yield curve and its signaling power on future economic growth may not be entirely comparable to historical periods due to the Fed's extraordinary QE policies since the global financial crisis. .
Regardless of this plausible but otherwise minority view of yield inversion, they are a net negative for growth prospects. This, combined with high oil prices and geopolitical uncertainty resulting from the war in Ukraine, seems to be weighing on banking stocks lately.
As is usually the case, the shift in sentiment towards banks has likely gone overboard as the economy remains strong even as recession risks have risen from very depressed levels.
We see bank stocks also being attractively positioned currently based on valuations, as seen in the chart below which shows the forward 12-month PE multiple for the Zacks Big Banks sector versus the S&P 500 index.


Image source: Zacks Investment Research
As you can see, the group is currently trading at 7.6X, which compares to a 10-year low of 7.3X in the immediate aftermath of the pandemic in March 2020. These valuation multiples only make sense if there is a recession on the horizon. .
Bank Revenue Dashboard
Turning to the sector's second quarter earnings season dashboard, we now have the results for 23.4% of the sector's market capitalization in the S&P 500 index. financial was down -27.9% compared to the same period last year, with revenue down -0.3%, with 54.5% beating EPS estimates and 45.5% beating estimates revenues.
This is a weaker performance than we have seen from this group of banks in other recent periods, as you can see in the comparison charts below which show how EPS and revenue beat Q2 percentages over other recent periods.


Image source: Zacks Investment Research
Next week will bring results from all regional banks in addition to Bank of America. Loan portfolio trends and cost prospects will likely determine the market's reaction to these results.
In addition to regional banks, we'll see a cross-section of earnings releases from other industries, airlines, rail operators and headline-grabbing operators like Netflix (NFLX), Tesla (TSLA) and Twitter (TWTR). ). In total, we'll see second-quarter results for more than 180 companies, including 71 members of the S&P 500.
Q2 earnings season dashboard
Until Friday July 15e, we have Q2 results for 35 S&P 500 members that together represent 13.3% of the index's market capitalization. Total earnings for these 35 companies were down -10.5% on revenue up +9.3%, with 68.6% beating EPS estimates and 62.9% beating revenue estimates.
The comparison charts below put the second quarter earnings and revenue growth rates for these index members in historical context.


Image source: Zacks Investment Research
The comparison charts below put Q2 EPS and revenue percentages in historical context.


Image source: Zacks Investment Research
It's probably premature to draw conclusions from this small financial-weighted sample, but it does give us a good idea of ​​the continued pressures on margins nonetheless. As you can see, the +9.3% year-over-year revenue growth for these companies was not enough to produce comparable earnings growth. Also, EPS and revenue percentages are low at this point.
The current earnings environment
The chart below shows current expectations (and actual numbers) on a quarterly basis.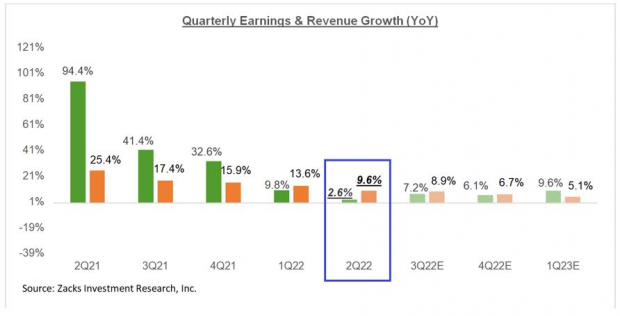 Image source: Zacks Investment Research
Please note that the +2.6% earnings growth expected in Q2 2022 is solely due to strong gains in the energy sector. Excluding energy, Q2 earnings growth fell to -5.7%.
The graph below presents the profit picture on an annual basis.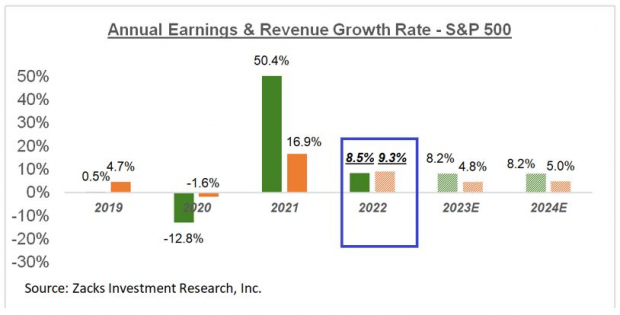 Image source: Zacks Investment Research
For a detailed look at the overall earnings picture, including expectations for future periods, please see our weekly earnings trends report. >>>>The 2nd quarter results season is launched
Zacks names 'only one best choice for doubling up'
From thousands of stocks, 5 Zacks experts have each picked their favorite to skyrocket by +100% or more in the coming months. Of these 5, Research Director Sheraz Mian selects one to have the most explosive advantage of all.
It's a little-known chemical company that's up 65% year-on-year, but still very cheap. With relentless demand, rising earnings estimates for 2022 and $1.5 billion for stock buybacks, retail investors could jump in at any moment.
This company could rival or surpass other recent Zacks stocks which are expected to double, such as Boston Beer Company which jumped +143.0% in just over 9 months and NVIDIA which jumped +175.9% in one. year.
Free: See our best stock and our 4 finalists >>
Click to get this free report
Wells Fargo & Company (WFC): Free Inventory Analysis Report
JPMorgan Chase & Co. (JPM): Free Stock Analysis Report
Citigroup Inc. (C): Free Stock Analysis Report
To read this article on Zacks.com, click here.
Zacks Investment Research
The views and opinions expressed herein are the views and opinions of the author and do not necessarily reflect those of Nasdaq, Inc.
nasdaq