Women News
Carole Rogers was born the daughter of Kenny Rogers, but another man was a father figure in her life
Carole Rogers was born to teenage parents who married shortly before her arrival. She is the first of Kenny Rogers' children, most of whom barely had a relationship with the late country singer. He attempted reconciliation in the 1970s; by then, Carole had a new father figure.
Carole Rogers' father, Kenny Rogers, had always been open about his relationship with his children – especially with her. He admitted to putting his musical ambitions above all else and to believing that time was on his side as he developed a relationship with his children.
However, as he took on more projects and his children grew up, the musician found he couldn't relate to them at all. Even in the early 2010s, Kenny said he wasn't in touch with his eldest. He thought things might have worked out with Carole's mother if it hadn't been for her maternal grandmother.
Kenny Rogers poses for a portrait in 1979 in Los Angeles, California | Source: Getty Images
The former couple had divorced a few years into their union, and Kenny was only allowed weekly visits due to their divorce agreement. Carole's mother remarried and the new man who entered their lives became Carole's father figure during Kenny's extended absence.
Carole was born following the first intimacy of her parents
Kenny and Janice Gordon had been friends for a while before they started dating. They conceived their only daughter on their first night of intimacy. Kenny was 19 at the time and he welcomed the prospect of being a father because he loved Janice.
However, Carole's grandparents begged not to agree, as they believed Kenny wanted to ruin their daughter's life. Still, Kenny and Janice married in 1958 and welcomed Carole on September 15 of that year. Unfortunately, their marriage did not last and they divorced two years later.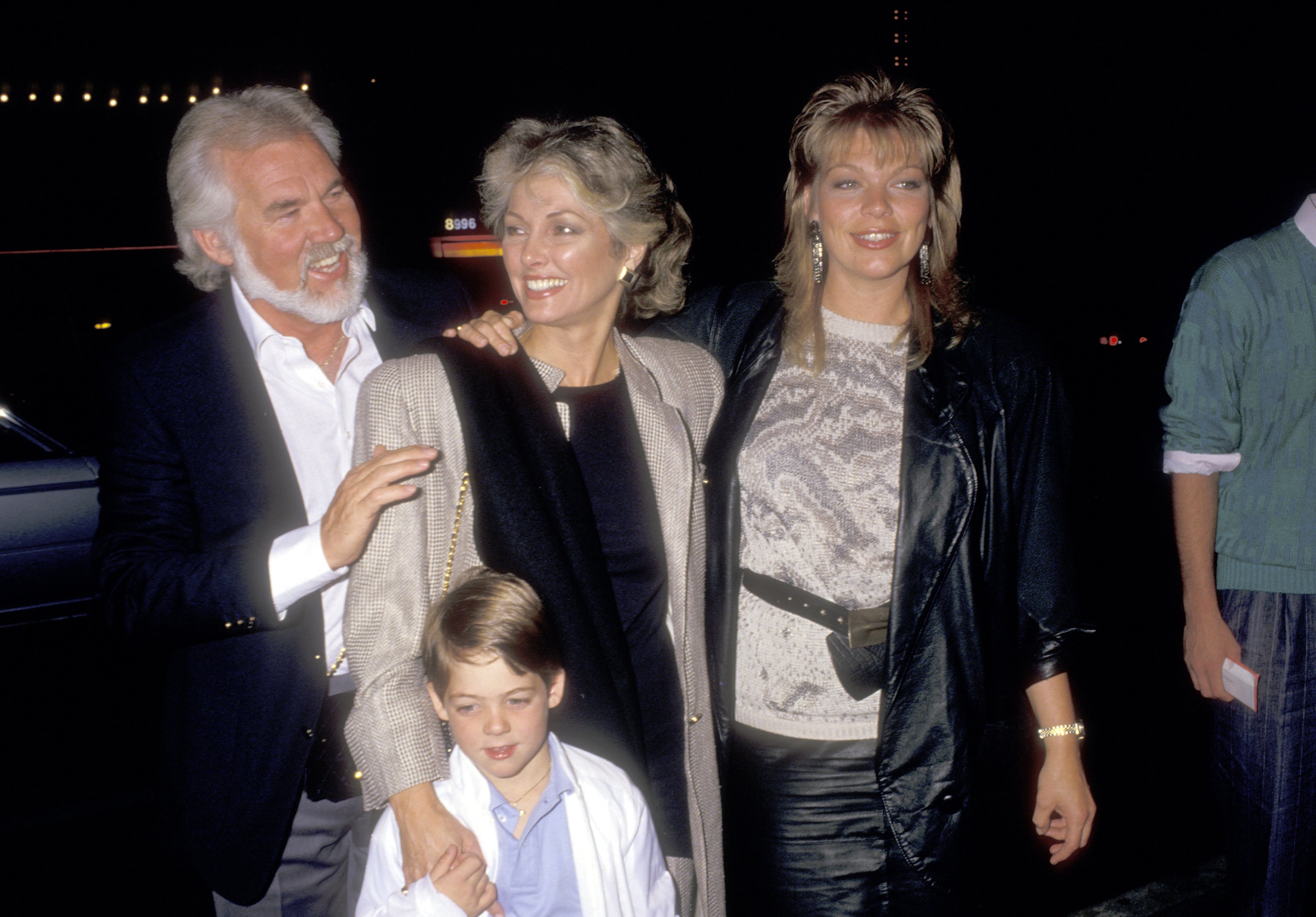 Kenny Rogers is pictured with his ex-wife Marianne Gordon, son Christopher Rogers and daughter Carole Rogers at the David Copperfield Magic Show on May 15, 1987 at the Pantages Theater in Hollywood, California | Source: Getty Images
Kenny believed in his romance with Janice and was saddened by her end. It was the first time he had fallen in love, and it was a connection that turned into a marital union. Janice left after Kenny and remarried a man whose name remains unknown.
Carole has rarely seen her famous father
After her parents divorced, her father was granted only weekly visitation rights, which lasted only two hours, regardless of the day chosen. In the 15 years that followed, Kenny only visited Carole once.
Her mother's second husband became her stepfather and her biological father had agreed to step back while Janice's husband took on the position of father figure in Carole's life. Kenny – who also remarried four times after Janice – was grateful to Carole's stepfather and even said he loved her.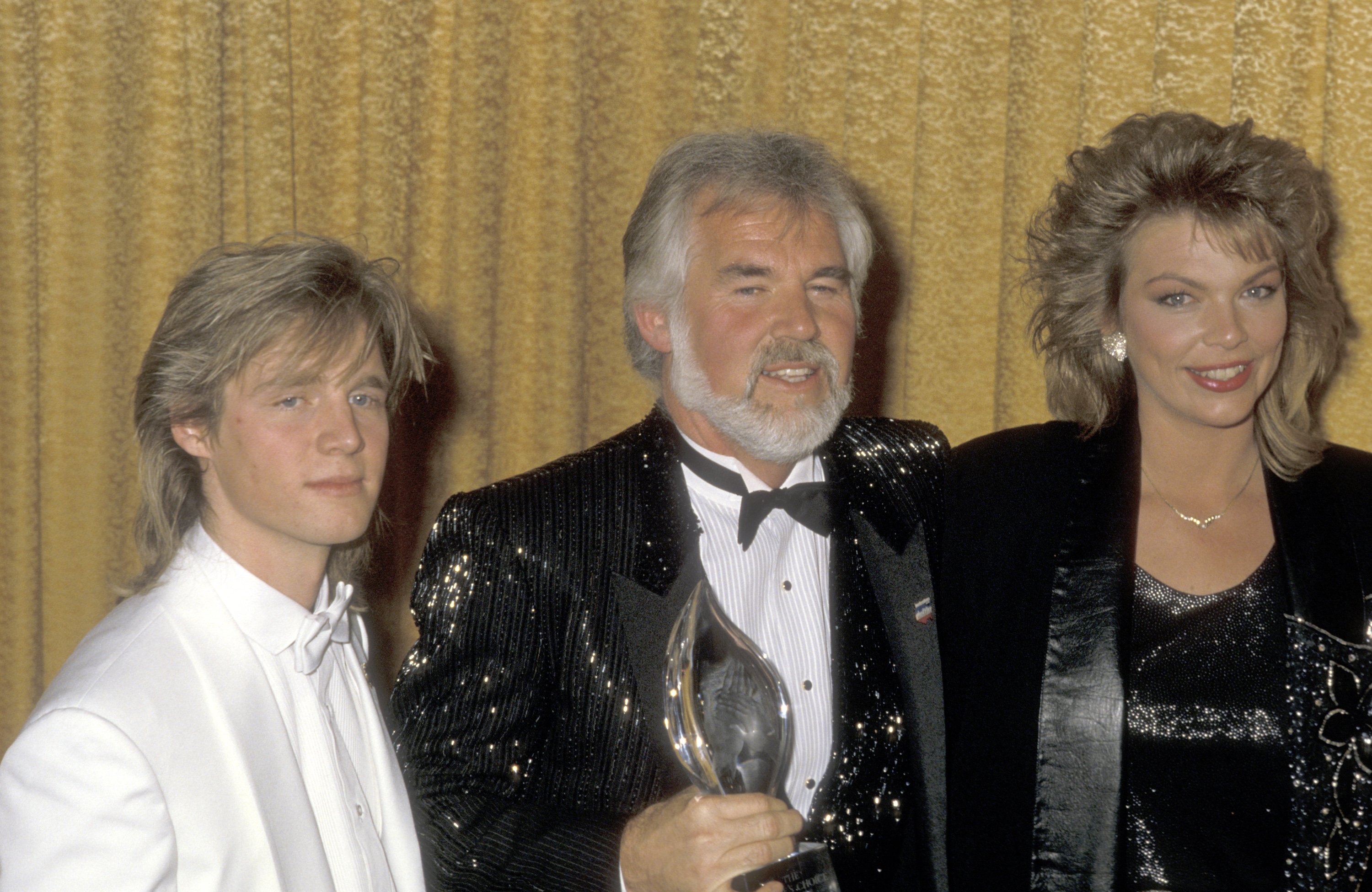 Kenny Rogers is pictured with his children, Kenny Rogers Jr. and Carole Rogers, at the 12th Annual People's Choice Awards on March 11, 1986 at the Santa Monica Civic Auditorium in Santa Monica, California | Source: Getty Images
He reportedly tried to reconcile his relationship with Carole in 1979 when he took her and Janice to Hawaii for a vacation. However, in 2012 he admitted that he had still not been in contact with Carole.
Still, it's unclear how their relationship fared between 1979 and that year. Carole's father took his last breath at the age of 81 in March 2020 due to natural causes. He is survived by his fifth wife, Wanda Miller, Carole and the rest of his siblings.
Carole is her father's eldest child.
Kenny – who had "tension" with Dolly Parton for years – welcomed his second child, son Kenny Rogers Jr., with his third wife, Margo Anderson. Kenny Jr. followed in his father's musical footsteps and became a composer.
Carole's second brother, Christopher Cody Rogers, was born from her father's fourth marriage to Marianne Gordon. Unlike Carole, Christopher was close with Kenny and appeared regularly on the country singer's Instagram page.
Her younger siblings, born to Wanda and Kenny in 2004, are Justin Charles and Jordan Edward Rogers. They also appeared regularly on their father's Instagram in sweet Father's Day and birthday tributes. Whether or not Carole has a relationship with any of her siblings remains to be seen.
amomama