Women News
Couple With 40-Year Age Gap Celebrate 17th Anniversary – People Say He Just Wants His Money
When a couple with a 40-year age gap got married, people gave them critical looks. Defying odds, they have been together for the past seventeen years, but some say the man married the woman, almost twice his age, for her money.
What do you think is the perfect age gap for a happy marriage? Or do you think age is just a number? Many people believe that age is an important factor to consider when choosing your partner. They might think that couples with larger age gaps have lower compatibility.
On the other hand, some people, like the couple in today's story, don't think age matters when it comes to finding your life partner. They believe that love knows no bounds and don't mind having an older spouse, even if they are almost twice their age.
Simon and Edna Martin. | Source: Facebook.com/This morning
LOVE AT FIRST SIGHT
Edna Martin, 87, met Simon Martin, 47, eighteen years ago and they fell in love at first sight. At that time, Simon was a 30-year-old man who had never had a romantic relationship with a girl. He lived with his parents and was a fan of organ music.
In 2003, Simon went to a concert and got there a bit late, so he decided to use the fire escape instead of the entrance. He did not know that his future wife would open the door to him. He remembers what happened when he saw Edna:
"She was standing there in a cute black suit, and she opened her arms. We literally fell into each other's arms."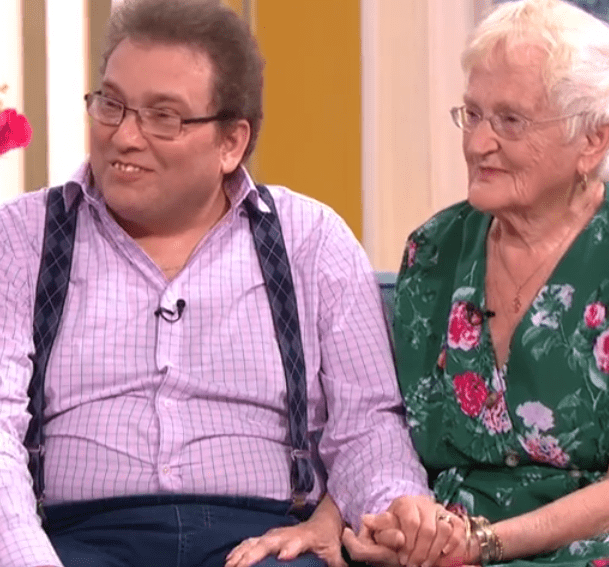 Simon and Edna Martin. | Source: Facebook.com/This morning
AN UNUSUAL COUPLE
Edna, a divorced woman, was in her 70s when she met Simon at the concert. At first they were in a long distance relationship because Simon lived in Birmingham, miles from Edna's home in Weston-super-Mare.
While Edna and Simon's families supported their decision, some people looked at them with raised eyebrows.
When Simon's parents found out who he was dating, they were shocked. They didn't understand why their son was interested in a woman who was almost twice his age. However, when they saw how happy he was with her, they let it go.
TIE KNOT
On the other hand, Edna's family has been supporting her since day one. She had grandchildren older than her boyfriend, but that didn't matter. When she told her children of her intention to marry Simon, they were happy for her.
On July 8, 2005, the couple married in an intimate ceremony. Edna's daughter baked a beautiful wedding cake while her long-awaited son, then 57, happily 'gave it away'.
While Edna and Simon's families supported their decision, some people looked at them with raised eyebrows. They couldn't understand why Edna and Simon chose to date, knowing that they had a 40-year age gap. Simon said:
"Our friends and acquaintances have always been happy for us, but of course we ignore any weird looks and comments."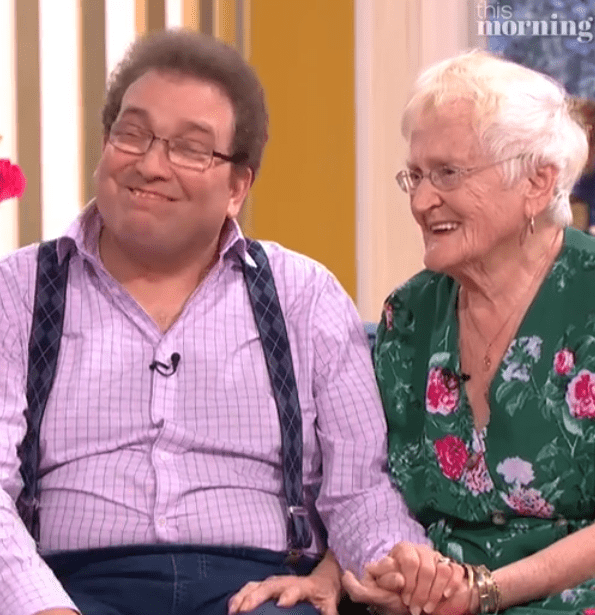 Simon and Edna Martin during an interview. | Source: Facebook.com/This morning
SOME PROBLEMS
For his love of organ music, Simon regularly visited several cities in the UK before his health affected his mobility. He stopped his regular tours due to diabetes and a kidney transplant. Additionally, he also suffered from dyslexia, dyspraxia, and Asperger's Syndrome.
During this time, Edna had to rely on a walking aid to get around, but it didn't affect their relationship. Instead, their bond has only grown stronger over the years. Edna said:
"Simon's had his health issues, and I'm getting older now, but do you know anyone who's getting younger?"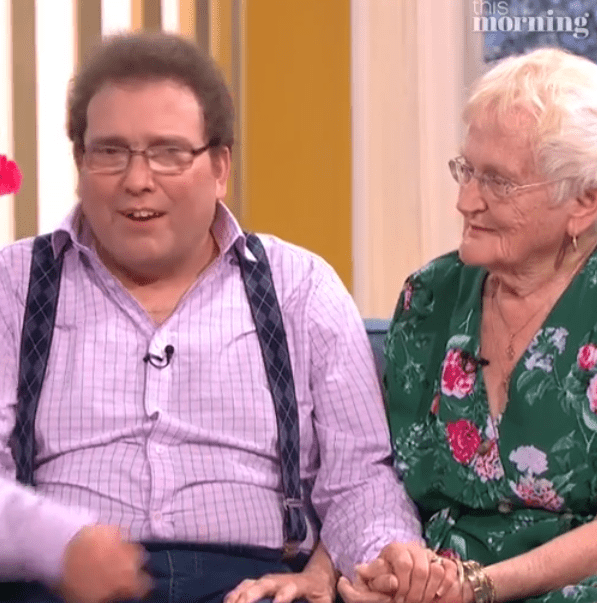 Simon and Edna Martin. | Source: Facebook.com/This morning
THEIR FAMILY
Edna had worked as an engineer before retiring and was previously in a 37-year relationship with her former partner. They had two children, Lorraine and Russell, who are cheering on their mother's new partner.
On Father's Day every year, Russell never forgets to send Simon a card. He sometimes calls him "dad" for fun and laughs and respects him because he makes Edna happy. When she fell in love with Simon, she was sure she didn't want to let him go.
However, when it came to starting their family, Edna and Simon knew they couldn't have children. Edna said she asked Simon to leave because he wouldn't have children with her, but he chose to stay. Simon said:
"I have physical disabilities, which means my body has aged faster than someone else my age, so I'll probably have a shorter lifespan. We'll keep going for as long as we can."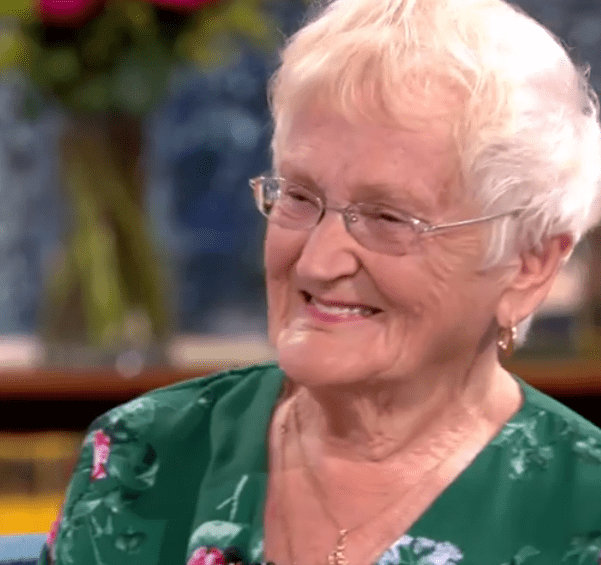 Edna Martin. | Source: Facebook.com/This morning
THEIR BIGGEST SECRET
Whenever the couple met new people, they always heard the same question: what is your secret to a successful marriage? People wondered what kept Edna and Simon together despite their 40-year age gap.
Their biggest secret was to show affection and go on an adventure. Edna and Simon have never been shy about being affectionate in public. They loved holding hands while strolling the streets and exchanging romantic gestures in supermarkets. Simon said:
"It's very rare to see a couple of any age giving each other a loving kiss or showing their affection."
THEIR WEDDING ANNIVERSARY
Edna and Simon had inspired other couples with age gaps to get married. They also felt that people needed to publicly express their love for their partners. In July 2022, the couple celebrated their seventeenth wedding anniversary.
The couple wore their best outfits to a local fish and chip restaurant to celebrate their love. As people watched them, they exchanged gifts. Edna gave Simon a couple's bracelet and he bought her a pair of delicate crystal earrings. Simon said:
"Love is love, and everyone should ignore what other people say. Age is a state of mind. If you feel old, you're old."
CRITICISM AND SUPPORT
When Edna and Simon's unique love story surfaced on the internet, people felt the need to voice their opinions. They posted all kinds of comments for the couple. Here are some excerpts from the DailyMail Facebook post:
"It's for permanent immigration residency, now I'm waiting for the money when the spinster dies."

― (@Patricia McDaniel) August 16, 2022
"The things some people do for money."

― (@Leo Nikolovski) August 16, 2022
"She may have a lot of money, and he is loved by other Yang women."

― (@Adriana Maria Hourani) August 16, 2022
"In fact, they live near me and are very happy together. It's NOT about the money AT ALL!"

― (@Susan Campbell) August 16, 2022
"Who cares? They're both adults. Let them be happy and stop judging them. Some comments here are so hateful as if some of you were perfect."

― (@Ronnette Jojo KM) August 16, 2022
Edna and Simon's unique love story teaches us that love knows no age. When they got married, people thought Simon did it for Edna's wealth, but he proved everyone wrong. They share a romantic relationship that is unaffected by their age difference.
Share this story with your friends and family to tell them about this unique couple. We don't witness such incredible love stories every day.
Click here to read another story about a couple who reunited after twenty years without contact. They had no idea that fate would bring them together one day after their painful separation.
amomama