Women News
Denise Austin and her husband Jeff Austin saw each other every day after their first date
It was love at first sight for Denise and Jeff Austin, who met in the early 1980s. The couple has kept their union strong, having spent almost every day together since their first date. They welcomed two daughters, one of whom followed in her mother's footsteps in a "full circle moment".
Fitness enthusiast and instructor, Denise Austin became famous for her VHS and DVD workout videos. Adding to that legacy, she served two terms on what became the President's Fitness and Sports Council. She also helped launch the Food Pyramid guide in the United States.
Although her fitness instruction videos have become less popular over the years, Denise has continued to navigate the fitness industry, encouraging people of all ages to stay active, including her children. She even led an aerobics session in high heels at her wedding reception!
Jeff Austin and Denise Austin pose on the red carpet for the 2019 ESPYs at Microsoft Theater on July 10, 2019 in Los Angeles, California | Source: Source: Getty Images
As Denise's success grew, so did her relationship with her husband, Jeff Austin. When they met, Denise was still called Katniche, an uncommon surname – or so Jeff thought. They found they had a lot in common and believed strongly in staying positive and winning each other's love for the sake of their relationship.
Almost 40 years of a happy marriage
During a 2012 interview with The New York Times, Denise and Jeff opened up about their marriage. They were married on April 30, 1983, at Holy Trinity Catholic Church in Palos Verdes, and while Denise recalled having the best time of her life on their big day, Jeff joked that he didn't remember nothing about their marriage.
They had planned an outdoor reception with no contingencies of rain when it started; however, as Jeff pointed out, it seemed like fate was in their favor. There were heavy showers the morning and evening of their nuptials, but there were clear skies during the festivities.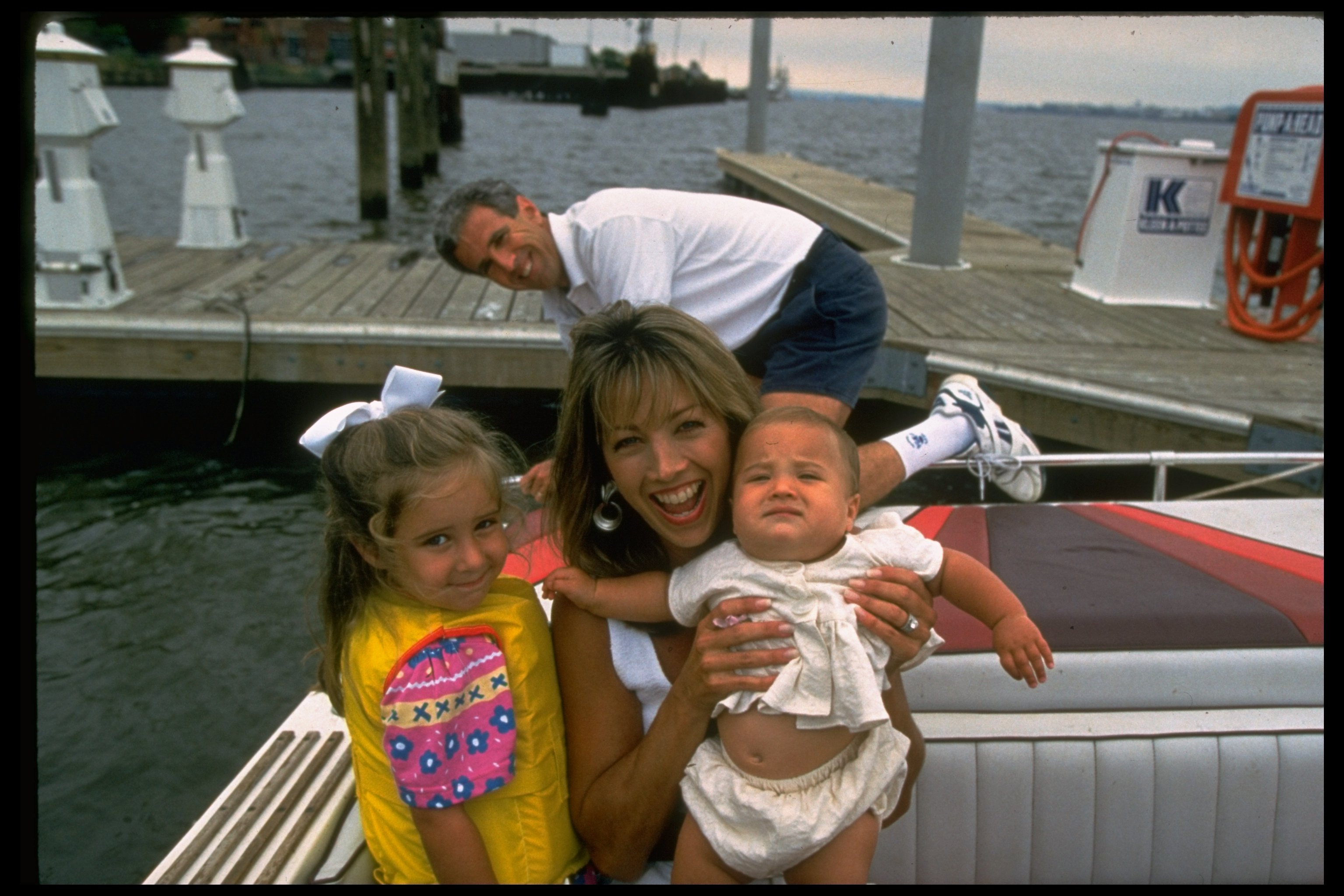 Denise Austin and Jeff Austin with their daughters Kelly, 3, and Katie, 7 months, aboard their 24-foot powerboat on June 3, 1992, in Potomac River, N. Virginia | Source: Getty Images
Jeff thought that was a good omen, but joked that it indicated they needed better planning skills. When asked what was the best thing about being married to Denise, Jeff expressed his admiration for her ability to have fun, her joy and her hard work ethic.
He thought those traits were a "good combination" and added that their similar interests in politics, religion and sport added to their compatibility. When the question turned to Denise, she said Jeff had the best sense of humor and made her laugh even when they didn't get along.
She thought he was a wonderful father because he always put their family first. Denise also admired Jeff's character and integrity. She said she craved him even when she was only a few days out of town.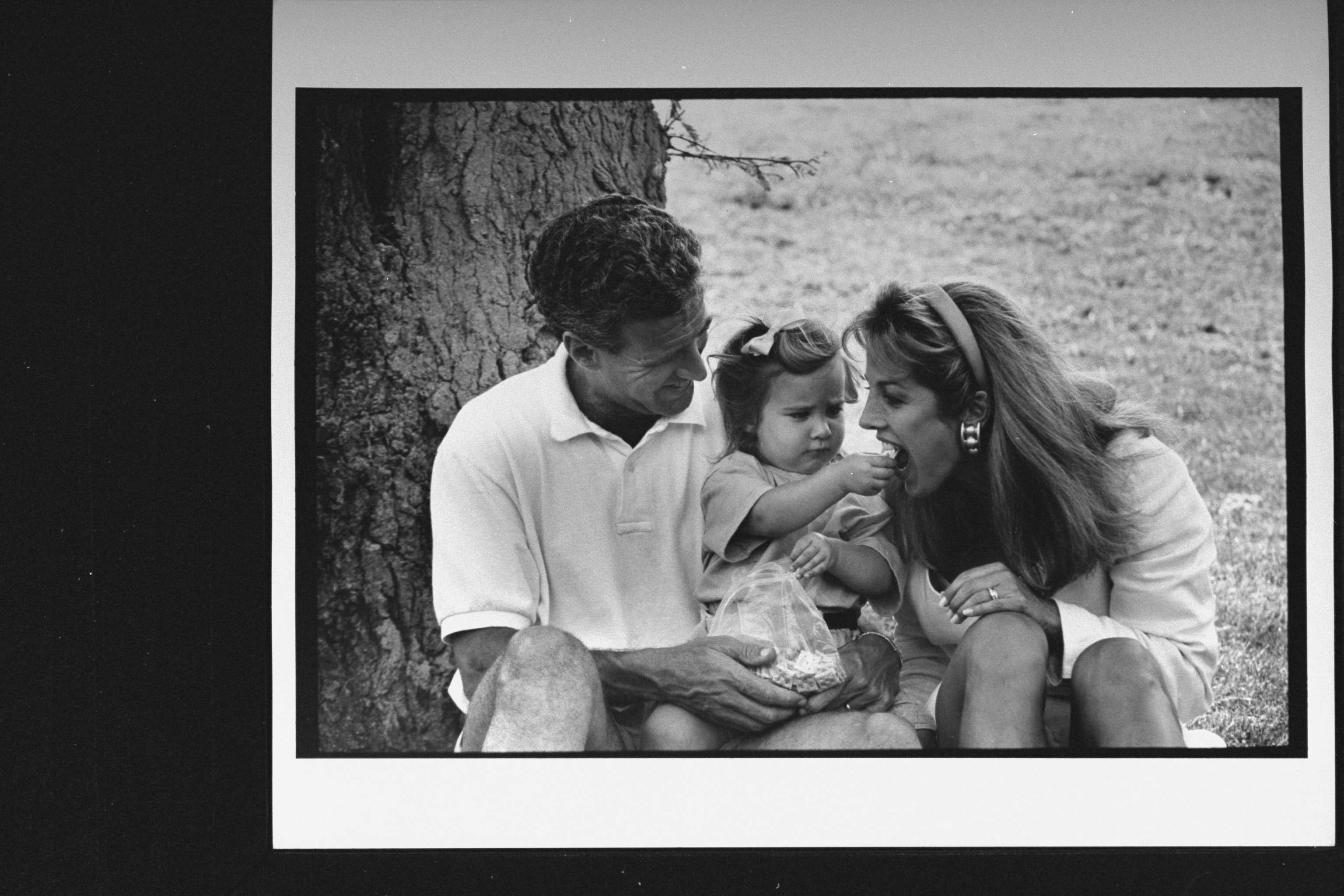 Denise Austin and Jeff Austin are pictured with their 21-month-old daughter, Kelly, who feeds her mother a biscuit as she sat under a tree in a park near their home, June 3, 1992 | Source: Getty Images
Their first date was before Thanksgiving
The couple met at a tennis club in Torrance, California, a few days before Thanksgiving in 1981. Denise was the club's new aerobics director, where Jeff helped his sister, Tracy – a tennis star like the daughters of Richard Williams, Serena and Venus Williams – train.
They were all introduced by the club's general manager and went their separate ways soon after. After Jeff and Tracy finished training, Tracy encouraged her brother to talk to Denise. Jeff heeded his sister's advice and said he was "immediately smitten".
From their first meeting, Jeff remembered Denise's maiden name, Katniche, and thought there probably weren't many Katniches in San Pedro. To his surprise, he found 12 when he checked the directory. He turned to the general manager to ask for Denise's number.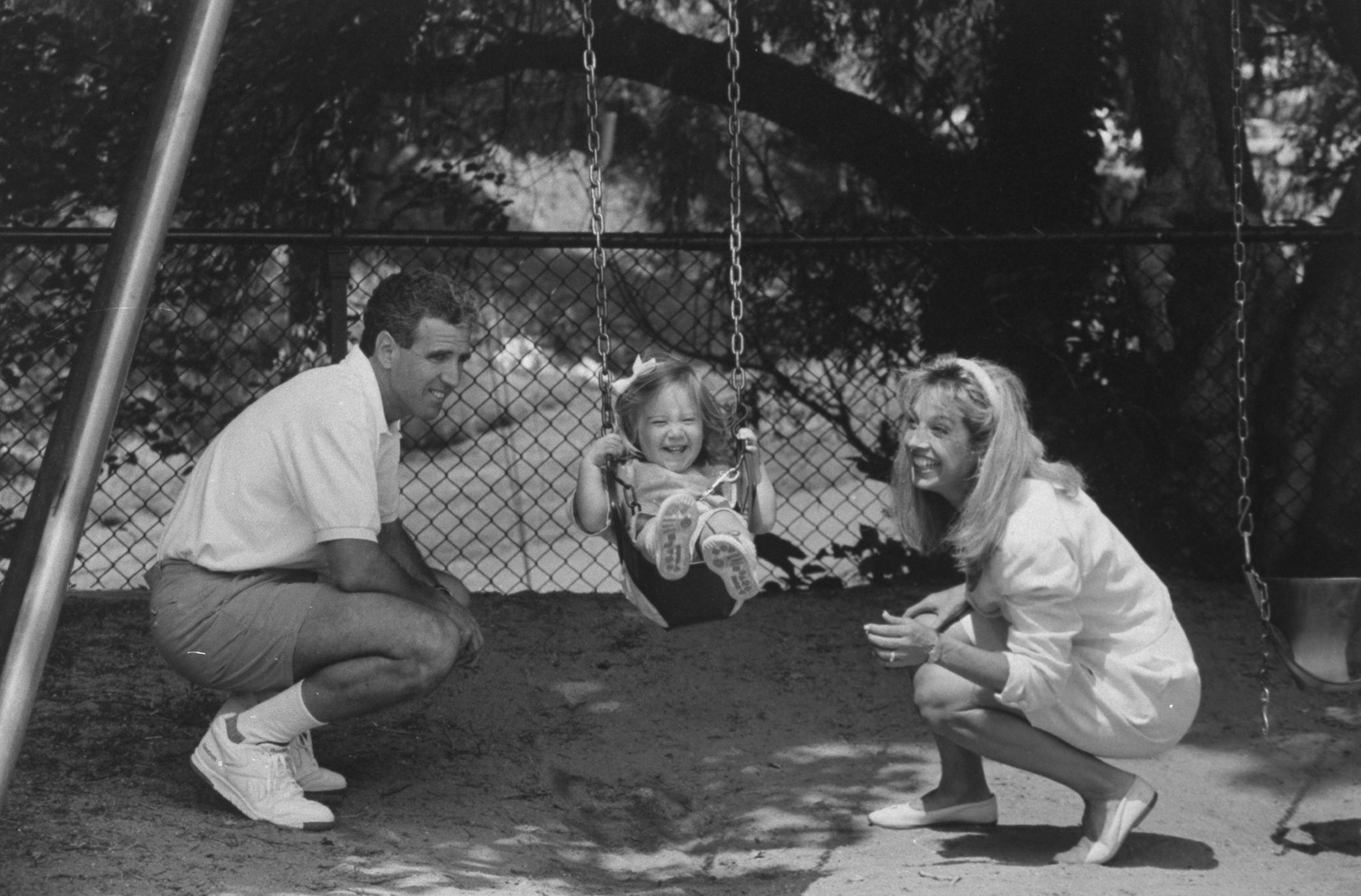 Denise Austin, Jeff Austin and their 21-month-old daughter, Kelly, on a swing in a park near their home, June 3, 1992 | Source: Getty Images
The general manager initially refused until, presumably, he moved. Jeff and Denise went on their first date the Wednesday before Thanksgiving at a restaurant, where they played backgammon.
Confident that she wouldn't lose, Denise determined the rules of the game. She said whoever lost a game should have a shot of tequila. Jeff lost the first two rounds, but Denise lost the third, and that's when she started falling back, as her husband recalled:
"Then she lost and said, 'I don't want to take a chance.' I asked, "How come? You invented this game." And she said, 'I didn't think I would lose!' I found it charming… and then we saw each other every day."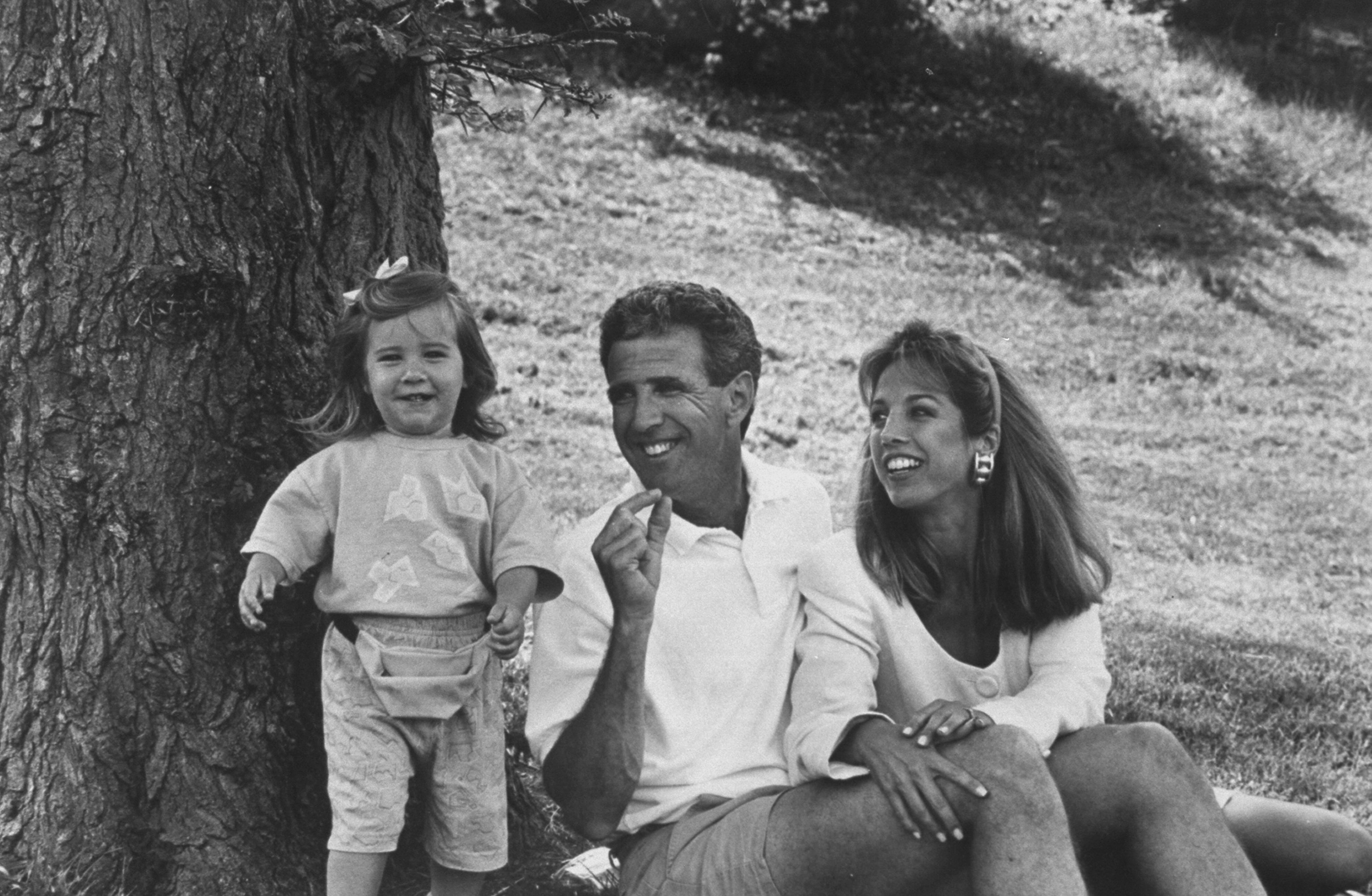 Denise Austin and Jeff Austin are pictured with their 21-month-old daughter, Kelly, sitting under a tree in a park near their home, June 3, 1992 | Source: Source: Getty Images
Denise is her daughter's inspiration
One of Denise's daughters, Katie Austin, is a model who recently performed at the Sports Illustrated Runway Show in Miami Beach during Miami Swim Week. She proudly graced the stage alongside her mother in what she called a "full loop moment" as she raved:
"My mother is my inspiration for everything. She is my biggest supporter, mentor and best friend who strongly encouraged me to do Sports Illustrated Swimsuit, so the fact that I can walk with her in the show is a full circle moment. ."
The pair were the first mother-daughter duo to parade for Sports Illustrated Swimsuit, and Denise couldn't have been more proud of Katie. With an impressive, well-groomed physique, she also wanted to encourage women over 50 to feel confident with a healthier lifestyle.
amomama