Women News
Diana fled after facing the 'overwhelming force of Anne's contempt' as she tried to talk to her, book claims
The story of Princess Diana's struggle to fit into the royal family is probably one of the best known in the world. Diana even sought advice from members of the royal family but was snubbed.
It is well known around the world that Diana had many struggles within the royal family. She was in a difficult marriage; she found royal life difficult, and she had mental and physical health issues that she struggled to manage.
During Princess Diana's time in the royal family, she struggled to juggle royal duties, being the mother of two princes and trying to keep up with her mental health. She was in so much pain that she went to Princess Anne for advice.
Diana, Princess of Wales, sitting on a step at her home, Highgrove House, in Doughton, Gloucestershire, July 18, 1986 | Source: Getty Images
At the time, Princess Diana was married to Princess Anne's brother, and because of this, she may have become Anne's queen one day. However, Anne struggled to treat Diana with the respect she deserved.
Diana did her best to befriend her sister-in-law during her early years in the royal family so she could have someone to talk to and lean on. However, Anne made it clear from the start that she was indifferent to Diana.
Diana, Princess of Wales wears an outfit in the colors of Canada during a State visit to Edmonton, Alberta with her husband. July 29, 1983 | Source: Getty Images
It became well known that Princess Anne disliked Diana, despite Diana's best efforts to strike up a friendship with the woman. Sources close to the family said:
"Anne was indifferent to Diana from the very beginning. She treated the woman, who by marriage to her older brother might have become his queen, with scathing disdain."
The reason Princess Anne didn't think highly of Diana was because of the way she carried out her royal duties. Anne had a more traditional approach to her duties and disagreed with all the media coverage Diana received.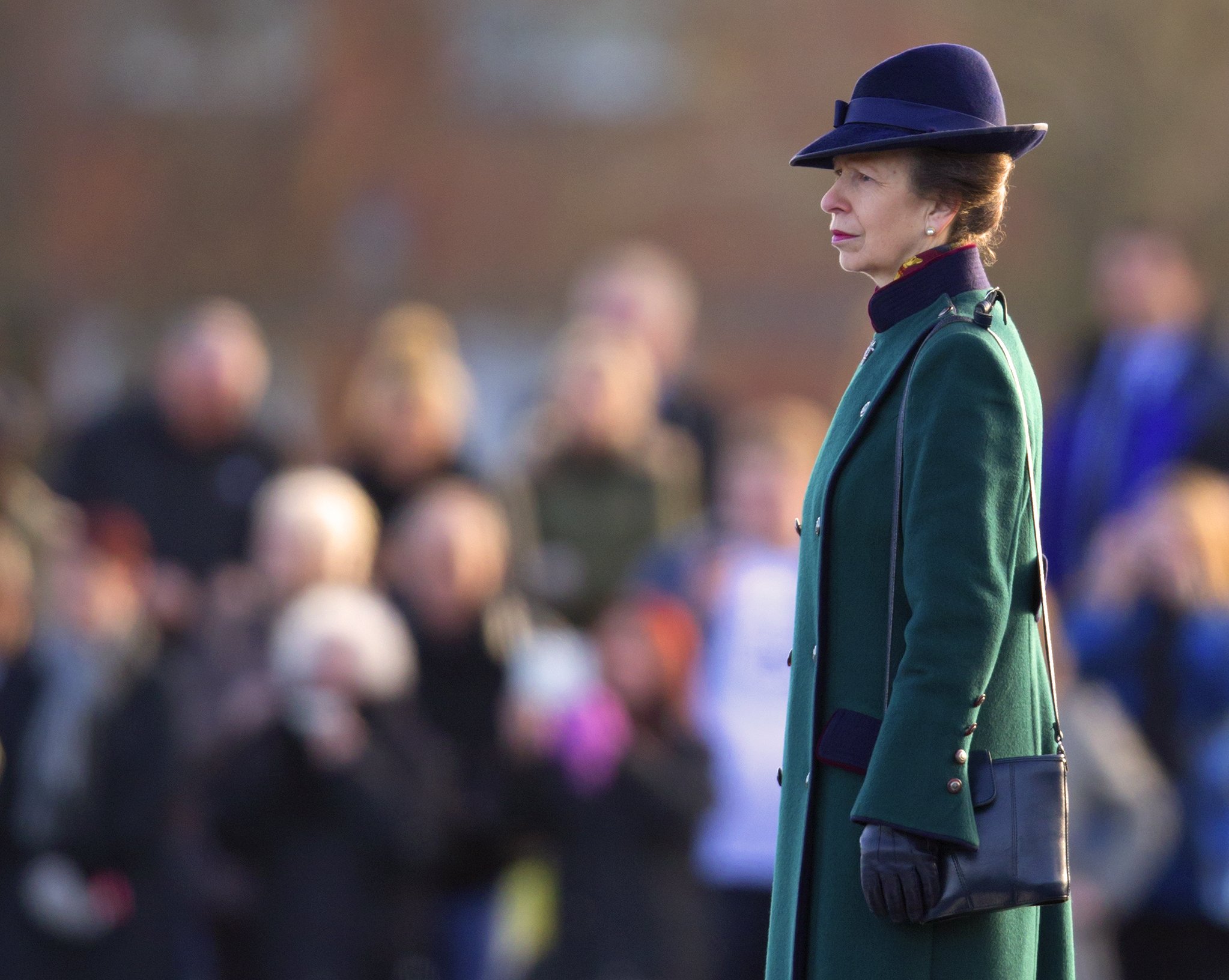 Princess Anne, The Princess Royal (in her role as Colonel-in-Chief of the King's Royal Hussars) takes the salute after presenting the Afghanistan Operational Service Medals to soldiers of the King's Royal Hussars at Aliwal Barracks on December 04, 2012 in Tidworth, England | Source: Getty Images
While Anne was always open about the contempt she had for Diana, the People's Princess took a more gracious approach and denied any bad feelings between the two.
Anne was less comfortable with the media, and so her side was told through the help of advisers and relatives. However, Diana was happy to tell the public about her life.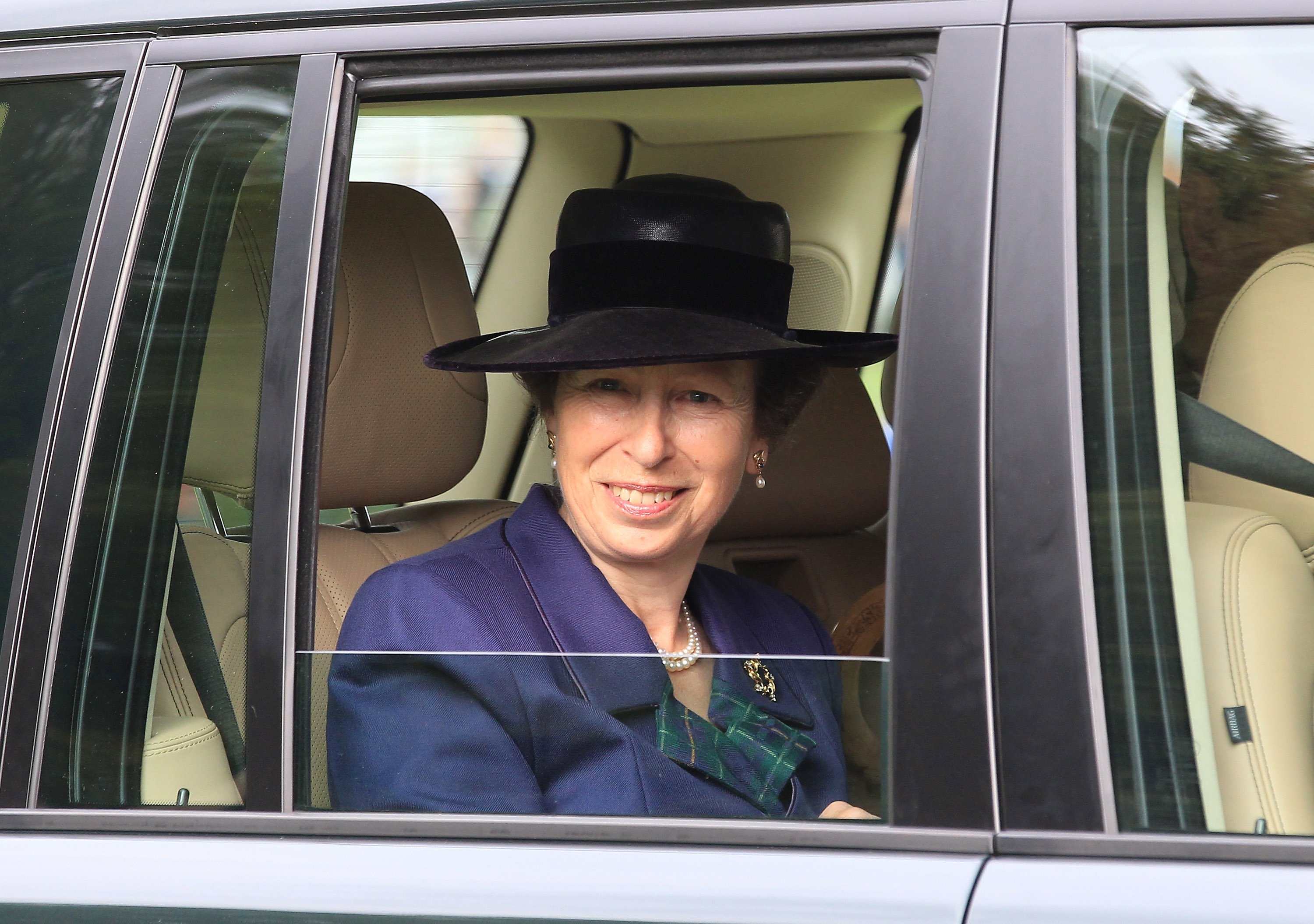 Princess Anne, The Princess Royal looks out of a car window as she leaves the Braemar Highland Games at the Princess Royal and Duke of Fife Memorial Park on September 4, 2010 in Braemar, Scotland | Source: Getty Images
When Diana was asked about her relationship with her sister-in-law, although she didn't speak of her with affection, she spoke with respect. Diana shared:
"Princess Anne has worked incredibly hard for the Save the Children Fund, and I am her biggest fan because of what she did in a day that I could never accomplish."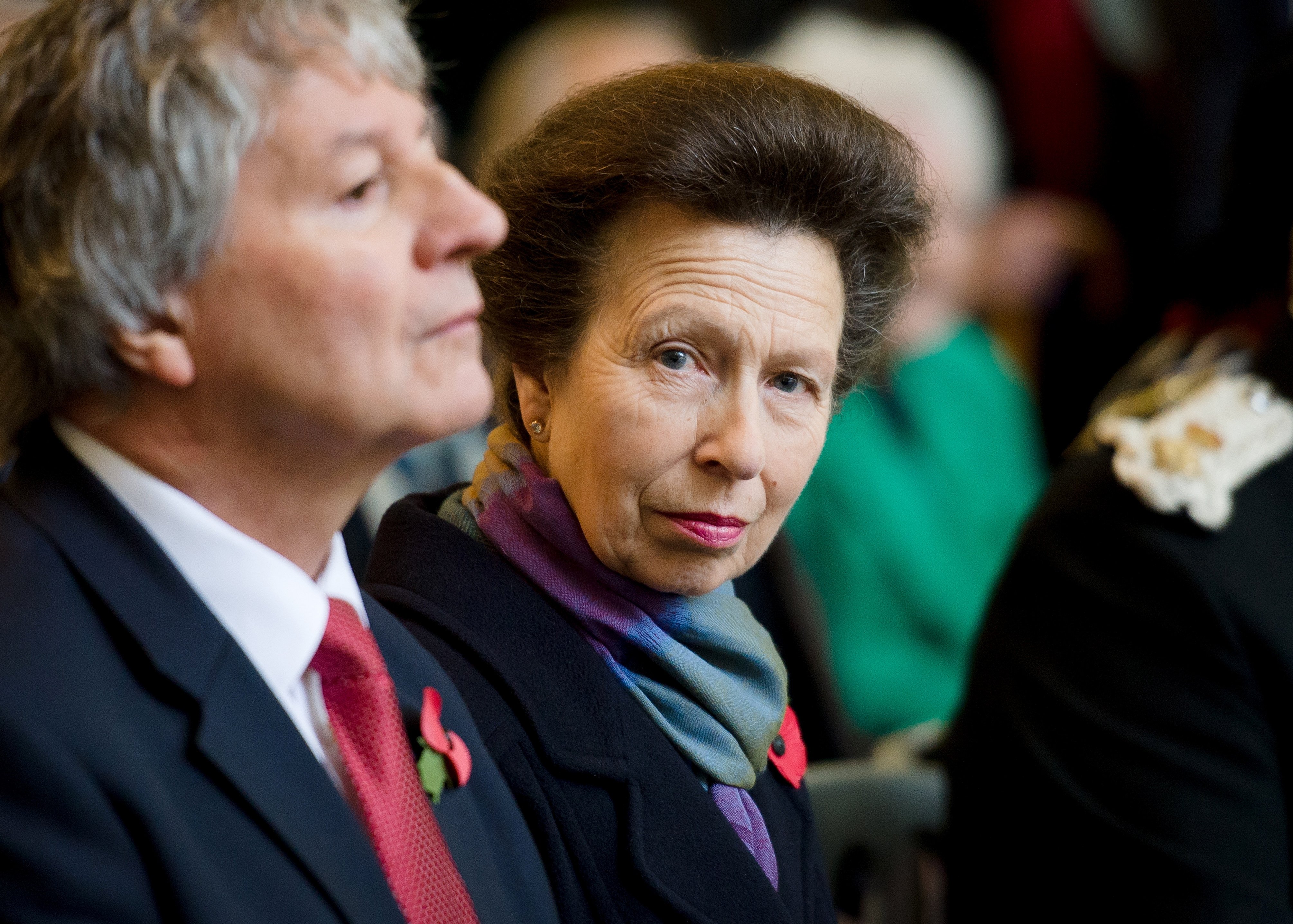 Britain's Princess Anne listens to a speech after unveiling a statue of Noor Inayat Khan during a ceremony in Gordon Square Gardens, central London on November 8, 2012 in London, England | Source: Getty Images
Diana's statement led people to believe that there may not have been a feud between the sisters-in-law and that everything seen in the news was somewhat inaccurate.
ANNE AND DIANA HAD A DIFFICULT TALK
One day, when Diana was feeling particularly depressed, she decided she would seek comfort from her sister-in-law. When Diana, who had not yet married Prince Charles, arrived at Princess Anne's house, she made a deep bow.
Instead of getting the comfort she so desperately sought from her sister-in-law, what Diana got was a cold shoulder and felt bad after the interaction that took place in the princess's children's room. Anna.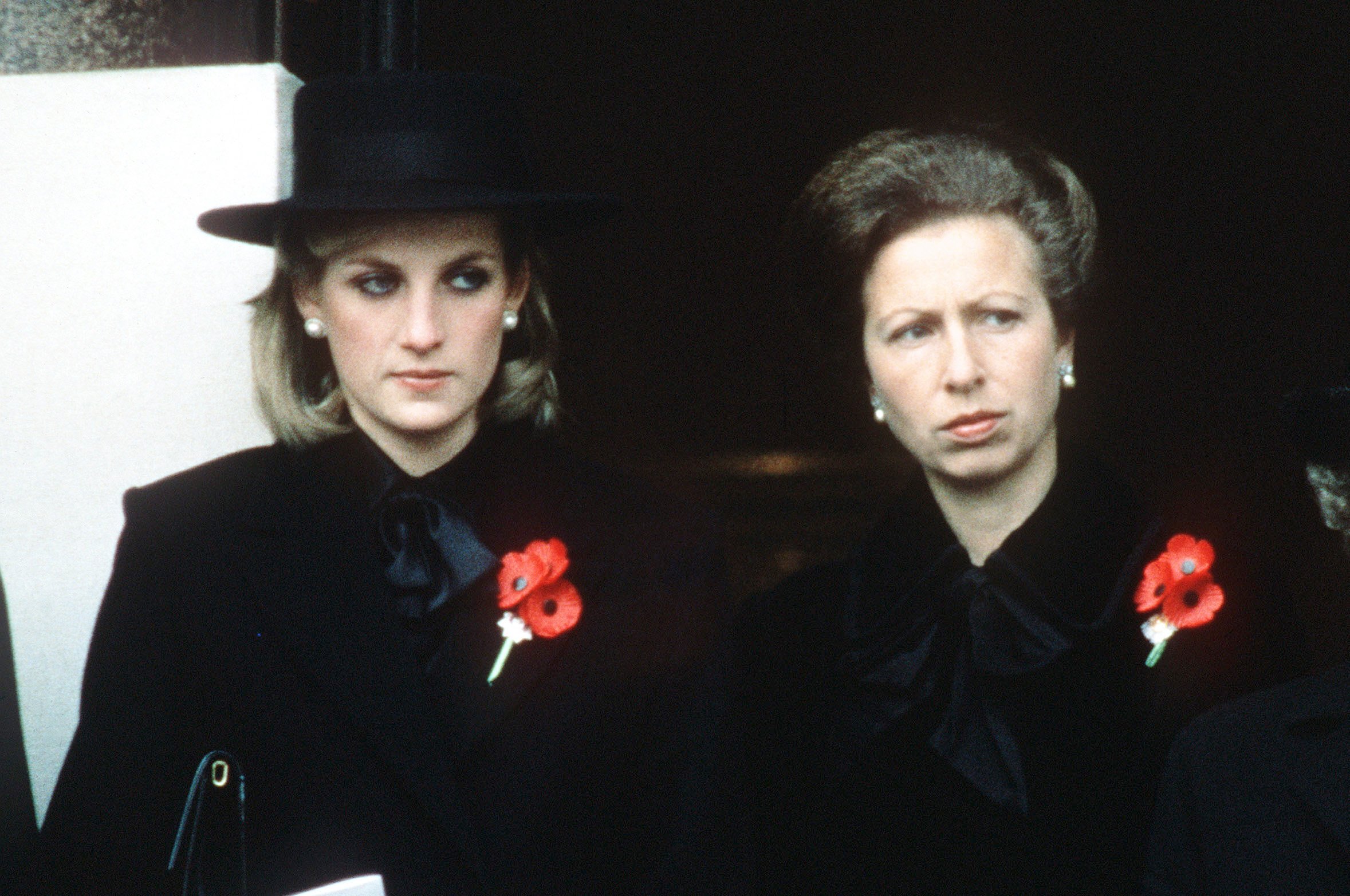 Princess Diana, Princess of Wales, and her sister-in-law Princess Anne attend the Remembrance Ceremony at the Cenotaph in London in November 1984 | Source: Getty Images
The bow was a mark of respect from Diana, who was still a lady at the time. However, Anne saw a pretense in it and looked at Diana without saying a word. This upset Diana so much that she fled the room.
Anne was in the bedroom with her children, and Diana wanted to talk to her about what was bothering her. Yet, she ran out of the room because of the expression of contempt that splattered Anne's face.
Sources close to the family said that when Anne looked at Diana, it was as if she were looking right through her, and Diana could not bear to be met with contempt from her sister-in-law.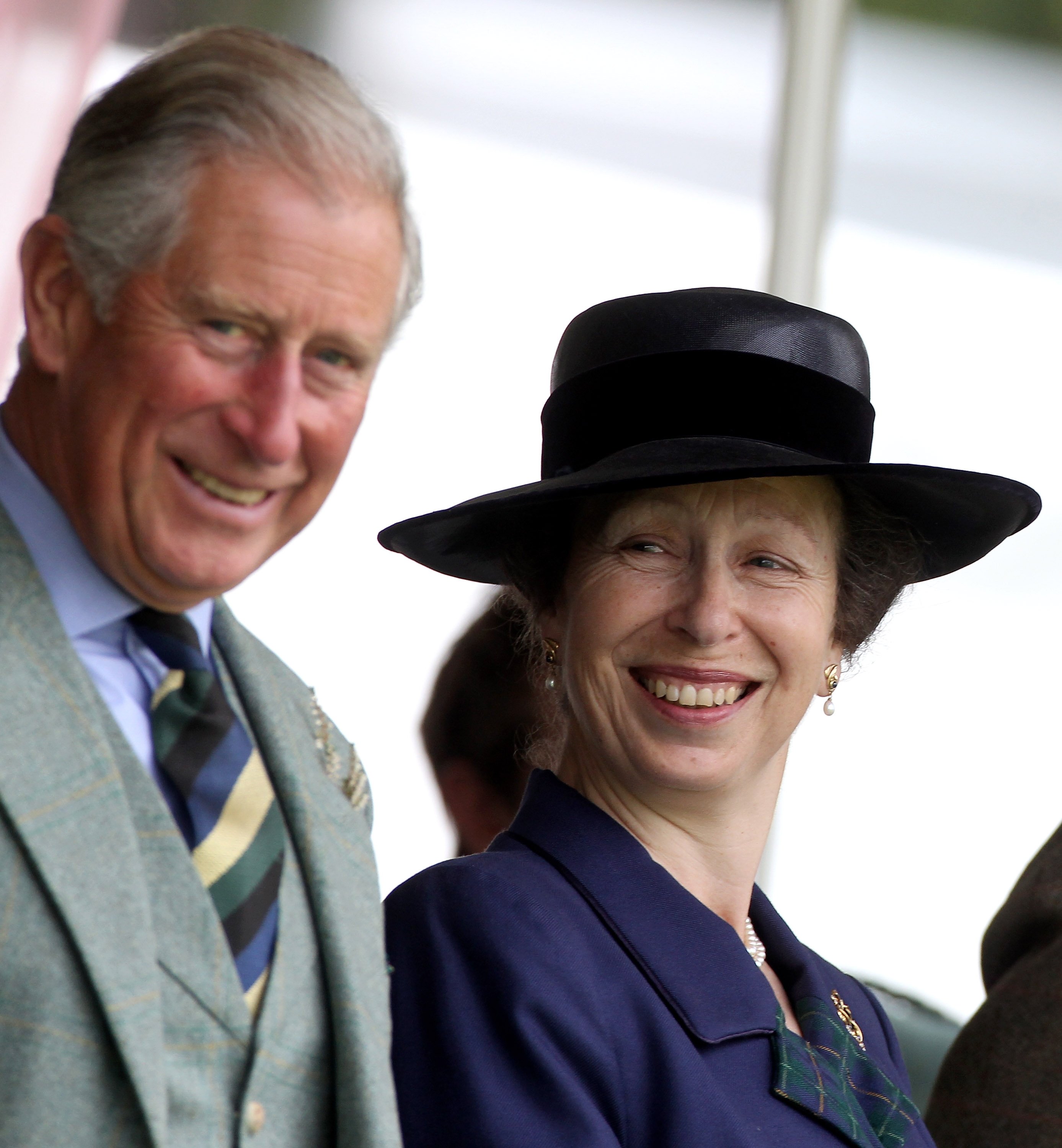 Prince Charles, Prince of Wales and Princess Anne, Princess Royal laugh in the royal box during the Braemar Highland Games at the Princess Royal and Duke of Fife Memorial Park on September 4, 2010 in Braemar, Scotland | Source: Getty Images
This was another instance in which fans assumed there was a feud between the sisters-in-law and sympathized with Diana because she couldn't ask for help in any corner of her life. This was made evident that day in Princess Anne's children's room.
PRINCESS ANNE DID NOT ATTEND PRINCE HARRY'S CHRISTMAS
Although it is difficult for the whole royal family to be seen together often due to the size of the family, there are occasions when each member is present. These events are those like weddings, funerals and baptisms.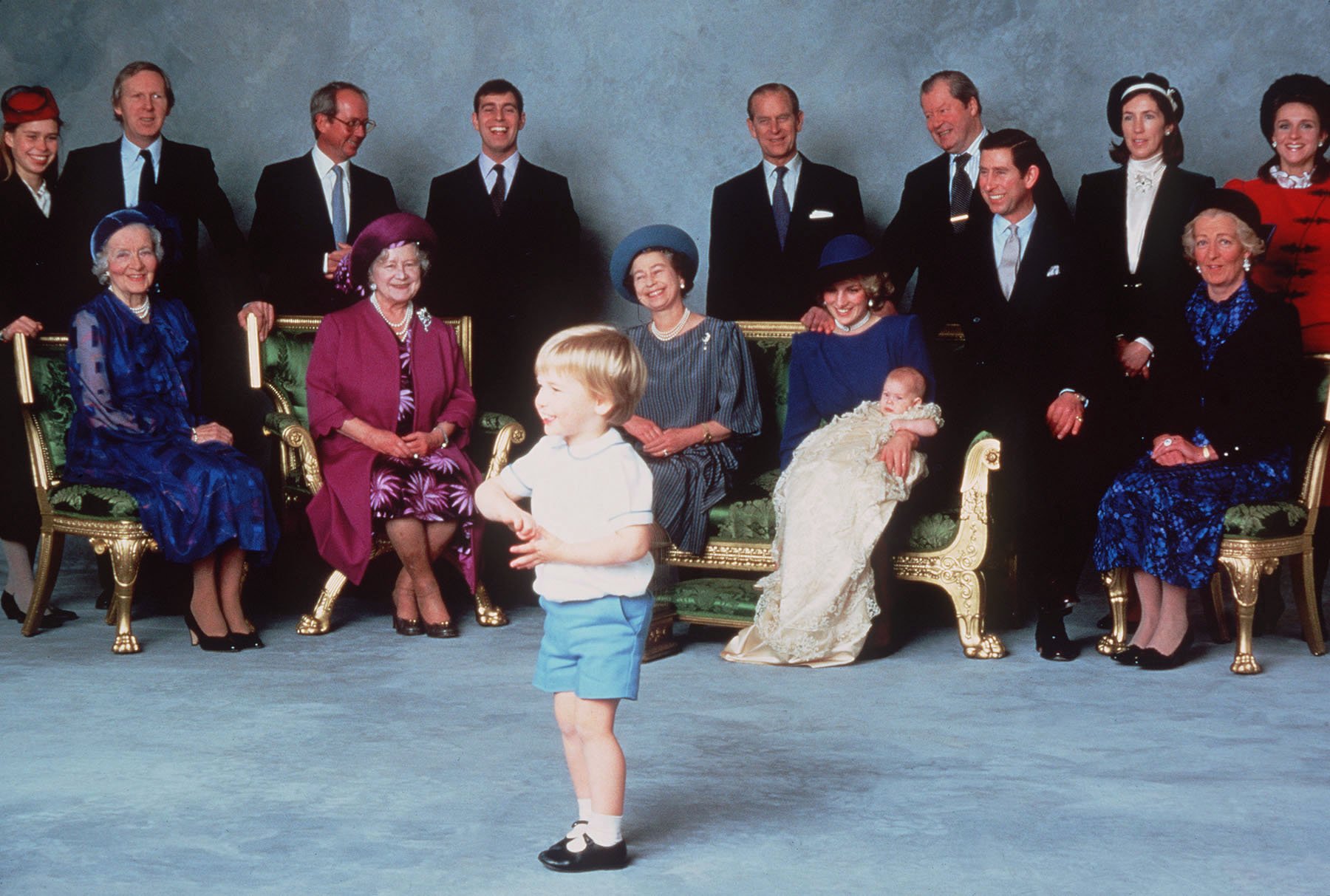 Royal parents and godparents who enjoy the antics of young Prince William, Prince Harry is christened at Windsor Castle on December 21, 1984 in Windsor, England | Source: Getty Images
However, due to the ongoing feud between Princess Diana and Princess Anne at the time, this was not the case when Prince Harry was christened. Princess Anne was among the family members who were not present at her nephew's christening.
The christening was attended by almost the rest of the royal family. Although it was noted that Diana and Prince Charles had little to no interaction during the christening, the rest of the event went well.
One thing that hindered Diana's joy that day was that she had to choose godparents for her infant son, but was given a list of people she could choose from, rather than being allowed to choose someone she was close with.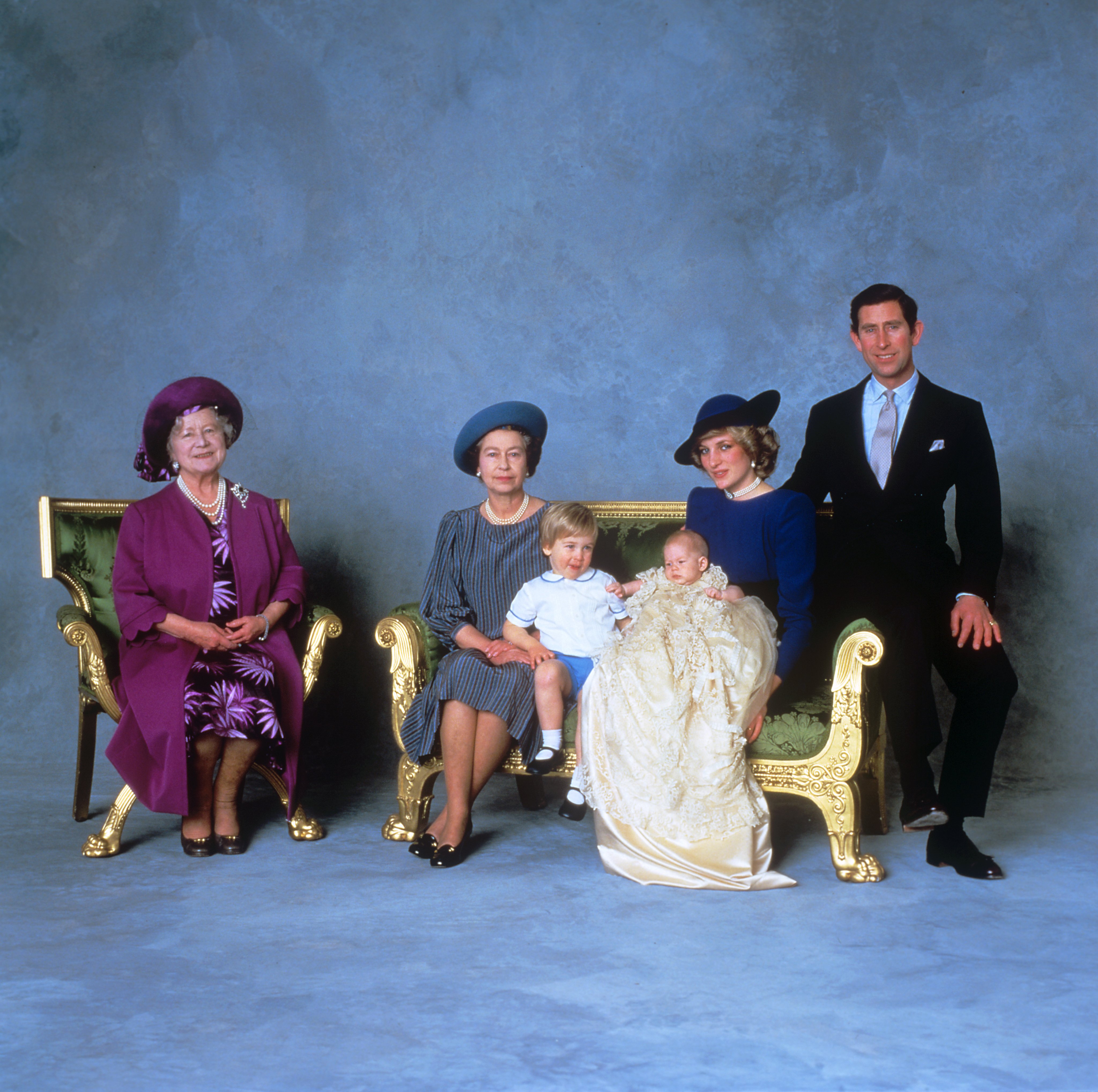 Prince Harry, Prince of Wales with his mother, father, older brother, Prince William, the Queen and the Queen Mother pose for a portrait at his christening. Windsor, England. December 21, 1984 | Source: Getty Images
The Queen and Prince Charles told her who would be appropriate and included anyone from the royal establishment. This would, of course, include Princess Anne, but she was not chosen as godmother.
Instead, Harry's godparents were Lady Sarah Armstrong-Jones and the child's uncle and Charles' brother, Prince Andrew, Duke of York. When Anne learned that her brother had been chosen as godfather, she was furious. This led to the "large-scale family line", which resulted in her not attending her nephew's funeral.
Anne was present when William was baptized, but she was not chosen as Harry's godmother, and she was hurt at being snubbed again when her brother was chosen. Instead of attending her nephew's baptism, she made other plans.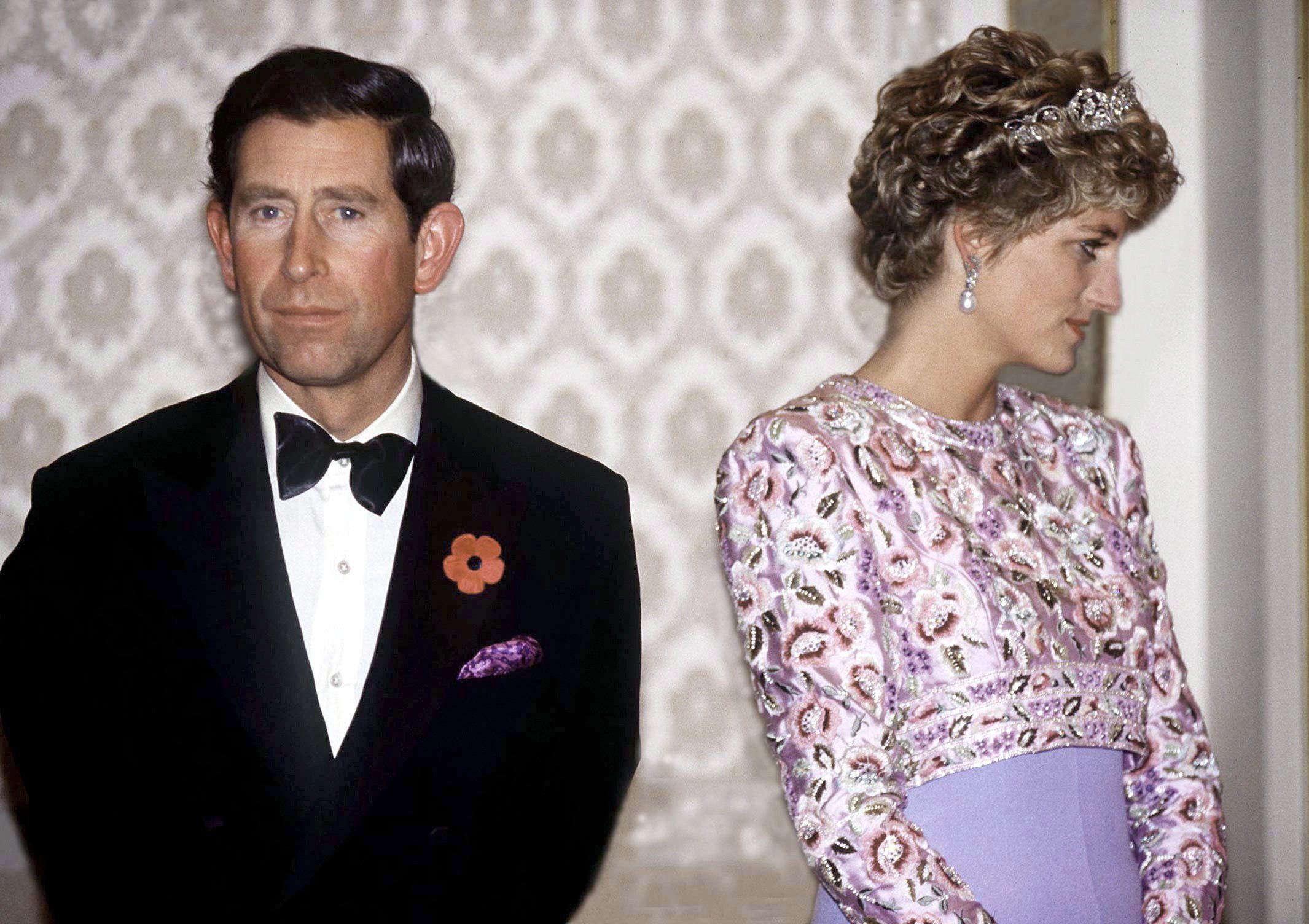 Prince Charles and Princess Diana on their last official trip together to the Republic of Korea (South Korea) to attend a presidential banquet at the Blue House in Seoul. November 3, 1992 | Source: Getty Images
On Harry's christening day, Anne went to film with her then-husband Mark Phillips. While their absence from the christening was notable, the royal family did not explain their whereabouts.
A statement was released explaining their absence, but it didn't say why they couldn't celebrate their nephew's special day with the rest of the family. It was a brief statement.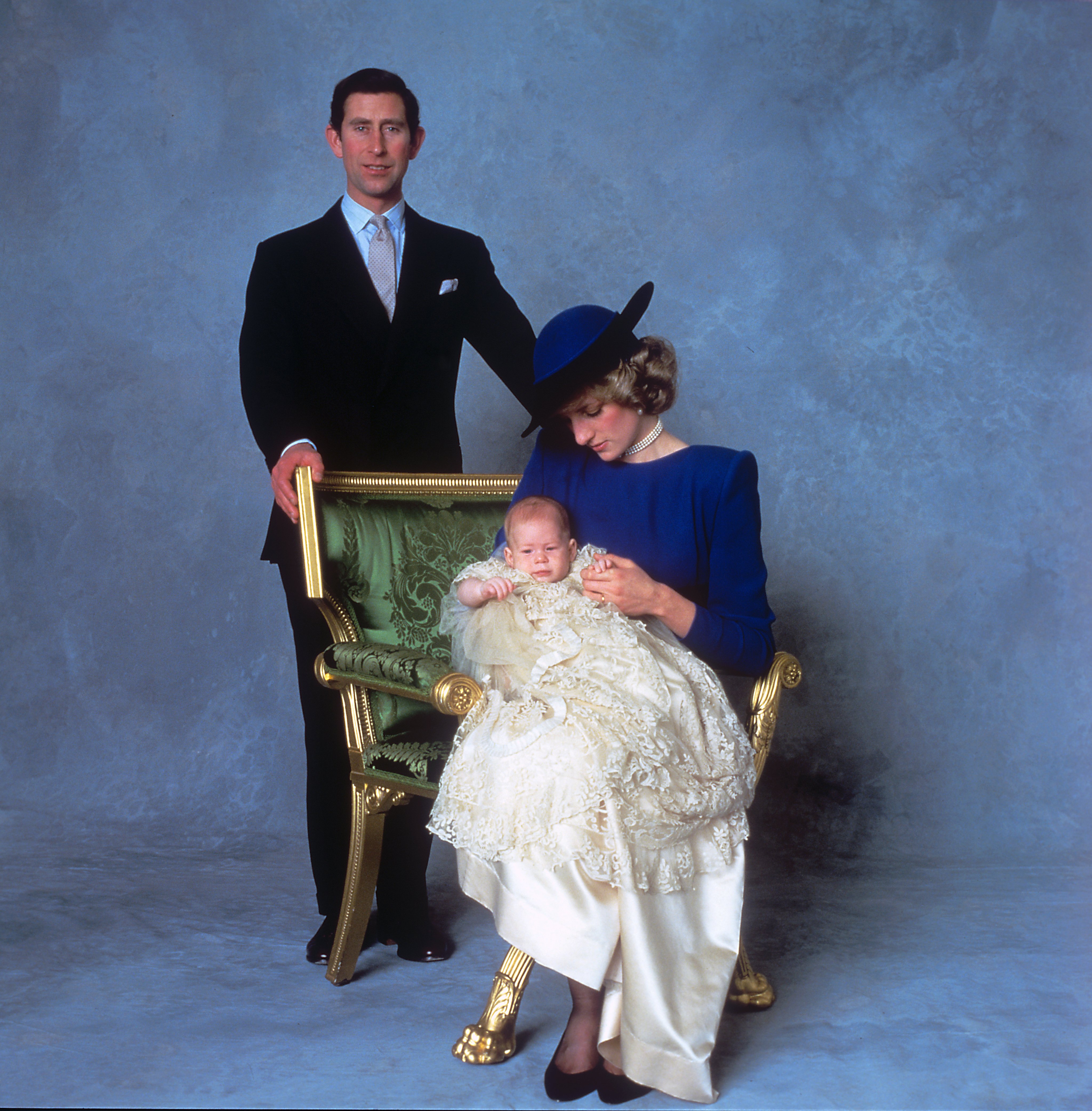 Prince Harry, Prince Andrew and Princess Diana pose for a portrait at Prince Harry's christening in Windsor, England. December 21, 1984 | Source: Getty Images
As fans wondered what could have kept them away from the occasion, rumors swirled that it was because of the feud between Diana and Anne. However, the statement simply said:
"Unfortunately none of them were able to make it. They will be arriving in Windsor later today."
Amid all the feuds the Queen faced during her reign, this was one of the most significant and least successful as a
beautiful sisters
were never able to patch up their relationship before Diana and
Charles
divorce.
amomama