Women News
Elizabeth II's 'favorite' grandchild, who didn't know grandma was queen, impresses fans with his resemblance to her
Queen Elizabeth II has various relationships with her various grandchildren. However, the one who would be his favorite granddaughter didn't know she was the queen. Now, fans are shocked at how similar the two are in appearance and character.
Unlike her more famous cousins, Prince Edward's daughter, Lady Louise Mountbatten-Windsor, is always in the background, but that doesn't mean she's distant. The teenager has always enjoyed a closer and more special relationship with her grandparents than other royal grandchildren.
Lady Louise and her brother James, Viscount Severn, may not be as outspoken as their older cousins, but according to reports, they always shared a closer bond with the Queen, just as they did. did with their late grandfather, Prince Philip.
Queen Elizabeth II, Prince Philip, Duke of Edinburgh, Lady Louise Windsor and Catherine, Duchess of Cambridge arrive on the balcony at Buckingham Palace on June 16, 2012 in London, England. | Source: Getty Images
By the time Lady Louise was born in 2003, the Queen had already been a grandmother for 26 years. Louise grew up in the 51-acre Bagshot Park, just 20 minutes from Windsor Castle, and spent all her weekends in Windsor.
The Queen's disposition at the time allowed her and Prince Philip to be the grandparents of the little girl and her brother. Ingrid Seward, editor of Majesty Magazine, wrote in her book "Prince Philip Revealed: a Man of his Century", as the Telegraph reports:
"It was the grandchildren they saw the most. While the older ones were seen less often, this little girl was there every weekend."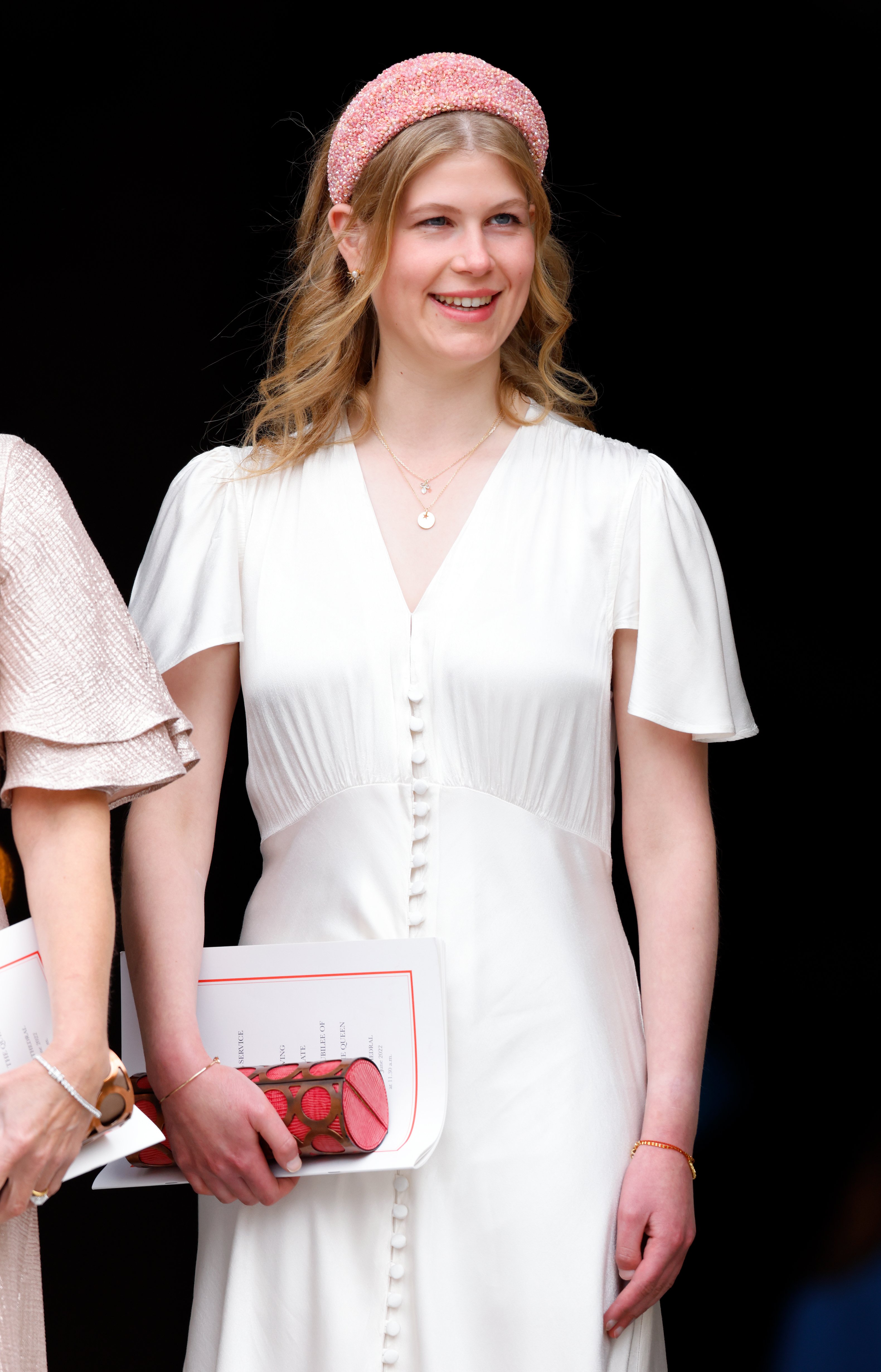 Lady Louise Windsor attends a National Service of Thanksgiving to celebrate Queen Elizabeth II's Platinum Jubilee at St Paul's Cathedral on June 3, 2022 in London, England. | Source: Getty Images
According to reports, Louise and her grandmother are incredibly close. The Queen is said to be a strong supporter of Louise's artistic endeavors.
The attachment between grandmother and her granddaughter began long before the birth of Louise, calm and respectful. The Queen took a liking to Louise's mother, Sophie, Countess of Wessex, after the death of her sister, Princess Margaret. Sophie then became a strong support for the Queen.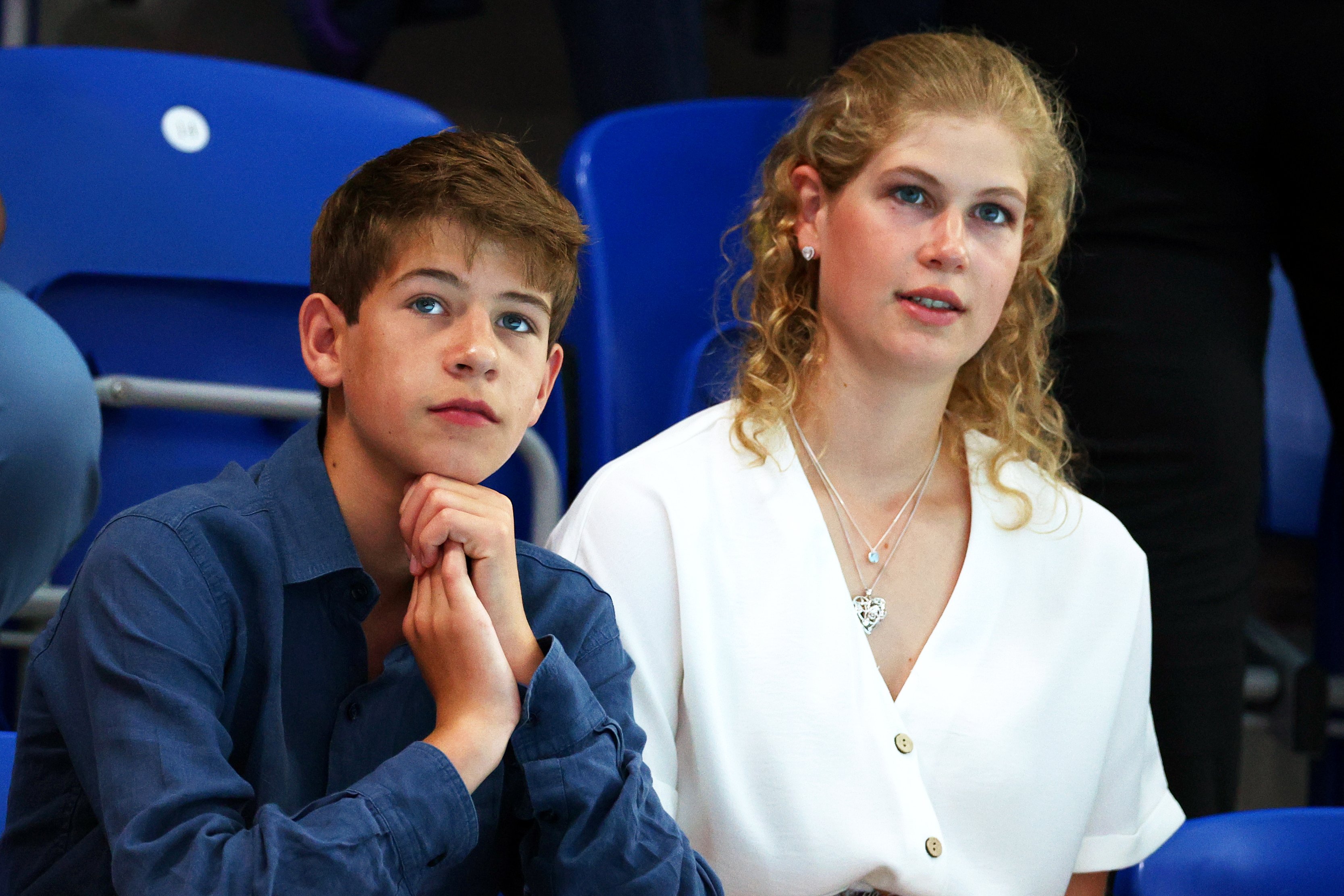 James, Viscount Severn and Lady Louise Windsor at the Sandwell Aquatics Center on August 02, 2022 in Smethwick, England. | Source: Getty Images
While their bond was strong, it grew even stronger after Louise's traumatic birth and it has been that way ever since. But there are more reasons behind the Queen's affinity for her now 18-year-old granddaughter.
A royal source told Evening Standard that the Queen saw herself in Louise, adding that her level-headedness, thoughtfulness and kindness reminded her of herself when she was younger.
Despite being 14th in line to the royal throne, Louise's childhood was fairly steady. She grew up out of the spotlight, so much so that she didn't know her grandmother was the queen.
In an interview with Sky News' Rhiannon Mills, Louise's mother Sophie revealed that Louise only knew her grandmother's title once she started school. She would come home wondering why her classmates kept telling her that she was the queen's grandmother. Sophie remembers that she said:
"Mom, people keep telling me Grandma is the queen."
LOUISE AND HER GRANDMOTHER ARE COMPLETELY SIMILAR
Watching the Queen side-by-side with her youngest granddaughter makes it easy to see why the Queen sees herself in her teens. Lady Louise looks like the Queen when she was younger.
However, a royal insider says the two share more than a striking resemblance. They both have an erudite and "good girl" character. The insider revealed that Louise was sensible and modest, like the younger version of her grandmother.
Seward praises Louise's kindness and remembers how kind and helpful she was with the little bridesmaids at the wedding of his older cousin, Princess Eugenie. The uncanny resemblance between the Queen and her youngest daughter has also not gone unnoticed by royal fans.
A @dagmar_Marie77 posted a throwback photo of the Queen alongside one of Sophie and Louise, noting how much the teenager took after her mother and grandmother. She wrote:
"I spot someone who looks a lot like his grandmother and his mother."
Another fan, @LauraLee_365, also thought the similarity between the two was undeniable, with the only difference being Louise's blonde hair. "Except she's blonde, she's the spitting image of the Queen. Even the same thick, curly hair." She tweeted.
@_the_crown_uk said she thought Louise was beautiful and elegant and looked a lot like her grandmother before declaring the teenager an incredible asset to the royal family.
@Georgiagiraffe share that earlier she thought how much Louise resembled her father, but on closer inspection, she now sees more resemblance between Louise and her grandmother:
"We were talking earlier about how much she looked like her dad, but now I'm like, wow! She looks like the Queen!"
LOUISE WAS ALSO CLOSE TO HER GRANDFATHER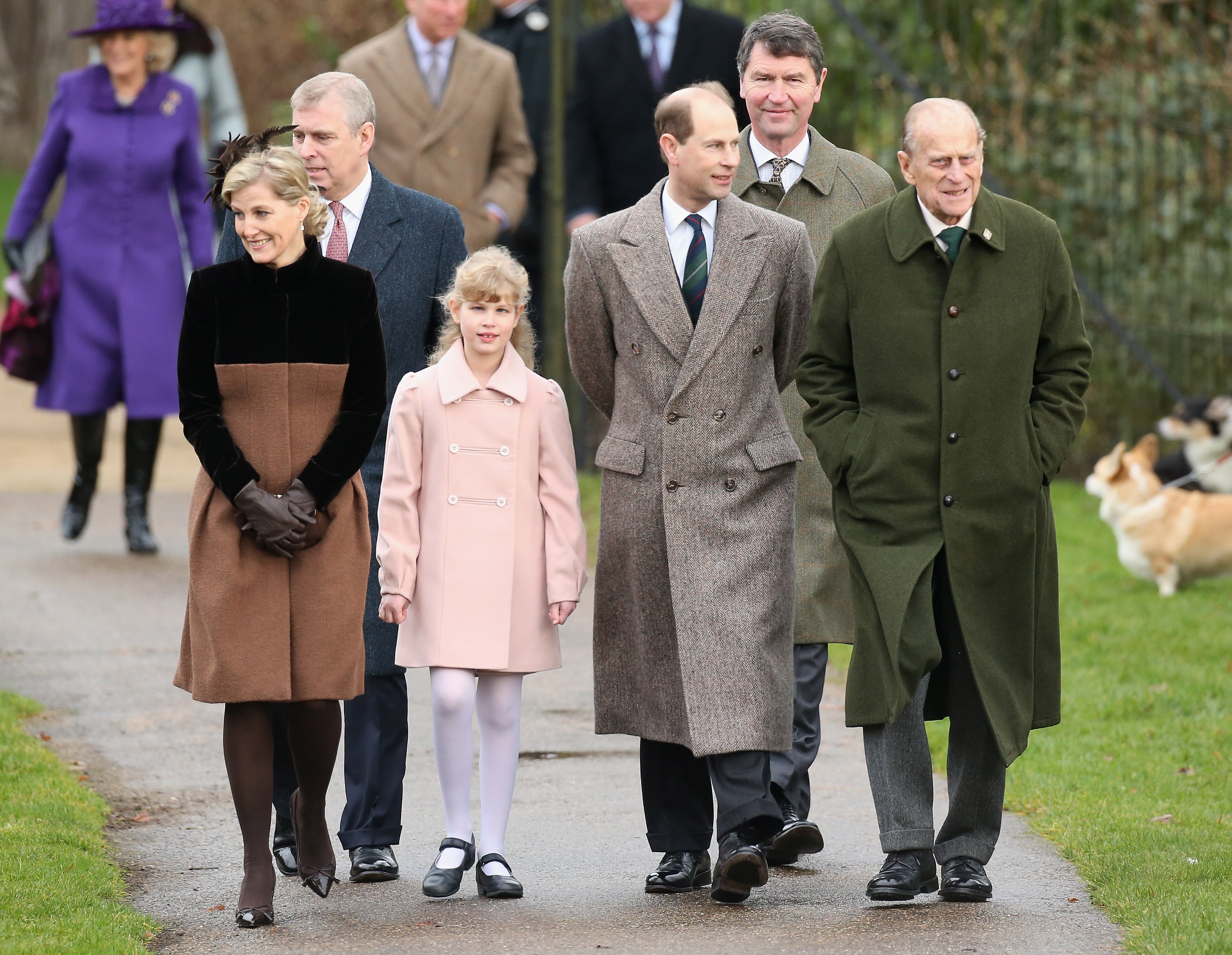 Sophie, Lady Louise Windsor, Prince Edward and Prince Philip [Front Row] at St Mary Magdalene's Church, Sandringham on December 25, 2012 | Source: Getty Images
Apart from the unmistakable resemblance to her grandmother and her admirable features, Louise was also close to her grandfather Prince Philip.
She also inherited her grandfather's love for horses, and the two often bonded over their passion for horse riding and carriages, so much so that Philip bequeathed her two fallen ponies, Balmoral Nevis and Notlaw Storm.
He also left her his new toy, a personalized dark green four-wheeler he had started using a few years ago to tour Windsor Castle and the surrounding royal estates.
Lady Louise Windsor and Sophie, Countess of Wessex driving in a carriage on day 5 of the Royal Windsor Horse Show at Home Park on May 13, 2018 in Windsor, England. | Source: Getty Images
The prince had always been supportive of his granddaughter, as evidenced by photos from 2019. Philip was pictured proudly watching his granddaughter take part in the private carriage ride at the Royal Windsor Horse Show, where she was awarded the third place.
Seward shared that the prince had been immensely proud of Louise's performance and was happy to pass on his knowledge of horses and carriage prowess to someone who shared his interests and enthusiasm.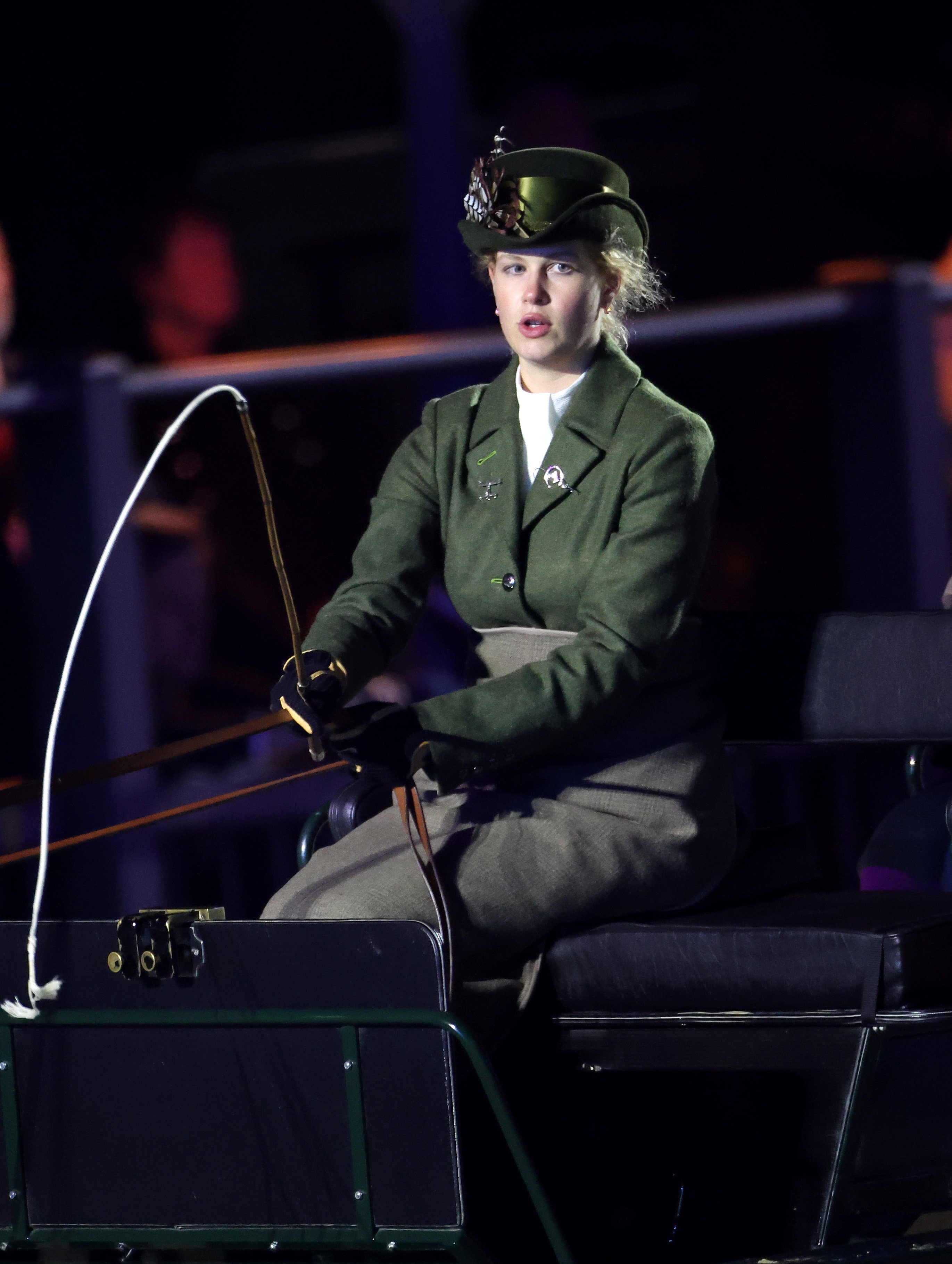 Lady Louise Windsor rides in the Duke of Edinburgh's carriage during the official performance of 'A Gallop Through History' Platinum Jubilee Celebration at Home Park on May 15, 2022 in Windsor, England | Source: Getty Images
When Philip passed away in April 2021, Louise eagerly rode her horses through Windsor's Great Park grounds to keep her grandfather's memories with her and to pay her one last respect.
And to honor their mutual love of horses and carriages, Louise wore an equestrian brooch with a horse's head and a curled whip as a tribute to her grandfather at his funeral.
Of all of Philip's grandchildren, Louise seems to be the one carrying his memories, and the world is curious to see what Louise does with her grandfather's legacy.
amomama