Women News
Facts About Dave Chappelle's Wife, Elaine, and Their Family
Despite his fame, Dave Chappelle's wife, Elaine Chappelle, has mostly remained out of the public eye. Elaine made rare public appearances with Dave and decided to give up on her dreams so she could stay home and raise their family.
Elaine Mendoza Erfe was born in Brooklyn on August 31, 1974; she often avoided the limelight, occasionally stepping out with her famous husband for public events. In 2019, she cheered him on after Dave won the Mark Twain Prize for American Humor.
It was widely reported that Elaine dreamed of becoming a professional chef, but she put those dreams aside and chose to stay home and raise the children she shared with Dave.
Dave and Elaine Chappelle at Paris Fashion Week on January 1, 2022. | Source: Getty Images
However, she was able to practice her cooking skills at home for her family; Chappelle confirmed that just because she became a stay-at-home mom didn't mean she had to completely give up on her dreams:
"She doesn't work as a professional chef, [but the kids] regularly eats like royalty at home, thanks to his excellent cooking skills."
Since he launched his career in the early 90s, it has grown and earned him the title of "Comic Genius of America" ​​by Esquire in 2006. In 2017, Rolling Stone ranked him No. 9 in their "50 Best Stand Up Comics of All Time."
When Dave released his own Netflix special, "Sticks and Stones," it put him back in the forefront of comedy. Despite Chappelle's caliber of fame in the entertainment industry, it is difficult to find information about his wife.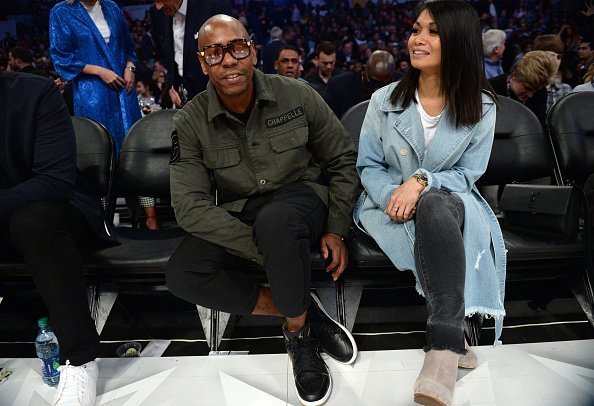 Dave Chappelle and his wife Elaine attend the 2018 NBA All-Star Game on February 18, 2018 | Photo: Getty Images
ELAINE CHAPPELLE: THE FIRST BEGINNINGS
Dave Chappelle's wife, Elaine, is best described as the comedian's partner due to her famous status. However, long before Elaine met him, she lived a very private life and never imagined being in the spotlight.
Although little is known about Elaine, her ethnicity has been discovered. Elaine is of Filipino descent and she emigrated to the United States for a better life. Although she was in the spotlight for a long time, she kept her background a secret.
She didn't have a known social media account at the time of publication, which made her more of a mystery to fans.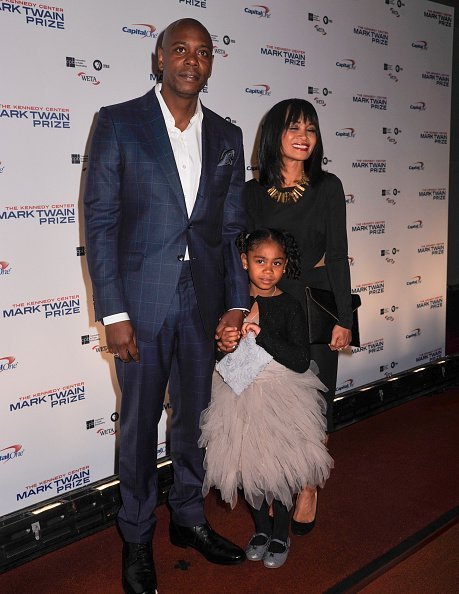 Dave Chappelle with his wife Elaine Chappelle and daughter Sonal Chappelle at the John F. Kennedy Center on October 18, 2015 | Photo: Getty Images
How Elaine first met Dave
Elaine met the actor/comedian in New York, where they grew up. While Dave was in love with her immediately when they first met, Elaine reportedly had doubts about her relationship with him.
The exact time of the couple's first meeting remains unknown, but it doesn't matter given how far their relationship has come.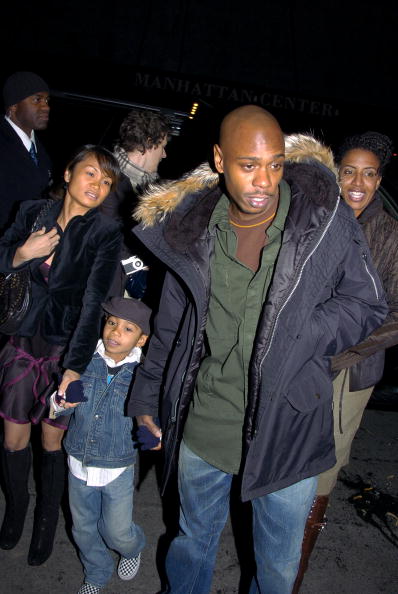 Dave Chappelle with his wife, Elaine, and son Sulayman at Loew's 34th Street Theater | Photo: Getty Images
Elaine and Dave's wedding
Elaine and Dave married in an intimate ceremony in 2001; their marriage lasted nearly two decades and they welcomed children over the years. In 2006, they chose to relocate to Yellow Springs, Ohio. Dave said in 2017:
"It's almost like a nature reserve where they'll let me run free."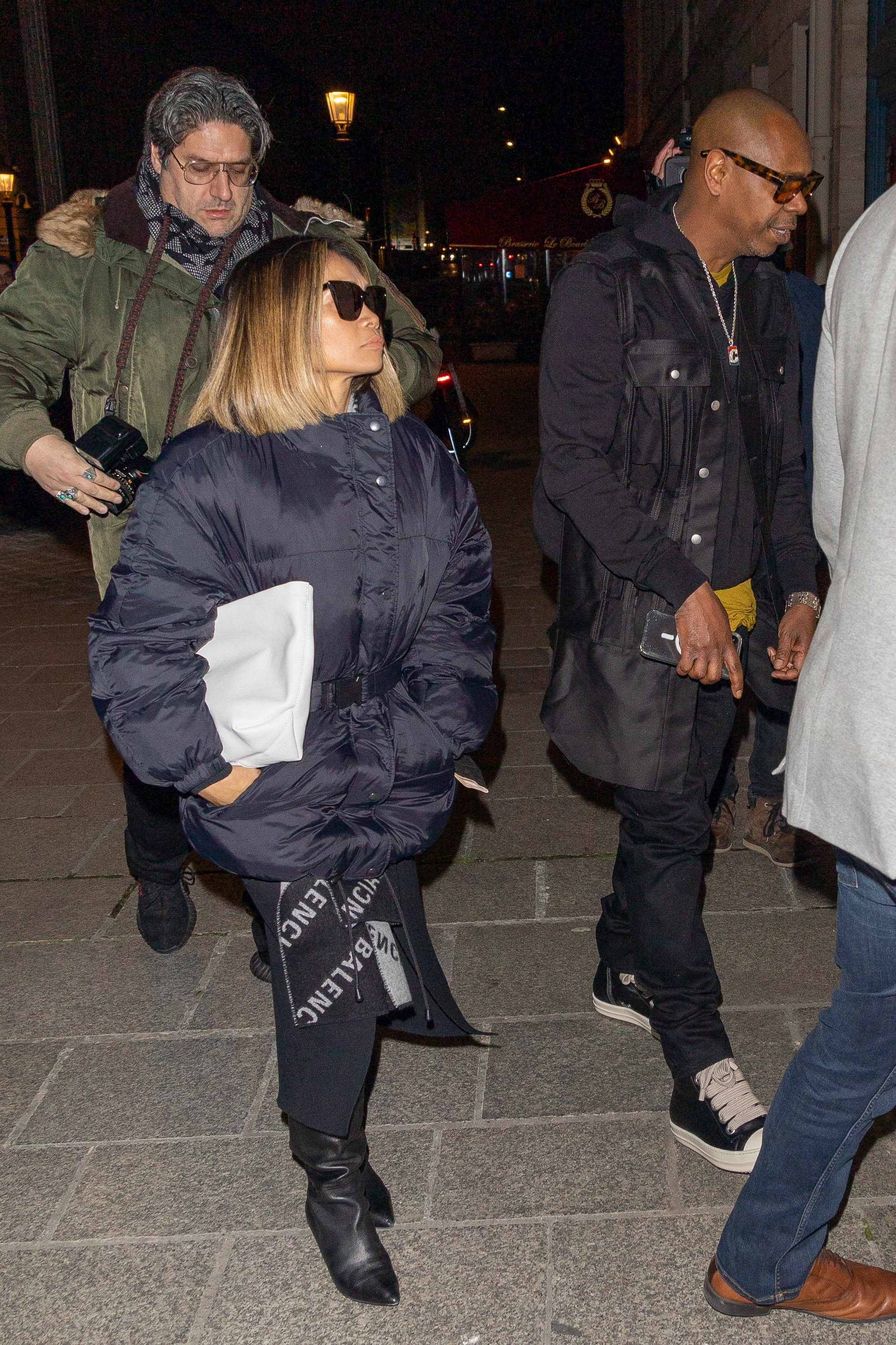 Dave and Elaine Chappelle in Paris, France on January 23, 2022. | Source: Getty Images
Elaine shares three children with Dave
Dave and Elaine Chappelle share three children. In 2001, Elain and Dave welcomed their first child, a son named Sulayman. In 2003, Elaine gave birth to their second son, Ibrahim. Their last child is their daughter, Sonal, born in 2009.
Their children are protected from the public and keep a low profile, especially on social networks. During his Netflix stand-up special, "Dave Chappelle: Equanimity & The Bird Revelation," in 2019, Dave shared the emotions of watching your kids grow up.
He said it was a wake-up call when he returned from touring after weeks away, and no family members were there to greet him. He revealed that over the years his children had become less enthusiastic about his return from touring than when they were younger.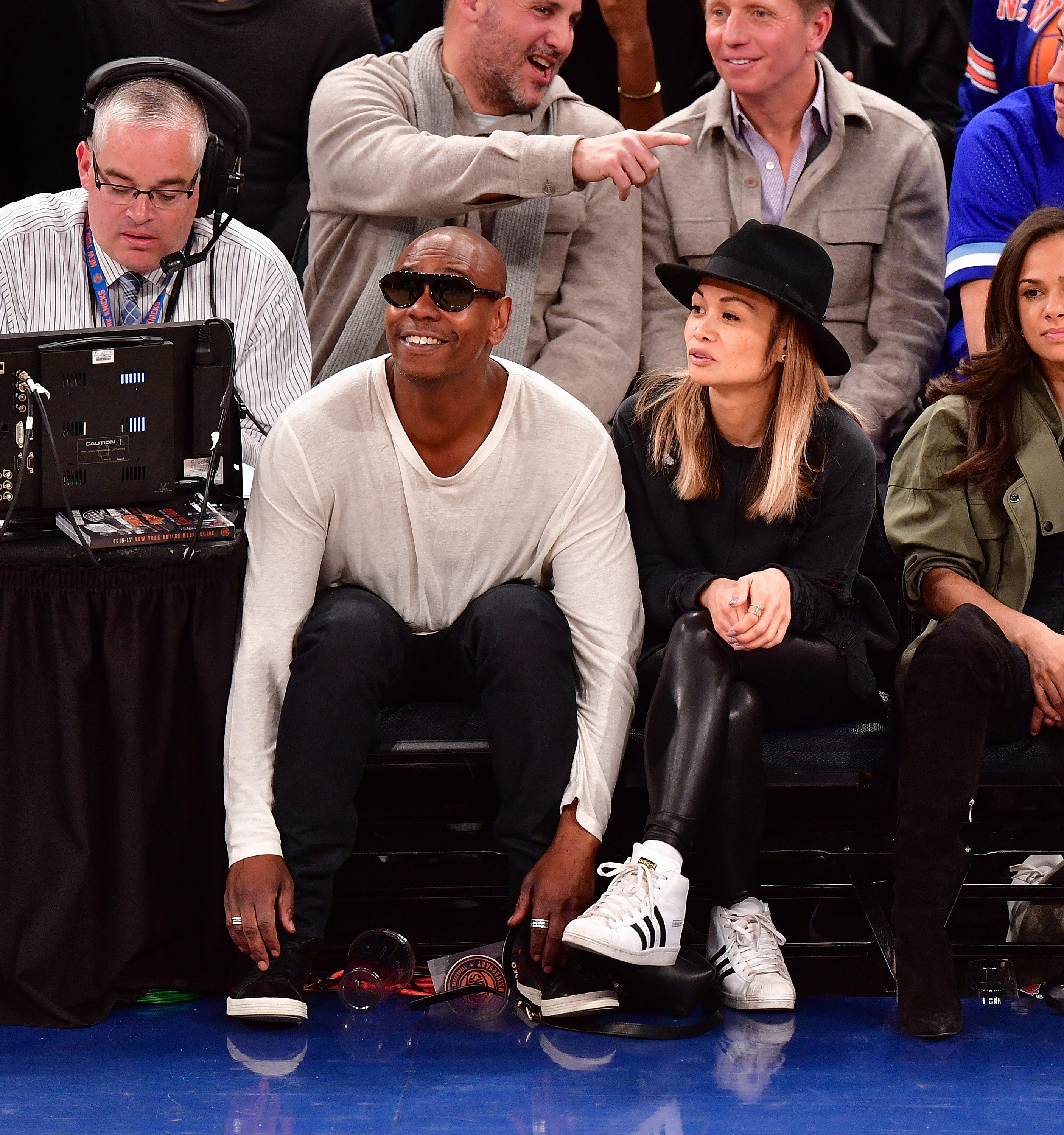 Dave and Elaine Chappelle at a basketball game in New York | Source: Getty Images
He shared that his son was interested in poetry, although his daughter followed in her father's footsteps and showed an interest in showbiz.
She had a small role in "A Star Is Born" in 2018 and made her red carpet debut two years later at the Toronto International Film Festival. Of his decision to permanently reside in Yellow Springs, Dave once said:
"Turns out you don't need $50 million to live in these parts, just a nice smile and kindness about you. You guys are the best neighbors ever… That's why I'm come back, and that's why I'm staying."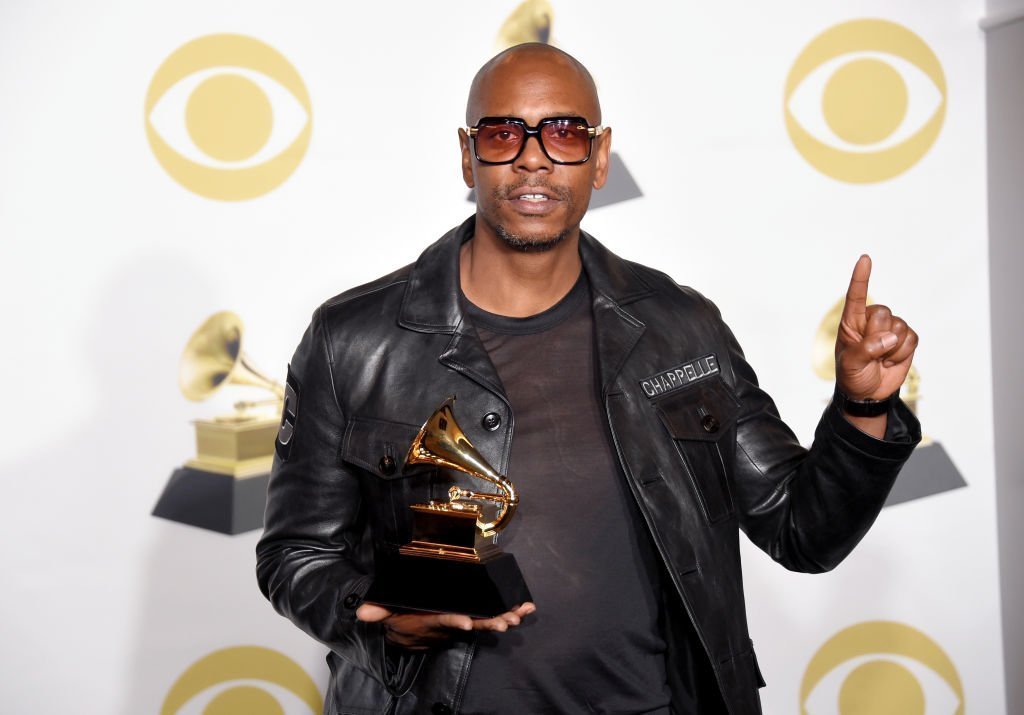 Dave Chappelle attends the 60th Annual GRAMMY Awards. | Photo: Getty Images
The different religions of Elaine and Dave
Born into a Filipino family, Elaine was raised as a devout Christian, and despite her fame as the wife of Dave Chappelle, she still practiced Christianity.
On the other hand, her husband, Dave, whose parents were raised as Unitarian Universalists, practiced Islam, which explains the Arabic names of their children.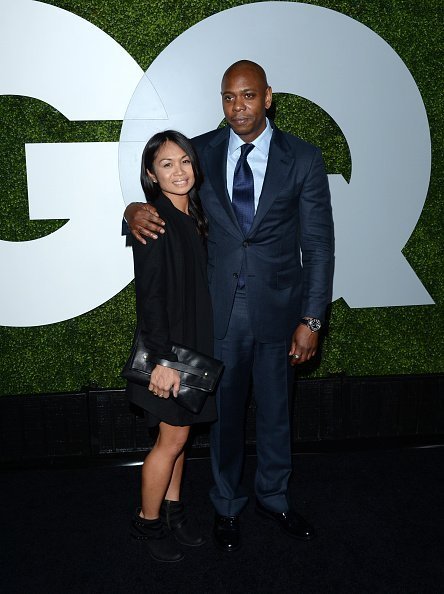 Elaine Chappelle and Dave Chappelle attend the 2014 GQ Men Of The Year Party | Photo: Getty Images
Despite their religious differences, the couple have maintained a life of perfect harmony, making them one of Hollywood's most famous couples.
Elaine keeps Dave informed
As the wife of Dave Chappelle, Elaine has a great responsibility: to ensure that her husband is informed, whenever necessary, of controversies that could affect his reputation.
Dave once said in a 2007 interview that he tries to stay away from the sometimes toxic world of social media and doesn't actively seek reviews or critiques of his comedy specials.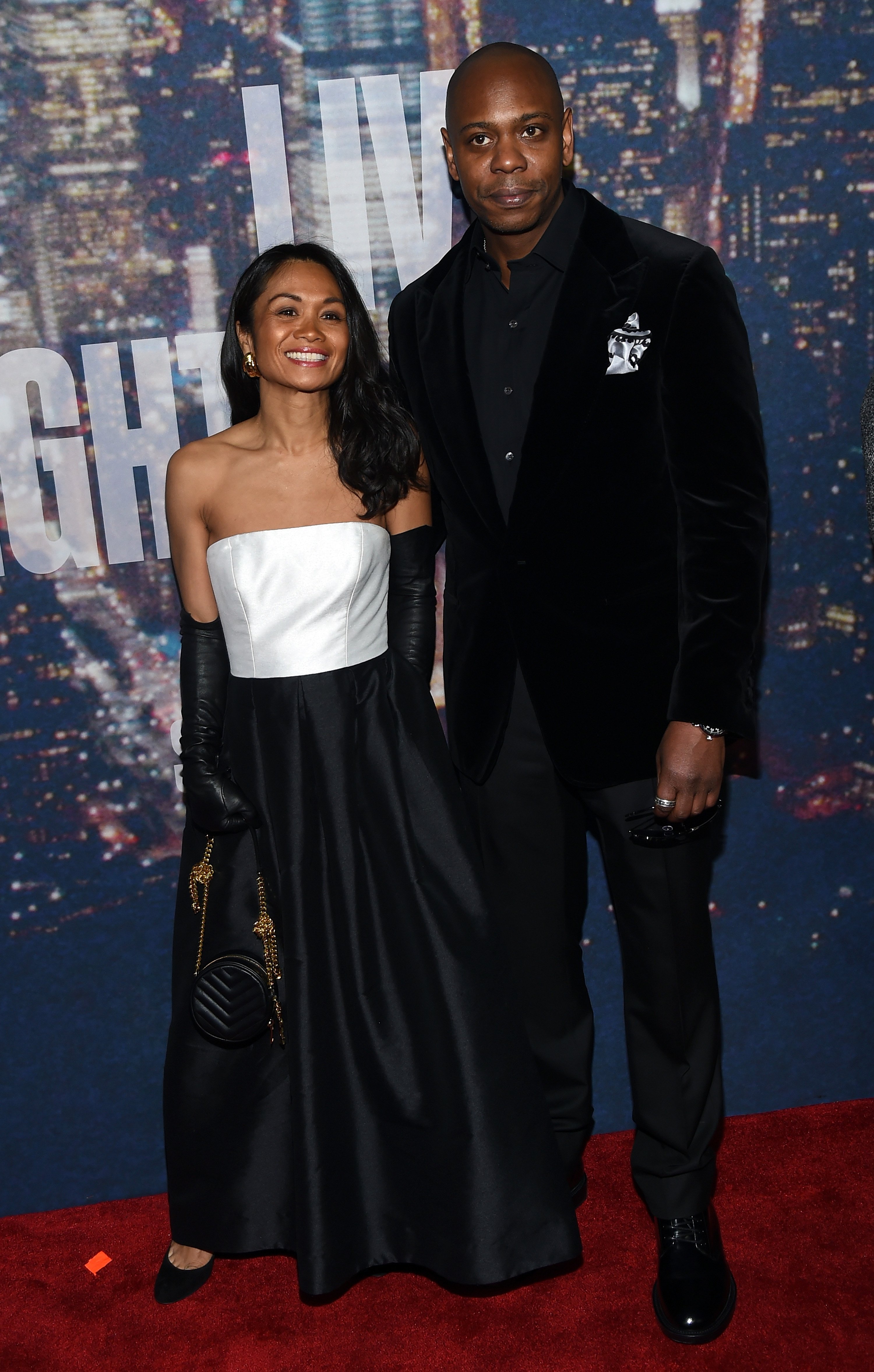 Dave and Elaine Chapelle at SNL's Anniversary Celebration in New York | Source: Getty Images
However, if things get too out of hand, Elaine is there to make sure he stays informed of everything that's being said about him. He explained.
"The only way I know about things is because everyone tells me about it. My wife, if it gets really bad, she'll let me know, like, 'Oh, you should watch this. But for the most part, I try not to pay attention to it because you don't want to be careful as an actor."
Elaine Chappelle Net Worth
Elaine's career is unknown thanks to her love of privacy, with one report saying she is a full-time housewife. In 2019, Dave and Elaine Chappelle's net worth was around $40 million. This stems primarily from Dave's ever-growing career, which wouldn't be possible without his wife.
amomama