Women News
Kate Middleton fans baffled as she is seen without an engagement ring after a public display of affection for William
Kate Middleton has always put on her engagement ring and never takes it off — until recently. The Duchess attended the Commonwealth Games without the ring, which raised many questions from royal fans. Turns out the piece of jewelry should have belonged to Meghan Markle in the first place.
The marriage of Kate Middleton and Prince William is the epitome of a successful relationship. Although their private lives are often in the spotlight, they have proven time and time again that they are not only compassionate to each other, but also to their three children.
The two have been married since April 2011, when they exchanged vows during a service watched by an estimated one billion people worldwide. Since then, the Duchess of Cambridge has donned plenty of stunning jewelry.
Catherine, Duchess of Cambridge watches the UK Mixed Coxed Four Rowing Team – LTAMix4+ celebrate after winning gold on Day 4 of the London 2012 Paralympic Games at Eton Dorney on September 2, 2012 in Windsor, England | Source: Getty Images
The most important pieces are her three rings, which she wears on her ring finger. One of the pieces is her engagement ring which William gave her when he proposed to her on the slopes of Mount Kenya during their tour of Africa in October 2010.
The ring features a central sapphire with diamonds and is worth £300,000. Designed by former Crown jeweler Garrard & Co, the piece features a 12-carat oval sapphire set in 18-carat white gold, surrounded by 14 solitaire diamonds.
Despite its exorbitant price tag, the ring's value is mostly sentimental as it once belonged to William's mother, Princess Diana, and has been a member of the royal family for decades.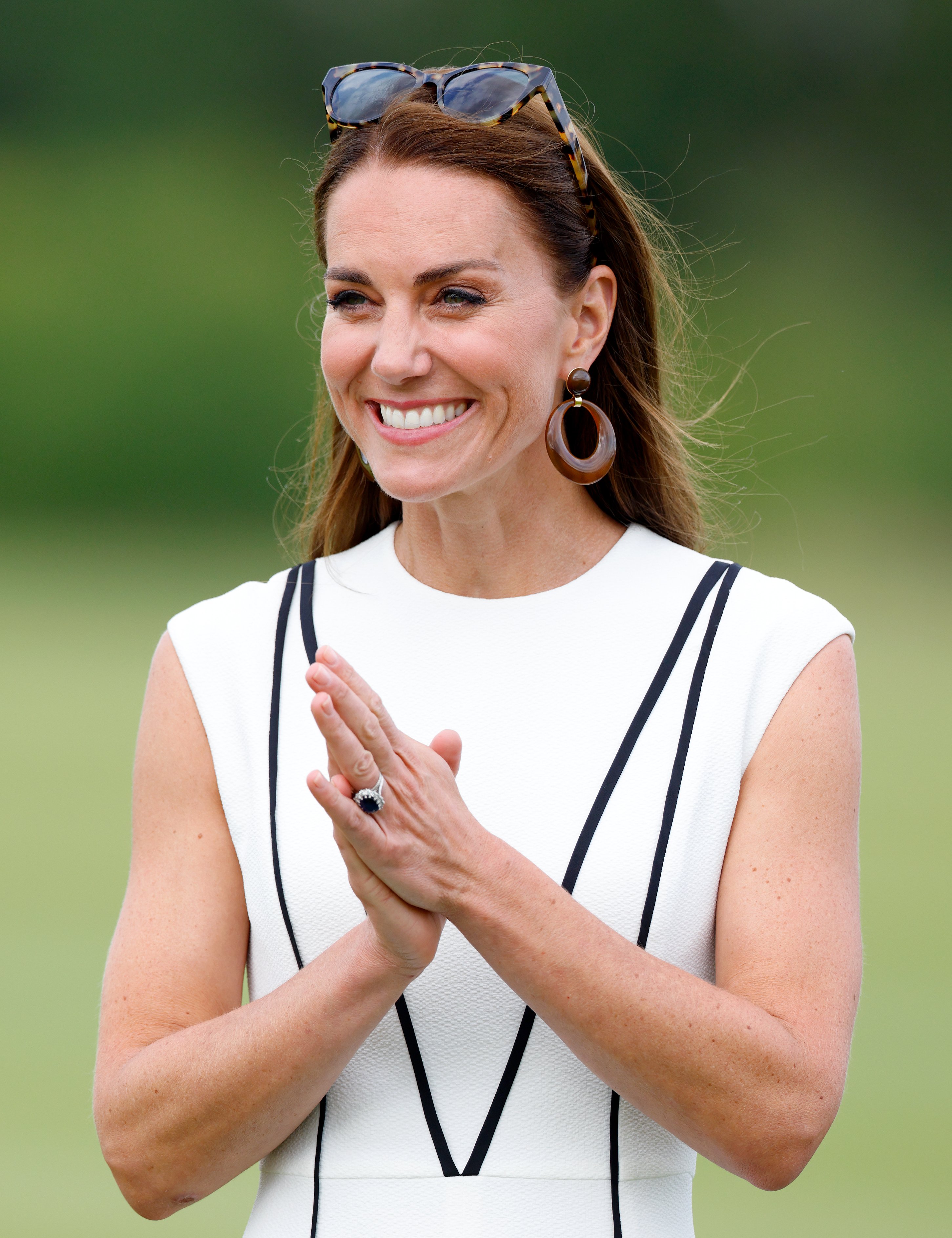 Catherine, Duchess of Cambridge attends the Out-Sourcing Inc. Royal Charity Polo Cup at Guards Polo Club, Flemish Farm on July 6, 2022 in Windsor, England | Source: Getty Images
Middleton's second ring is a wedding band William gave to her on their big day in 2011. The Queen gave the ring to William after his engagement.
It is crafted from a particular nugget of Welsh gold by London-based jeweler Wartski. Based on its weight and the gold used in its creation, the ring is valued at over £2,000.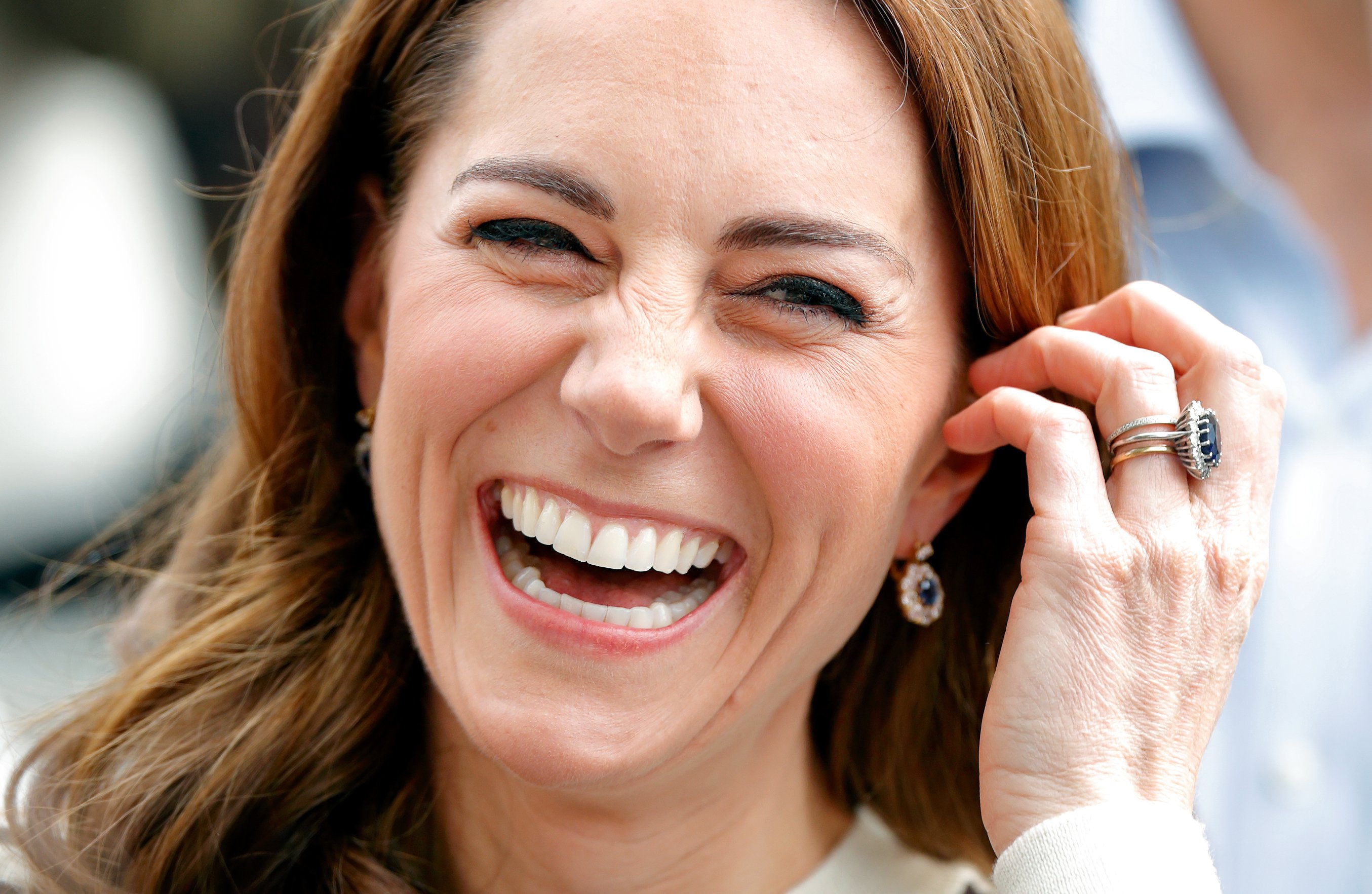 Catherine, Duchess of Cambridge attends the King's Cup Regatta Launch at Cutty Sark, Greenwich on May 7, 2019 in London, England | Source: Getty Images
Years later, she added another gem to her finger collection. The third piece of jewelry, an eternity ring, is a gift to Middleton from William after having their first baby, Prince George, in 2013.
Jewelry experts from Joshua James Jewelers in England explained that an eternity ring is used to mark specific milestones in a relationship. In their case, William gifted the ring to Middleton to mark their milestones as new parents, as they had just welcomed their firstborn, Prince George.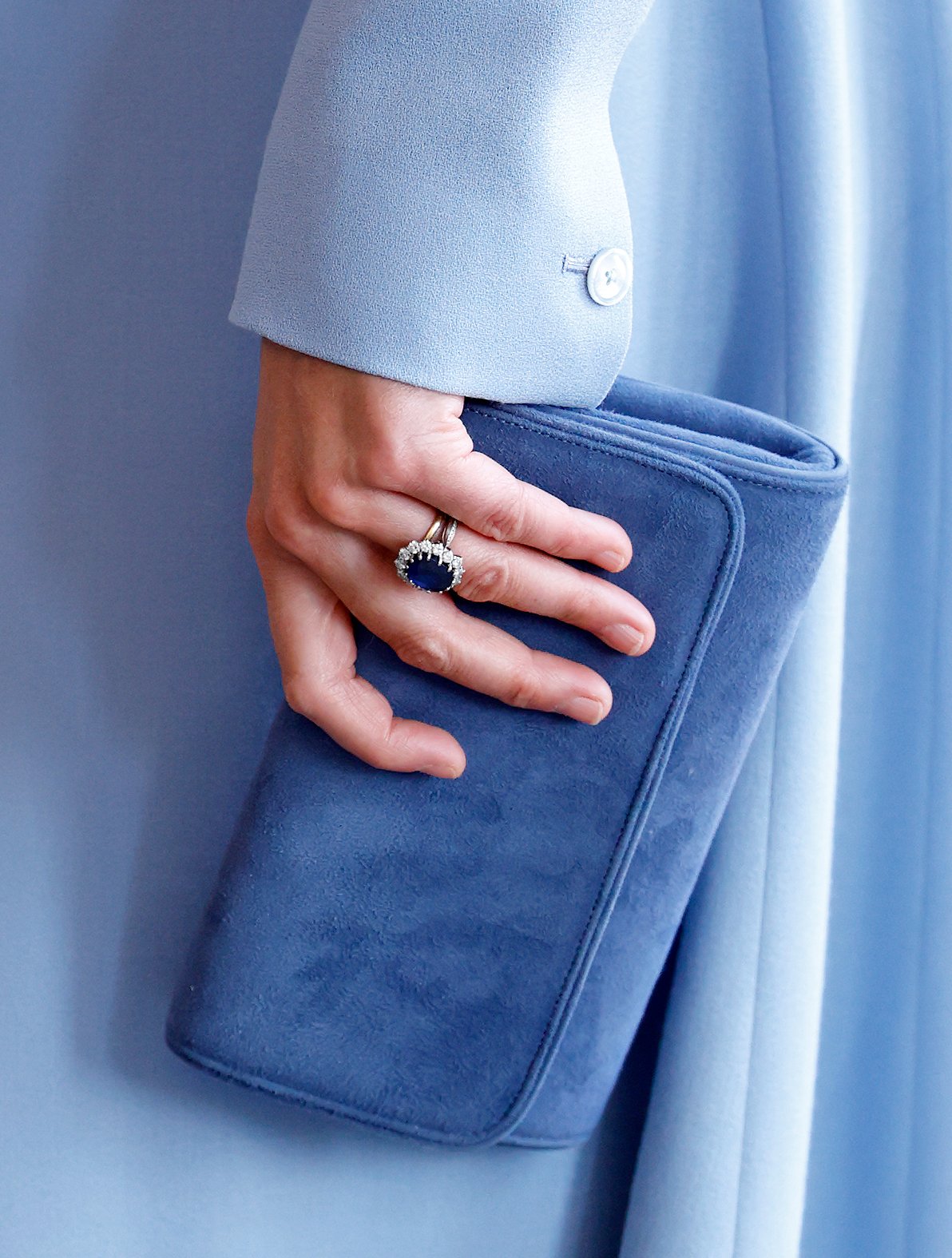 Kate Middleton during an official visit to Cambridgeshire on June 23, 2022 in Cambridge, England. The Duchess wears three rings on her ring finger | Source: Getty Images
The ring is crafted in 18k white gold and features 0.23 carats of white diamonds. The £1,200 band is a product of London designer Annoushka.
Middleton may just be following a sweet tradition when she chooses to wear all her rings. However, the order in which she wears them is of great importance. She wears her wedding ring first to signify that she is closest to his heart. The engagement ring follows, and finally, the eternity ring continues.
MIDDLETON WAS SPOTTED WITHOUT HER SAPPHIRE RING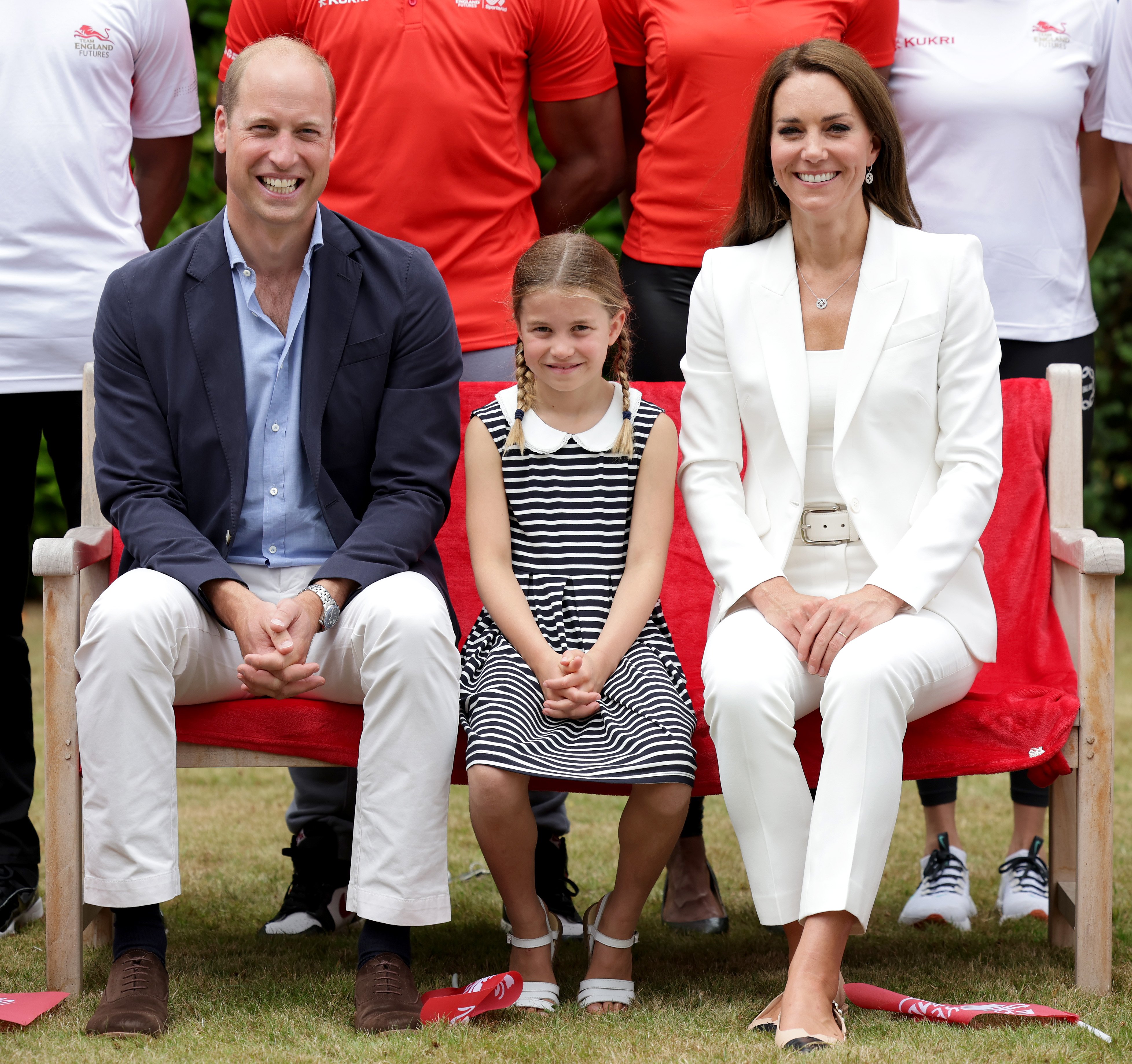 Prince William, Kate Middleton and Princess Charlotte pose for a photo as they visit Sportsid House at the 2022 Commonwealth Games on August 02, 2022 in Birmingham, England | Source: Getty Images
Since the Cambridges welcomed their first baby in 2013, Middleton has never been out without her three rings. So, fans were shocked when she was seen without her famous gems.
The Duchess is out to participate the ongoing Commonwealth Games in Birmingham and sat with her husband and children to watch the sporting events of swimming, hockey and gymnastics.
She looked dapper in a white pantsuit and flats, paired with Mappin & Webb diamond earrings and pendant. However, many royal fans couldn't help but notice that something primary was missing from the set.
She didn't have her sapphire engagement ring or her eternity ring. She only wore her yellow gold Welsh wedding band on her ring finger.
The absence of the sapphire ring piqued the interest and curiosity of many fans, some of whom demand why she didn't have it. Some speculated she took it off when she took part in a sailing event in Plymouth on Sunday July 31.
Others believed the Duchess had lost it during the event or that it had been damaged. Some, however, weren't too skeptical and thought she simply forgot to wear it. A fan, @CharleyLucy2, expressed confusion on Twitter, writing:
"Did she leave it by the sink after doing the dishes?"
The development has raised eyebrows, especially as it comes just a month after Middleton and William were spotted affectionately in public at a charity polo match in Windsor on July 6.
It is unusual for members of the royal family to display affection and act like lovers in public. Still, Middleton didn't hesitate to plant a congratulatory kiss on her husband's cheek after his team won the fundraising polo tournament. The two also hugged and walked off the field with their hands wrapped around each other's backs.
THE ENGAGEMENT RING BELONGS TO MEGHAN MARKLE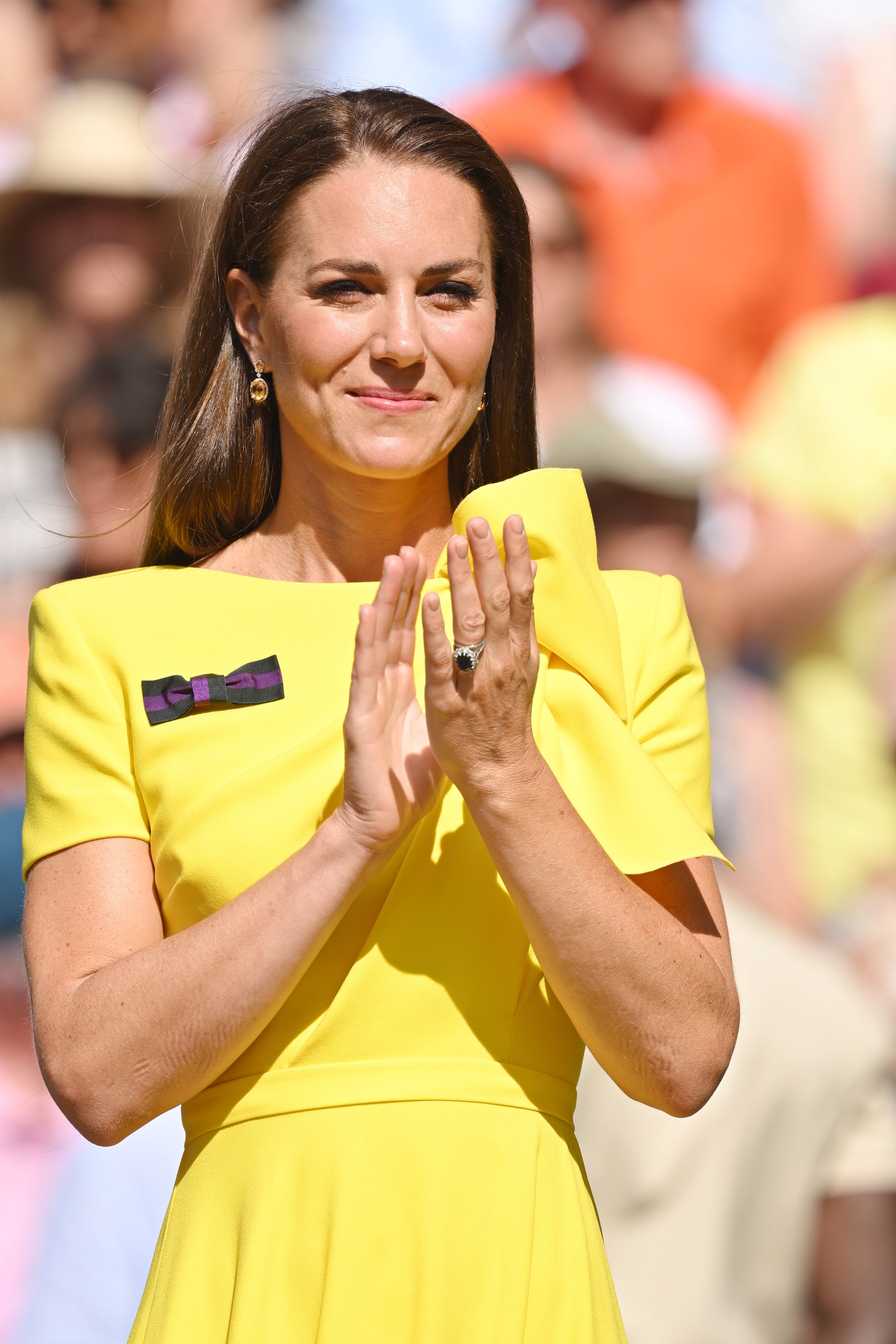 Catherine, Duchess of Cambridge during the Wimbledon Women's Singles Final at All England Lawn Tennis and Croquet Club on July 09, 2022 in London, England. | Source: Getty Images
Even though questions arise about the missing sapphire ring on Middleton's finger, it appears that it wasn't Middleton's to begin with. The jewel is believed to belong to Prince Harry's wife, Meghan Markle.
In 2017, a former servant in the royal household, Paul Burrell, said he ended up fingering Middleton due to a touching gesture from Harry.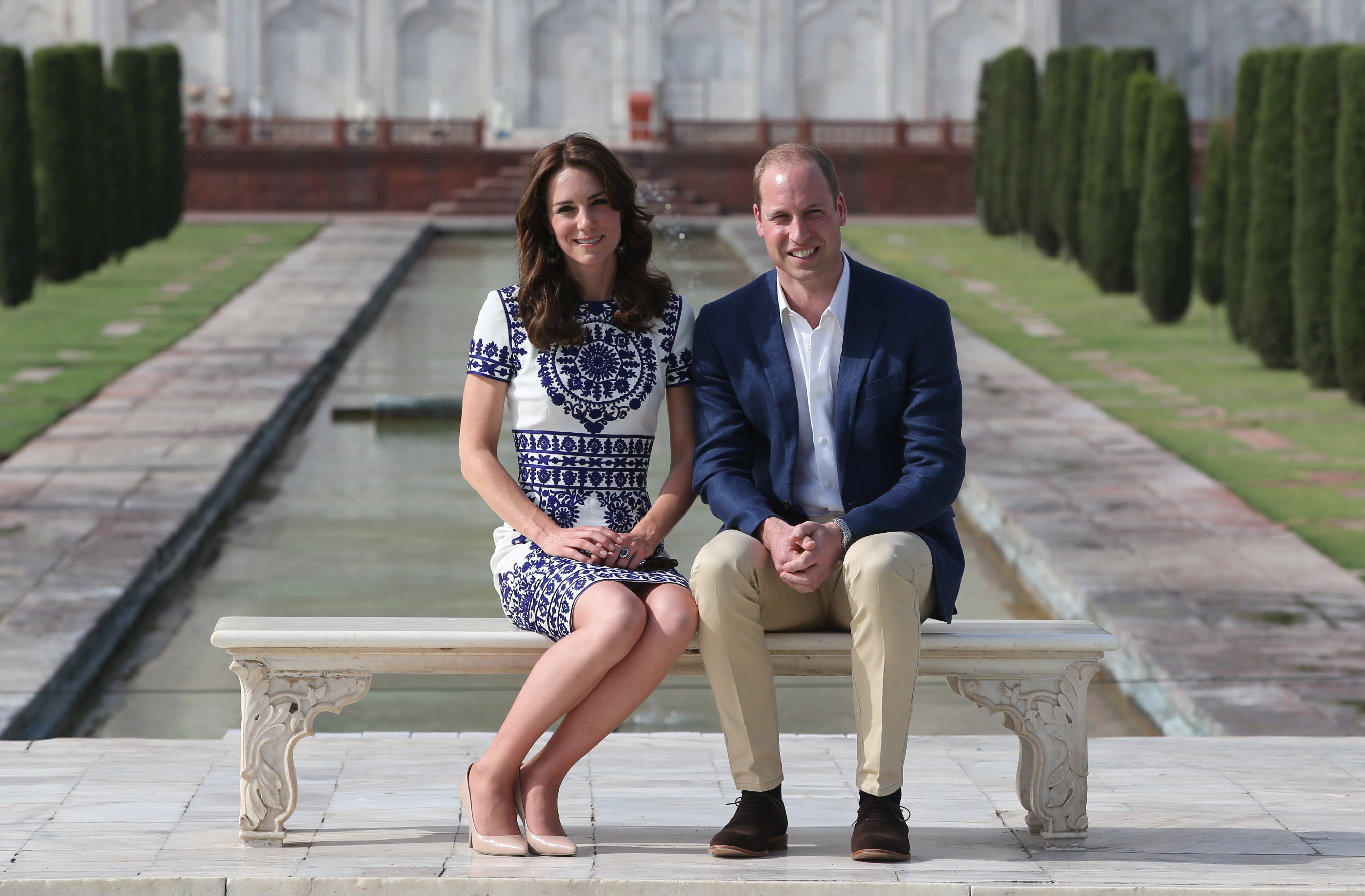 Prince William, Duke of Cambridge and Catherine, Duchess of Cambridge sit in front of the Taj Mahal during day seven of the royal tour to India and Bhutan on April 16, 2016 in Agra, India. | Source: Getty Images
He revealed that Harry and William had chosen pieces from their mother's collection. And while William chose a Cartier watch, the younger brother took the sapphire ring, the only thing he inherited from his mother.
In a selfless act, Harry gifted the gem to William after he announced he was planning to propose to Middleton. He thought he would be sitting on the throne once William became king, saying:
"Wouldn't it be appropriate for her to have mum's ring? Then one day that ring will sit on the throne of England."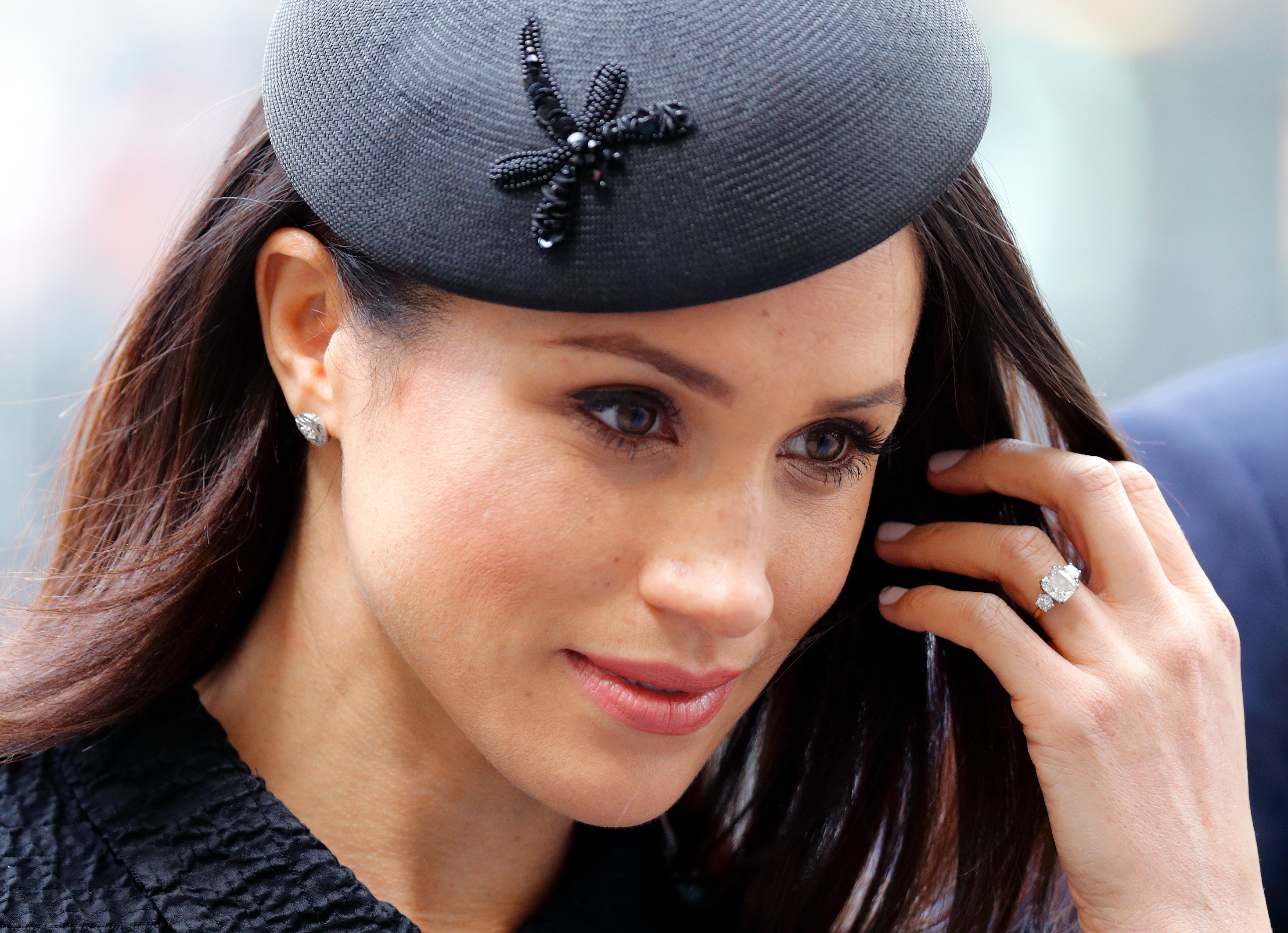 Meghan Markle attends an Anzac Day Remembrance and Thanksgiving Service at Westminster Abbey on April 25, 2018 in London, England. | Source: Getty Images
"The one thing he hid from his mother he gave to his brother. She's selfless, kind and exactly who Diana was." Burrell continued. Maybe if Harry hadn't offered the ring to William, he would have offered it to Markle with it.
However, the former actress didn't miss out as Harry offered her a personalized diamond ring estimated at £260,000. The ring's center stone is from Botswana and the other two are from Diana's collection, so it still has sentimental value to Harry.
amomama