Women News
Keilani Bautista is one of Dave Bautista's children and she leads a private life
Keilani Bautista grew up without her dad, as the famous WWE star admitted to spending most of her time wrestling on the road. Now she is a mother of two and is enjoying life outside the spotlight despite her father's fame.
Keilani's father spent years as one of WWE's most successful stars and is said to have amassed approximately $16 million in wealth to provide Keilani and his siblings with a good life.
However, this life did not include her father at times, as her parents separated when she was younger, and her father's life was littered with scandals, including cheating.
Dave Bautista at the 'Glass Onion: A Knives Out Mystery' premiere during the 66th BFI London Film Festival on October 16, 2022 in England. | Source: Getty Images
Keilani made her social media private
While her dad has four million Instagram followers at the time of writing, Keilani has a much smaller social media presence. She has a Facebook account and joined Twitter in April 2012; however, she set both accounts to private.
In her Twitter bio, she wrote"Hey peeps, yes it's really me, Keilani Bautista, the daughter of WWE star Dave Bautista. There are fakes of me and my family here, but we're hoping to clear them up."
The same way she was raised, Keilani keeps her two sons, Aiden and Jacob, and their identities out of the spotlight and leaves little trace of her personal life. However, after his father tried his hand at acting, he saw his fame rise.
And with over four hundred posts on Instagram at press time, the wrestler-turned-action-star is documenting his life both on and off screen.
His father was "never at home"
Born in 1969 in Washington, DC, Keilani's father came from humble beginnings. In his book, "Batista Unleashed," the WWE star detailed his childhood in a less affluent neighborhood surrounded by drugs and crime.
This led him to join a gang which saw him commit petty crimes. However, as he got older and his signature muscular physique grew, he was charged with assault when he landed a job as a bouncer.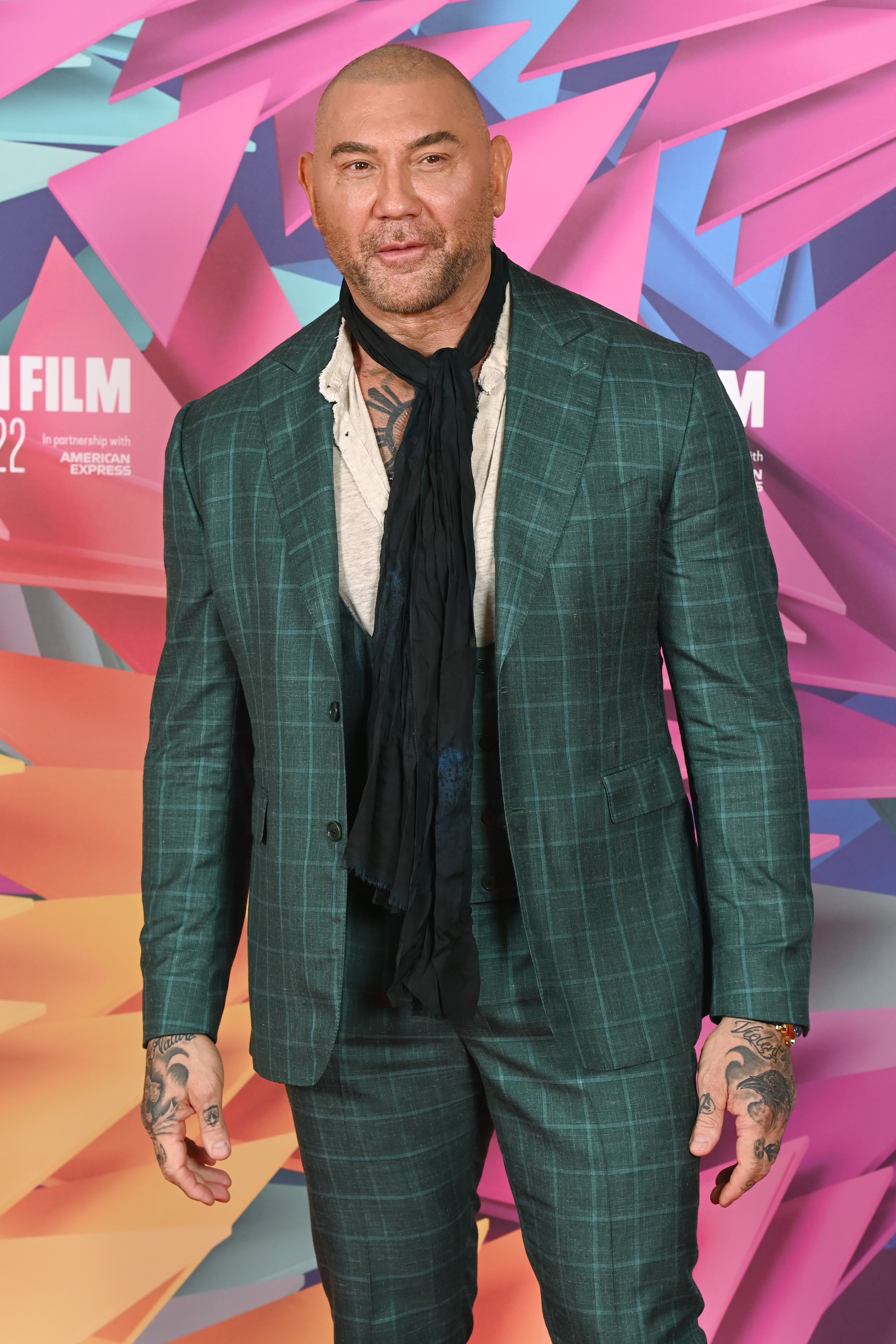 Dave Bautista at the 66th BFI London Film Festival on October 16, 2022, in England. | Source: Getty Images
Despite Keilani's father's past, he maintained a successful career in the WWE wrestling ring, but that life also came at a cost as he was often absent from his life. His father said:
"Throughout my wrestling career, I just…I was never home. I lost a marriage to someone who was a very, very close friend of mine. We still remain friends, but never being home just tore our marriage apart."
According to the Australian Broadcasting Corporation, Keilani's parents' marriage ended because her father was always away and because he struggled to stay faithful on the road.
Keilani's parents' marriage fell apart after 8 years
Keilani was born during her father's first marriage to her mother, Glenda Fe Bautista. The exes married on March 25, 1990 and welcomed Keilani the same year. His sister, Athena, followed in 1992 and is the only sibling to follow in their father's footsteps.
However, her acting career was short-lived as she appeared in a movie called "Greed" in 2014. Keilani's parents divorced in April 1998 and the same year her father remarried an instructor. fitness and business woman called Angie.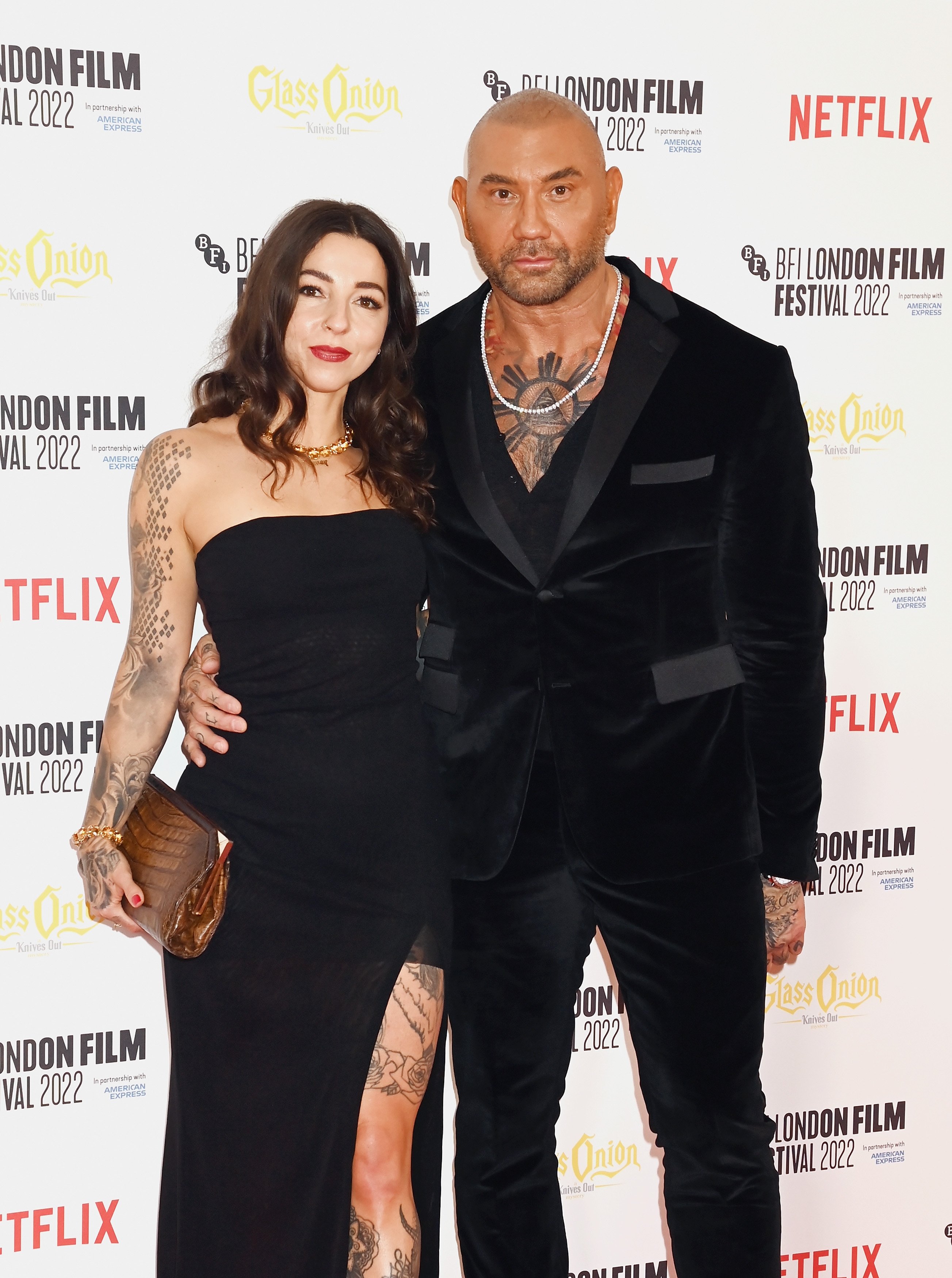 Dave Bautista and his date at the 'Glass Onion: A Knives Out Mystery' European Premiere Closing Night Gala during the 66th BFI London Film Festival on October 16, 2022 in England. | Source: Getty Images
They welcomed a son, Oliver, Keilani's only half-brother before divorcing after eight years as well. Reflecting on his second marriage, Keilani's father said:
"She wanted a husband who was going to be home, and I was like, 'Make a choice.' And sometimes it's hard for me to say it, but I admit that I chose my career because it was the only chance I had."
After retiring from sports entertainment, Dave Bautista revealed in 2021 that he had found love again after his third marriage ended but was hesitant to say who the mystery woman was. Instead, he shared that he found someone who understood him.
amomama