Women News
Kevin Costner "never stops raising" his 7 children
Kevin Costner is the father of seven children from three different women. Still, 'The Bodyguard' star is protective of the bond he shares with his children as he raises them to be normal, despite his celebrity status.
Being an A-list celebrity can make it hard to raise kids in the spotlight, so give them a normal upbringing, but that's not a problem Kevin Costner faces.
The 'Yellowstone' star is a loving husband to his wife and a caring father to seven children, all of whom he raised as normal children. Kevin, an actor, singer and producer, first became a dad nearly four decades ago when he welcomed daughter Annie with his ex-wife, Cindy Silva. The former couple went on to have a daughter, Lily, and a son, Joe.
He had his fourth child and second son, Liam, with Bridget Rooney. In 2004, the award-winning actor remarried, this time to designer Christine Baumgartner. After their marriage, they expanded their family by welcoming three children, Cayden Wyatt, Logan Hayes and Grace Avery.
Interestingly, Kevin's busy and large family has never been an excuse for him to take a break from fatherhood. The actor has a close relationship with all of his children and once told People:
"I'm really comfortable with my family. I'm really comfortable with my children. Our house is like a river: you just have to go for it… And whatever you think it was going to be, maybe it's still possible, but it will have to work with what the day brings."
Kevin Costner and his children Lily, Annie and Joe at the LA California Premiere in 1996. | Source: Getty Images
That comfort came with sacrifice and investing time in parenting her offspring. Although Kevin has always been committed to getting the best out of his children by instilling the right values ​​in them, he doesn't brag about being a perfect father.
Still, he can have fun with the family during a break from work. The 'The Untouchables' star noted that people barely know how her family works. He creates memories with his wife and children when he is not in front of the camera.
Simultaneously, the mini Costners recognized their father's influence on their lives. Although he is an award-winning on-screen star for fans, they see him as a loving father to emulate.
His eldest, Annie, born in 1984, also shares his acting talent. She starred with her father in the Oscar-winning film "Dances With Wolves" as Christine.
Amid her other feature films, including 'The Postman' and 'The Baby-Sitters Club', she bragged as a producer in 2014 after setting up a production company known as Sound Off Films, bringing her to work with the best in the industry.
Annie is also a happily married woman who married Dr. Danny Cox in 2016. The actress and doctor had a memorable wedding ceremony at her father's private estate in Carpinteria, California.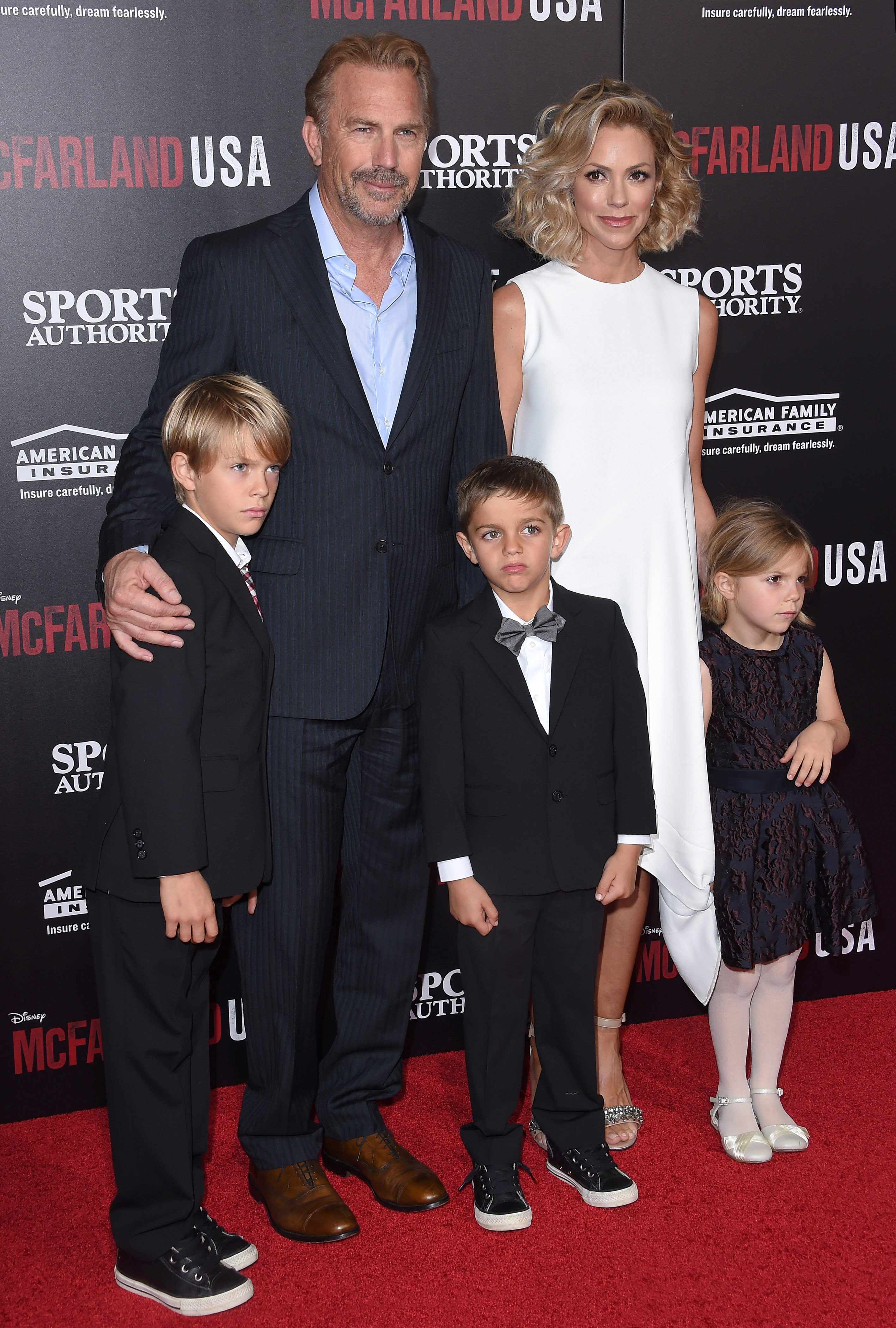 Kevin Costner, his wife Christine Baumgartner and their children Grace Avery Costner, Hayes Logan Costner and Cayden Wyatt Costner on February 9, 2015 in Hollywood, California | Source: Getty Images
Like her sister, Lily is a seasoned actress with a soft, singsong voice. While riding solo, Lily has worked with Kevin on numerous projects, both on-screen and with his band, Kevin Costner & Modern West.
Kevin's first son, Joe, also started his career in the industry as an actor after working closely with his father and older sisters. Despite his mastery of acting and singing, Joe opted for a career behind the scenes. He is a sound engineer and production sound mixer.
Having a different career did not deprive him of the support of his famous father. A few years ago, Kevin praised his son's work ethic and how he surrounds himself with good friends. The actor's second son, Liam, prefers a life away from the spotlight, and for many years he managed to maintain a low-key personality.
On the other hand, his younger half-siblings have been filmed several times with their father at red carpet events, but have yet to establish themselves as actors or singers.
Cayden, the eldest son of Kevin and Baumgartner, is interested in music and, predictably, has supportive parents. Although the actor was hesitant to start fatherhood again at age 50, he decided to give it a shot and didn't regret a moment.
Two years later, the couple had another son, Hayden Logan, who grew to love sports and played in little league games. The youngest child in the family, Grave Avery, is utterly feminine. Unlike her brothers, she prefers to dance and sew. However, she is also observant.
From an early age, she understood her father's need to transform his appearances for roles. During an appearance on Today, he revealed:
"If I come home – and the haircut I got was pretty severe – and Gracie looks at me, then looks at Mom and says, 'Dad fought again, huh?'
Kevin Costner's Relationship With His Kids and How They Get Along
In the past, the 'Waterworld' star has confessed that he's relaxed at home with his family and doesn't see himself as the perfect dad. But in raising them, he was very intentional.
Kevin was eager to build an unbreakable relationship with his mini-mes. He was closer to his daughters than his sons, and one of the ways girls show their love is by making him sandwiches once in a while.
Most of Kevin's life decisions and outlooks have been shaped by his duties as a family man. As he got older, he wanted to invest more in his children and live forever on Earth.
But that doesn't mean he didn't bond with his boys; he sees himself as a provider in all its ramifications and has realized that the world does not revolve around him.
While enjoying the company of all his children, he taught them to be independent, raising them with a sense of normalcy amid his celebrity status. Kevin taught them to "work hard and stand on their own."
His only concern about fatherhood was when he started taking in the younger ones. He had a heart-to-heart conversation with his elders and made sure to eliminate any form of jealousy.
As an older parent with adult and teenage children, he was aware that his younger children might not have him as long as the older ones. So he invested himself in being there for his second family with Baumgartner.
Fortunately, he avoided raising spoiled and entitled children, and all they want from him is to continue to be their provider, financially and emotionally. He spends time with them on different properties, including his ranch in Colorado. Talking about the difference between raising them, he said:
"There really is no difference. You love them. They always want money and stuff."
Thoughts on Kevin Costner's Mortality and Staying a Dad Forever
Since the birth of his firstborn, Annie, Kevin has enthusiastically taken on his fatherly duties, and although this is his longest-running role, he is still proud of it. Although he has a successful career, he has been busy raising his children, a sacrifice he intends to continue making for the rest of his life. In his words, "you never stop raising kids."
Most of Kevin's life decisions and outlooks have been shaped by his duties as a family man. Growing up, he wanted to invest more in his children and wished to live forever on Earth. He said:
"I would like to live forever. That's how much I love life. I love being on Earth. I want to spend as much time on this Earth as possible."
Kevin's life hasn't been a walk in the park as he dealt with a failed marriage and then committed to raising younger children. However, he considers himself lucky to have a wonderful family surrounded by love and fulfillment!
amomama