Women News
Lewis Hamilton's parents – His 2 mums and dad invested in his success
Carmen Larbalestier and Lewis Hamilton. | Anthony Hamilton and Nicholas Hamilton. | Source: Getty Images
Lewis Hamilton's parents are his mother, Carmen Larbalestier, father Anthony Hamilton and stepmother Linda Hamilton. The blended family has been supporting the racer since his karting days.
When Lewis Hamilton was becoming a racing driver, Anthony Hamilton, his father and manager, was the only person of color he saw on the race track. He was his son's protector when the youngster was bullied at school because of his stature and race.
When the F1 world champion got his MBE in 2008, he took his father and stepmother, but his mother was on his arm when he was knighted on New Year's Day 2021.
Mercedes driver Lewis Hamilton with his father Anthony (left), stepmother Linda and mother, Carmen Larbalestier, in Austin, Texas. | Source: Getty Images
Lewis Hamilton's relationship with his parents
Carmen Larbalestier and Anthony Hamilton welcomed their only son, Lewis, named after American Olympian Carl Lewis, on January 7, 1985. The couple broke up when he was just 2 years old and the two started a new relationship soon after.
Lewis spent her early years with her mother, her boyfriend Raymond Lockhart, and her two half-sisters, Nicola and Samantha. When he was twelve, Larbalestier and Lockhart moved their family from rural Stevenage, England to London.
With his prospects with the McLaren team, the pre-teen decided to stay at Stevenage with his father, stepmother Linda and half-brother Nicholas.
The F1 champion said in August 2020 that the adage that "behind every successful man is a strong woman" holds true. Only he had two women like that, the two women he calls mom, Larbalestier and Linda.
During his campaign to win his first title, the two women were pictured kissing him at the 2008 Chinese Grand Prix. He credits them for teaching him to be empathetic and compassionate.
The relationship between Anthony and his son received the most headlines on both the positive and negative scale. But through it all, the Mercedes driver has always appreciated his father's hard work to get him to where he is today.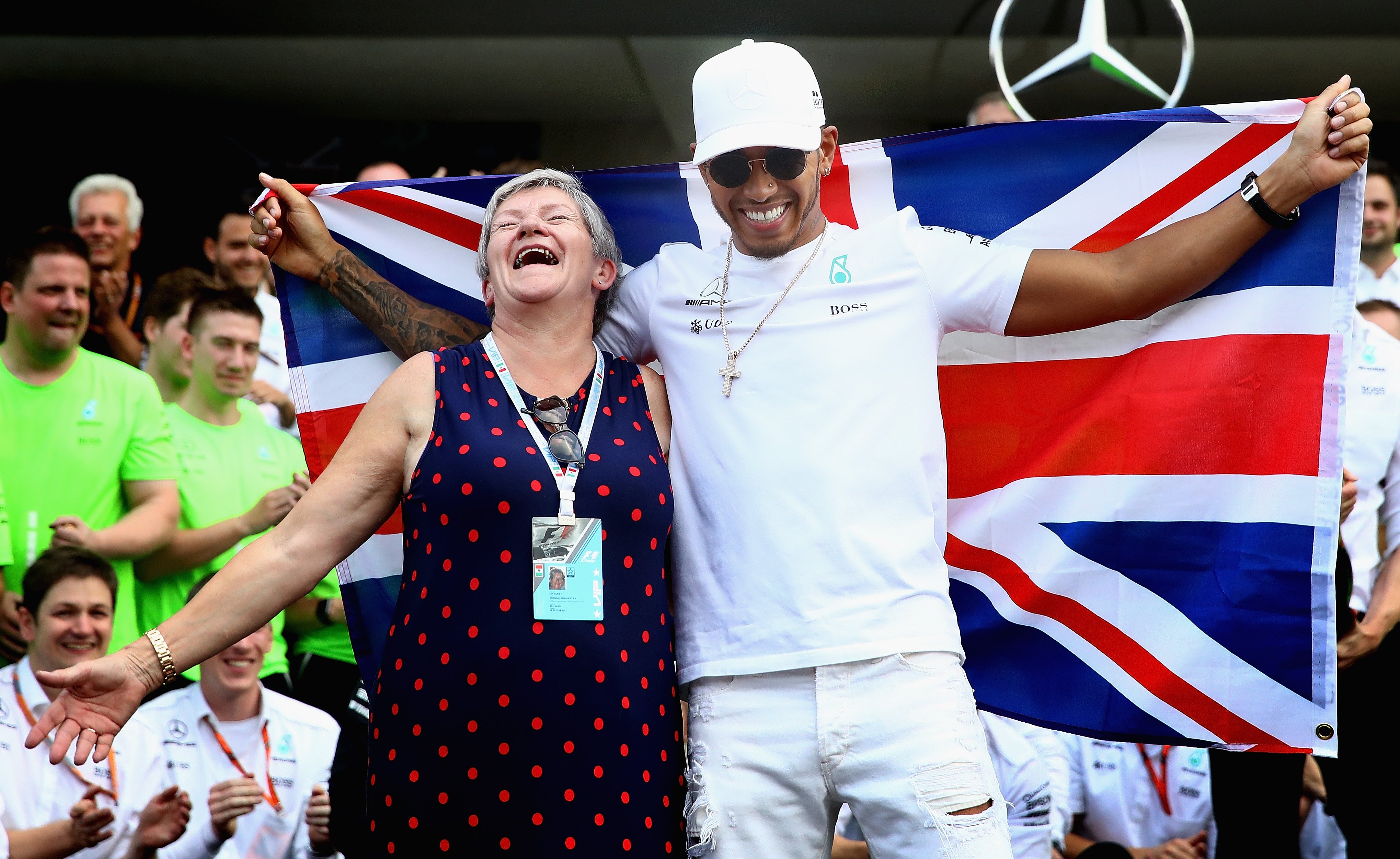 Lewis Hamilton celebrates with his mother Carmen Larbalestier after winning his fourth F1 World Drivers' Championship following the Formula One Grand Prix of Mexico at Autodromo Hermanos Rodriguez on October 29, 2017 in Mexico City, Mexico. | Source: Getty Images
Lewis decided to change his name for his mother's sake.
Lewis took Larbalestier as his plus-one when he was knighted in the 2021 New Year's Honors. Ahead of the event, he sent his mother shopping at Selfridges department store. He said she made the day special:
"I looked to my right, and she was just standing there with the biggest smile I've ever seen. So that was, for me, one of the most special moments I've ever had. "
The Briton announced in March 2022 that he planned to bestow an honor on Larbalestier by incorporating his surname into his own. The driver said he did not understand why a woman would lose her surname upon marriage and want Larbalestier to live alongside Hamilton.
Larbalestier's absences from his early races led to gossip about a rift in the extended family. However, the combination of a lack of funds for international races and a desire to be out of the spotlight then alienated the secretary.
Anthony was his offspring's manager until 2010 when his unexpected chop by his son became tabloid fodder.
For his 60th birthday in 2015, Sir Hamilton threw a surprise party for his mother in London, ordering Jessie J as entertainment. He said on IG that all the hard work was well worth surprising the "most amazing woman in the world."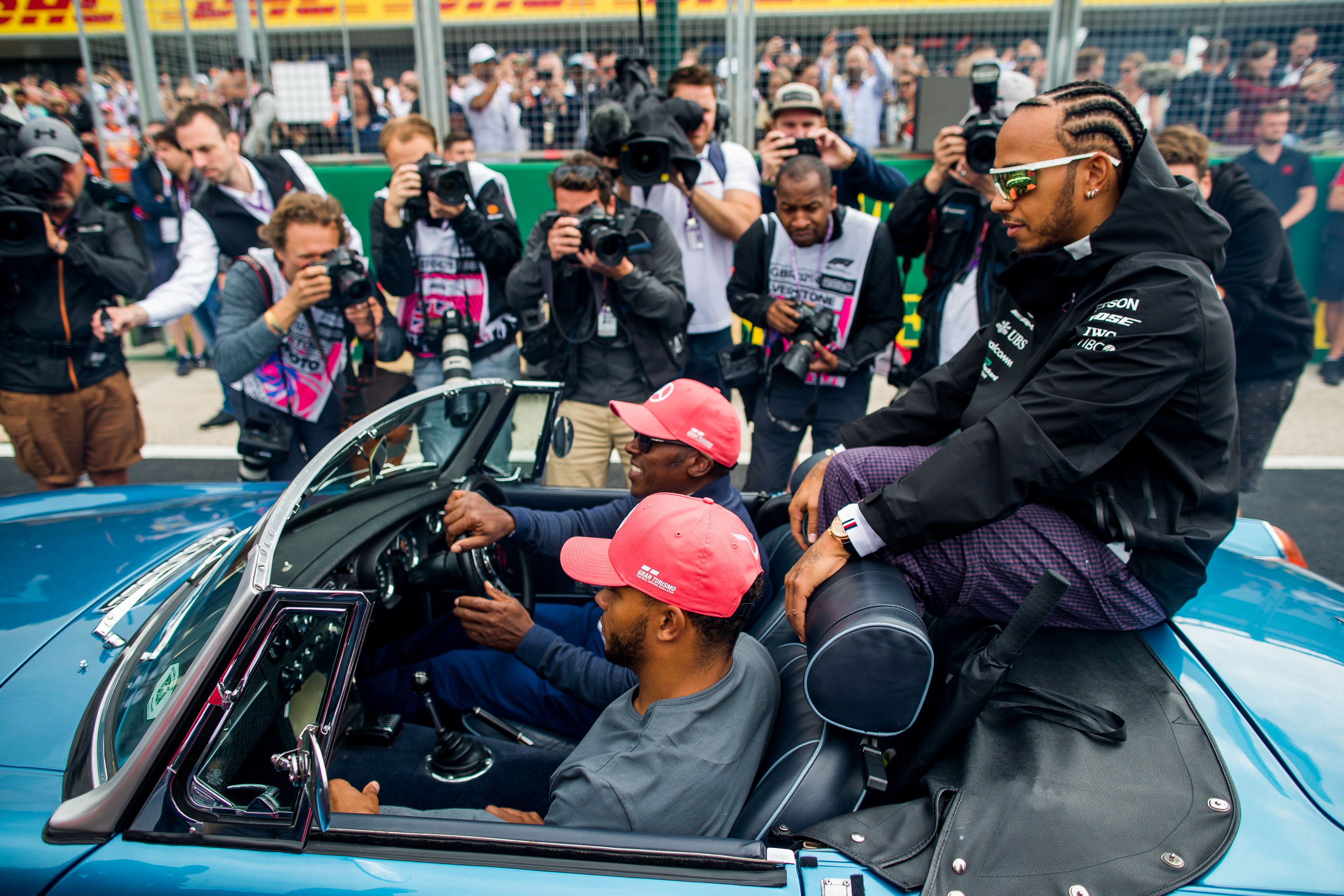 Lewis Hamilton with his brother Nick and father Anthony during the British F1 Grand Prix at Silverstone on July 14, 2019 in Northampton, England. | Source: Getty Images
Lewis is inspired by his father Anthony Hamilton
Anthony was born in the UK to immigrant parents from Grenada. The Hamiltons lived in west London before settling in Stevenage, Hertfordshire. He was a devoted father and provider, but Lewis says his father never hugged him when he was younger.
He was the driving force behind his son's debut in the automotive world, from electric car racing to go-karts to the famous F1 circuit. To achieve this, the elder Hamilton worked up to four jobs at a time to fund the notoriously expensive sport.
Anthony served as his brood's manager until 2010, when his son's unexpected chop became tabloid fodder. Despite his disappointment, he supported his son's decision to be his "own man". The pair have overcome their differences and he is back on Team Lewis.
Father and son had their first solo vacation in February 2020 to further mend their lost bond in the business side of their relationship. Lewis shared a touching image of the couple walking on the beach at sunset.
F1 racing puts Anthony at the top along with his other role models, Nelson Mandela and Martin Luther King. He says he is constantly inspired by his father and still relies on him on a daily basis:
"You know, he's the first person I'll call after my run to say, 'Were you watching, Dad? What did you think?'"
Lewis' stepmother denied herself a lot of things for him
Linda came into Lewis's life shortly after her parents separated. On his birthday, March 27, 2022, he paid a heartfelt tribute to him as a woman who made many sacrifices to get him where he is and said:
"When you see me, you see her. Making her proud is truly one of the best feelings in the world."
It is an integral part of his races as he is tied with Michael Schumacher in world championship wins. He praised her again in April 2022, saying she gave up a lot to make her dream a reality, pointing out that her dad couldn't have done it alone.
Linda and Anthony's son, Nicholas, was born with cerebral palsy, which forced him to use a wheelchair in his youth. In a modified vehicle, he is a racing diver in the British Touring Car Championship. In 2022, his big brother organized a day for him as a Mercedes driver.
amomama