Women News
Mabel Jane Grace is not an only child, but her brother's identity is hidden
Mabel Jane Grace is the first child of Topher Grace and Ashley Hinshaw. She has a younger brother and is expected to be the eldest of three children soon. His siblings remain a mystery.
Mabel Jane Grace was born on November 1, 2017. Her parents are accomplished actors who have worked with some of Hollywood's top directors and producers. His father, Topher Grace, is well known for playing Eric Forman on "That '70s Show".
Her mother is an actress most recently recognized for her role in Crackle's television series, "StartUp." Mabel's parents are very reserved people who hid the identity of their children.
Ashley Grace and Topher Grace arrive at The Art Of Elysium's 13th Annual Celebration at the Hollywood Palladium, Los Angeles, CA on January 04, 2020. | Source: Getty Images
Mabel Jane Grace gave her father the gift of fatherhood
A simple day spent eating something turned into a paparazzi party for Topher and Ashley. The 'About Cherry' star was spotted in a blue and white striped dress with a figure-hugging fit that showed off her baby bump. Her husband relaxed in a pair of jeans and a blue t-shirt.
They prefer to keep their personal experiences private, but there was no control over the announcement of such news that day. They were just over a year into marriage at the time of this discovery. Childless, this pregnancy was a new experience for both of them, despite Topher being godfather to Jaime King's son.
The news had already hit the media when Ashley took to Instagram to make the announcement herself. She posted a photo of herself with a caption revealing that she was six and a half months pregnant. They managed to hide it for most of the pregnancy.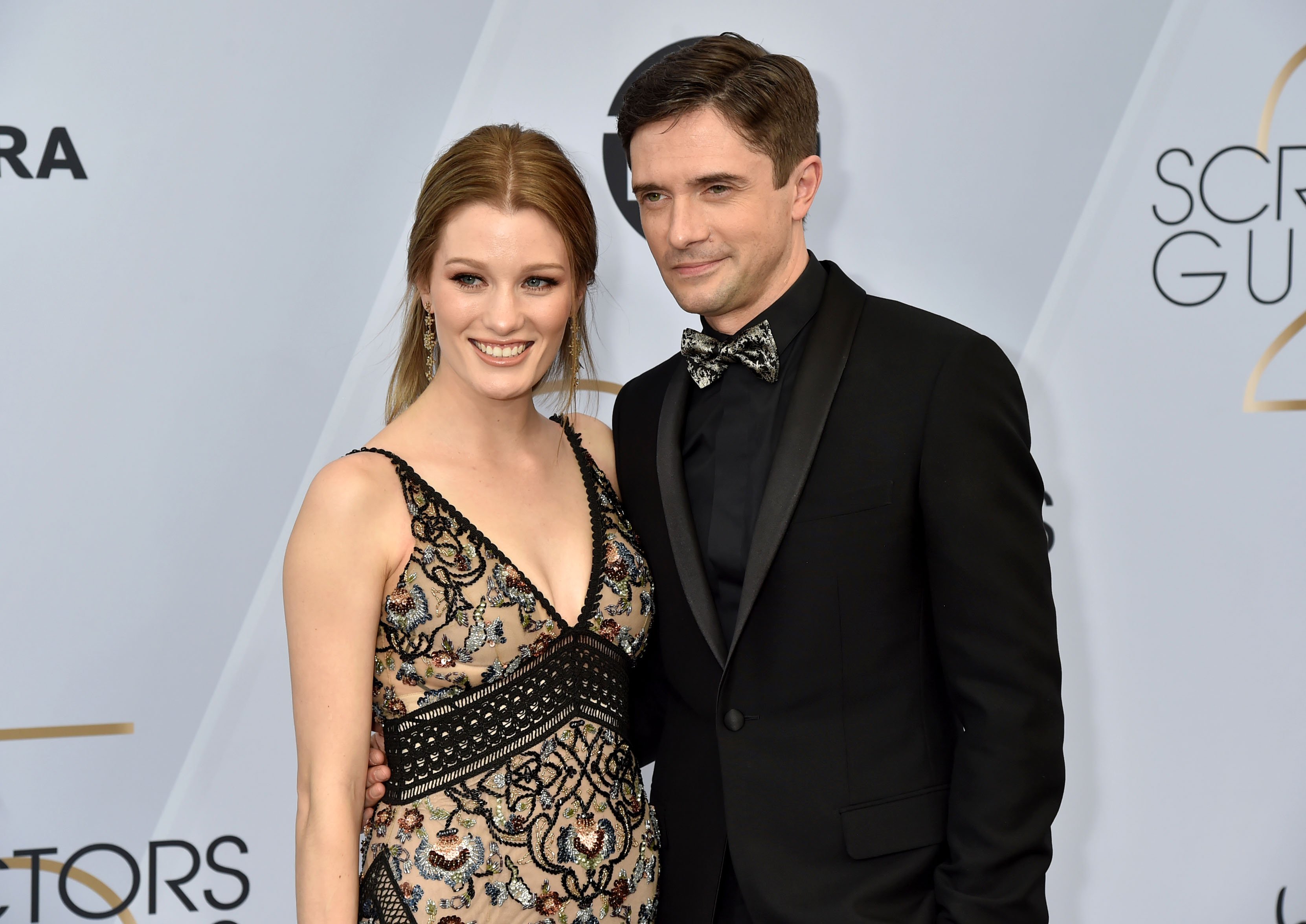 Ashley Hinshaw and Topher Grace at the 25th Annual Screen Actors Guild Awards at the Shrine Auditorium, Los Angeles, CA on January 27, 2019. | Source: Getty Images
Ashley hosted a baby shower and shared photos from the event on Instagram on October 22. She thanked Vanessa Felice for organizing the event and entertaining her guests.
On November 1, 2017, Topher and Ashley welcomed their baby girl, Mabel Jane Grace. Ashley was 28 then and her husband of a year and a half was 39.
Mabel Jane Grace's birth helped her father find purpose in his role in 'BlacKkKlansman'
Mabel was born while her father was planning a Spike Lee movie to raise awareness of racial ills that predated the world as we know it. Topher suffered a lot while preparing for his role as Klu Klux Klan grand wizard David Duke, who after research invoked feelings of depression.
The actor struggled to learn his lines from the film with a plot based in 1970 Colorado. With such a sensitive theme in the film, Mabel's father had to memorize some truly hateful words, much to his wife's chagrin . He added:
"I was repeating lines, and [my wife] would be like, 'Hey, can you relax with the hate speech right now? Our daughter is two weeks old.'"
Fortunately for Topher, he was the father of a little girl who brought him great joy. He feels like actors play pretend for a living, but with a subject like this and the birth of his little one, he found purpose in filming this movie and found it was a cathartic experience.
Mabel Jane Grace lives in obscurity, but her brother's name is also a mystery
Mabel's parents managed to keep her private and out of the public eye. However, in 2020, she became the older sister of a child who remains a complete mystery to the public. Mabel's parents have not released any details about her younger brother; not even the sex of the child.
When she was pregnant with her second child, Ashley opened up about her excitement at becoming a mother of two, and months into her pregnancy she showed off her beautiful baby bump. A misleading buildup for fans anticipating a reveal.
When Ashley was in the hospital recovery room after their second child, she felt it was okay for Topher to leave as it wasn't her first experience. However, he stayed until she recovered. The "That 70's Show" star mentioned he was excited about baby number two and couldn't wait to sleep even less.
In 2022, Ashley is pregnant with the third edition of their family, Topher shared on Kelly Clarkson's "The Kelly Clarkson Show." While on the show, Topher saw this announcement as the perfect opportunity to address his appreciation to his wife; he added:
"And I would like to take this moment on national television to say how beautiful and amazing she is."
Ashley is against the oppression of women and their right to plan their pregnancies. She shared an Instagram post expressing her support for women's rights. Part of the caption states that she has served on the board of directors of a foster care organization for the past three years.
Although the couple leads a better life, they don't keep their children a secret. It is common knowledge that they are the parents of two children and the third is on the way. Ashley even expands on her story, stating that she's been pregnant five times before and only given birth twice.
The sensitive details she expresses are very personal to her, and she drives that energy into her activism for the birthrights of other women. With their family blossoming and their careers peaking simultaneously, there's a lot to expect from the Graces.
Recently, we dove into the facts about Topher's "BlaKkKlansman" counterpart, Adam Driver's relationship with his wife Joanne Tucker. Much like the Graces, they keep their relationship relatively private.
amomama