Women News
Nancy Putkoski saw Anthony Bourdain's fame as a threat to their marriage
Nancy Putkoski, who dated Anthony Bourdain for twenty years, had a different approach to marriage than her internationally renowned ex-husband.
In the 2021 documentary "Roadrunner: A Film About Anthony Bourdain," many of Anthony Bourdain's friends, family, and colleagues shared their stories about the late host. The absence of his first wife, Nancy Putkoski, was deeply felt.
However, the media-shy Vassar alum provided invaluable insight into their relationship when he collaborated on an in-depth profile of his ex published in 2017. Details of his private life are scarce, regulated by what the author shared in his writings and interviews.
Chef Anthony Bourdain on October 27, 2003. | Source: Getty Images
Anthony Bourdain followed Nancy Putkoski to college
Putkoski met his future "partner in crime", Bourdain, presumably at the private Dwight Englewood High School in northern New Jersey. The "No Reservations" host has revealed in multiple interviews that he fell for a rowdy high school crowd in the '70s.
He fell in love with the "bad girl" of the group, Putkoski, who was a year ahead of him at school. As she prepared to attend the prestigious Vassar College, her young lover chose to graduate from high school early and enroll at the upstate New York institution.
The true extent of their romance is undocumented, but the prolific author's anecdotes leave some inferences to be made. Bourdain was 17 when he became one of Vassar's first male students when the former women's college became coeducational. He once said that the college's predominantly female population taught him the "way of the world".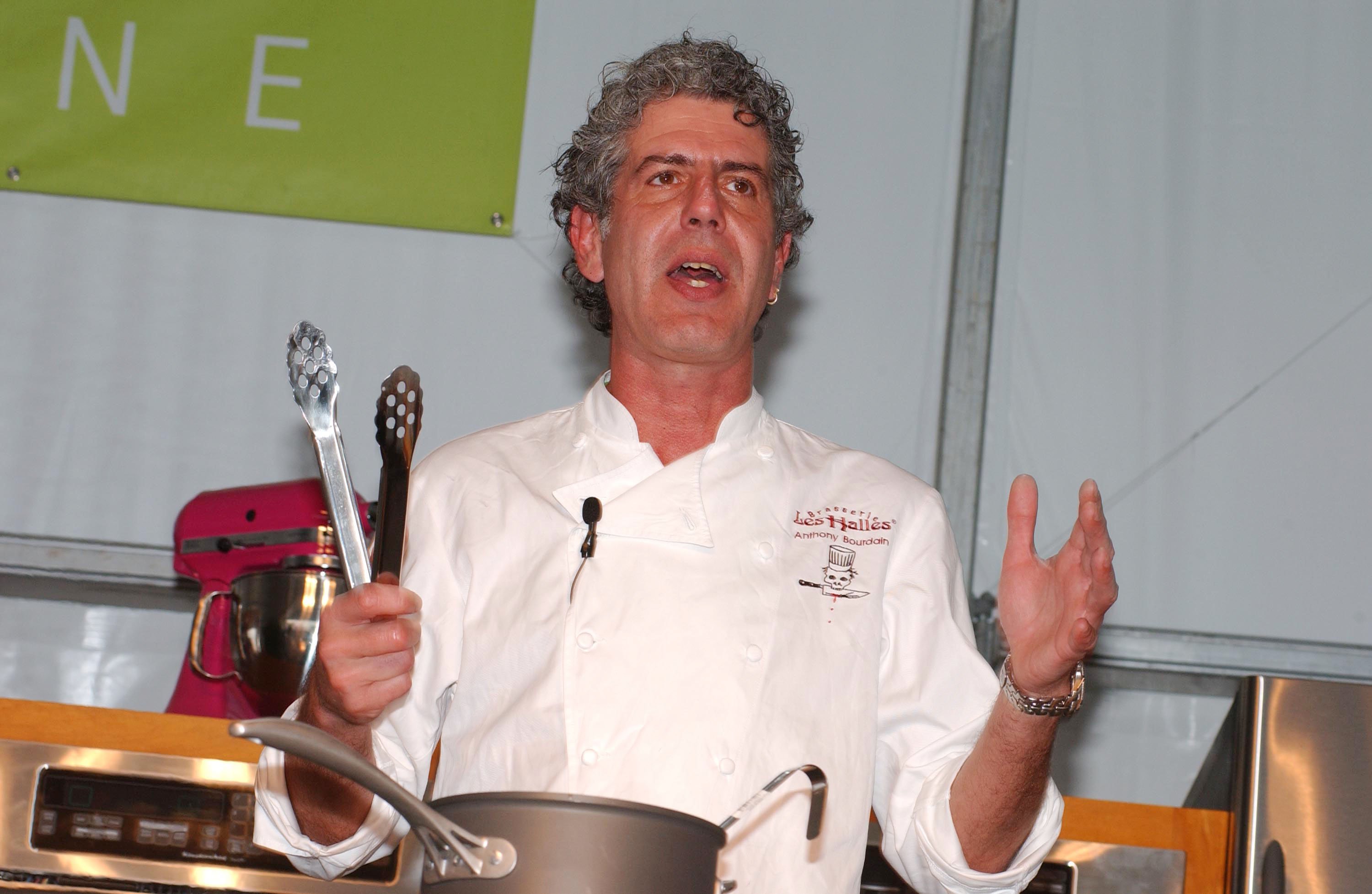 Chef Anthony Bourdain demonstrates cooking at the South Beach Food And Wine Festival February 26, 2005 in Miami Beach, Florida. | Source: Getty Images
Nancy Putkoski and Anthony Bourdain had a quiet domestic life
It is unclear whether Putkoski graduated from Vassar or what profession she pursued after college. She moved in with Bourdain in a rent-controlled apartment on Manhattan's Riverside Drive in 1978, and the couple married seven years later in 1985.
As Bourdain thrived on his first travel show, "Anthony Bourdain's a Cook's Tour," his wife was seen floating awkwardly around the edges of the frame.
The future world traveler dropped out of college after two years to pursue his passion for cooking at the Culinary Institute of America, a short drive from Vassar. The chef has spoken openly about his addiction to hard drugs while working in various New York kitchens.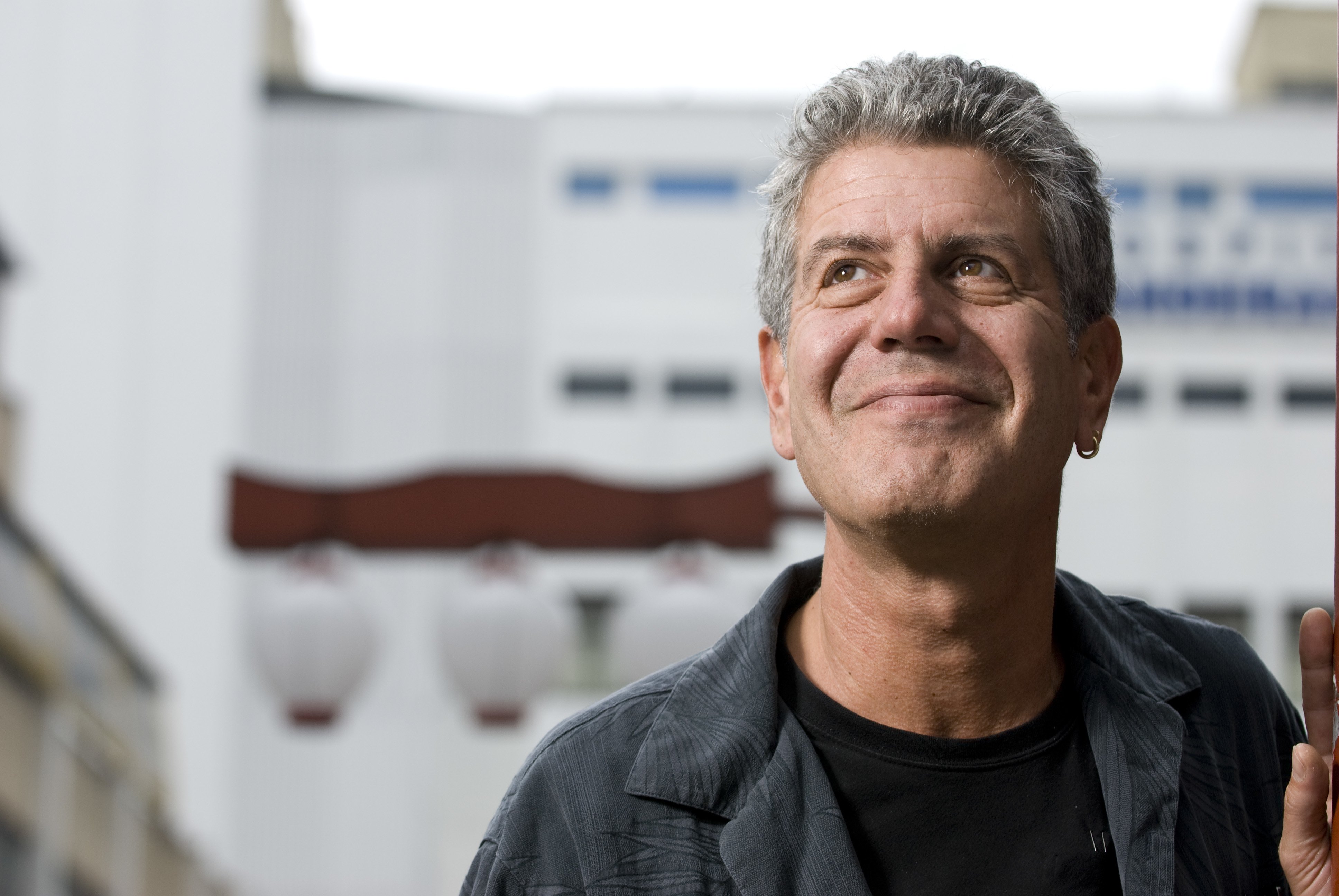 Anthony Bourdain in Sao Paulo, Brazil, while filming "No Reservations" for the Travel Channel on February 1, 2007. | Source: Getty Images
Years later, he compared their relationship to the 1989 crime drama "Drugstore Cowboy," about a couple who rob pharmacies to feed their addiction. Bourdain explains:
"That kind of love, co-dependency and sense of adventure – we were criminals together. A lot of our life was built around that, and thankfully."
Putkoski and her cook husband spent their evenings in relative domestic bliss watching "The Simpsons" while eating takeout. The couple's travels were limited to Caribbean vacations every few years.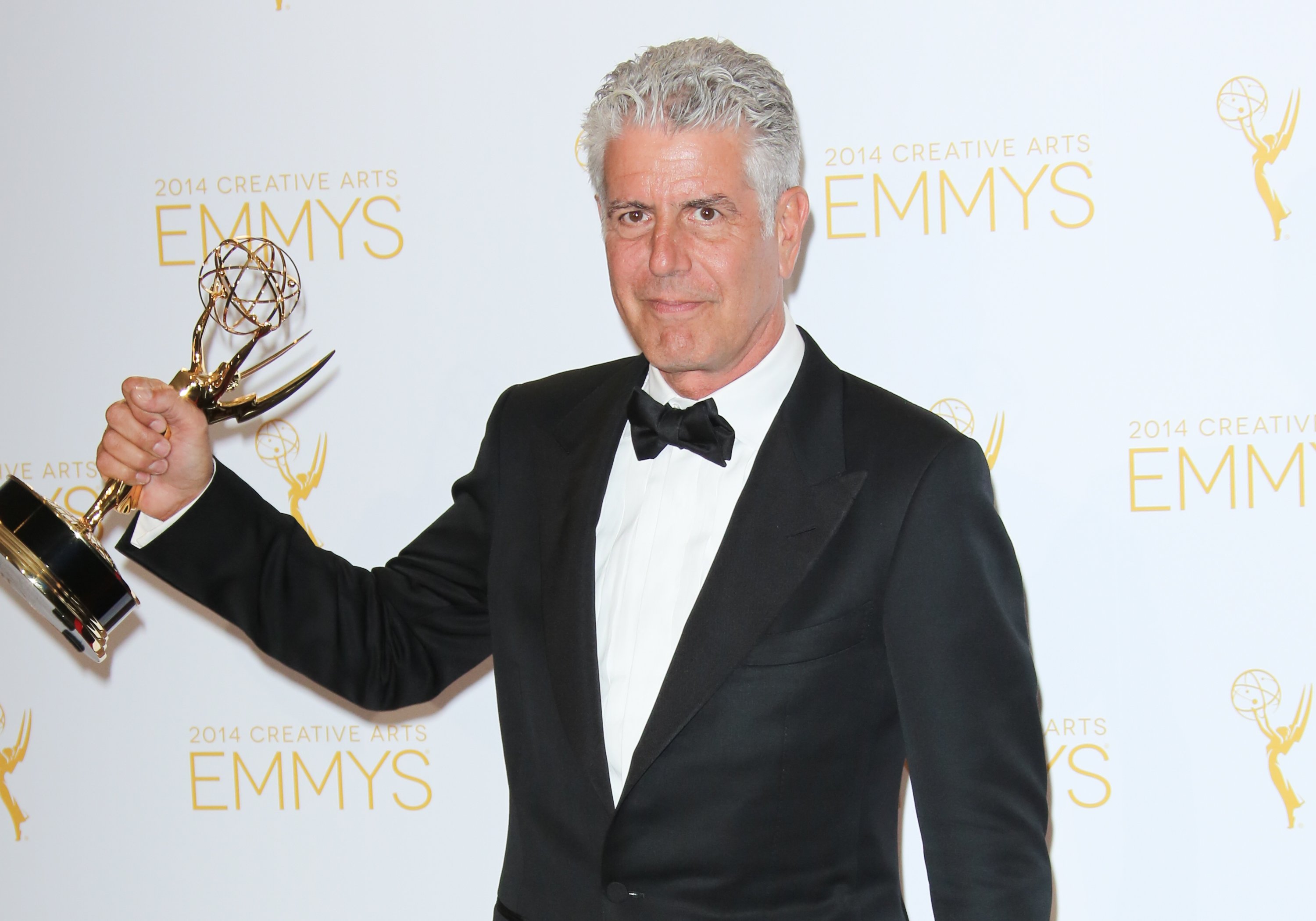 Anthony Bourdain at the 2014 Creative Arts Emmy Awards, Los Angeles, CA. | Source: Getty Images
Nancy Putkoski hated being on TV and Bourdain's fame spelled the end of their marriage
The life of the married couple gradually changed with the unexpected popularity of the chef's first memoir "Kitchen Confidential". If he remained in his kitchen work after the publication of the bestseller in 2000, opportunities were soon offered to him, which Putkoski did not support.
As Bourdain thrived on his first travel show, "A Cook's Tour," his wife was seen hovering awkwardly around the edges of the frame. Her husband said she saw television as an "existential threat" to their union and he felt it opened up his world.
The new TV star took steps to mend their relationship with cosmetic fixes to their apartment, where he now rarely slept. In the end, it came down to the fact that he was ambitious and she was not.
Reflecting on the breakdown of their marriage, Bourdain said he was deeply curious about the world, while Putkoski, the suspected star, only "wanted it". She filed for divorce, which was granted in 2005.
In a 2017 New Yorker profile, Bourdain shared that due to the nature of his job, he was incapable of the "type of care and feeding required of friends." He couldn't be counted on to remember a birthday, significant moments in a friend's life, or to be there to hang out.
His second wife, Ottavia Busia, woke up one day in the middle of the night, anxious, thinking that a strange man was in her bed, but it was just her husband who arrived late. Like her relationship with Putkoski, her workload was also a major contributor to the end of that marriage.
Nancy Putkoski's divorce sent Anthony Bourdain into a downward spiral
The woman who grew up in suburban northern New Jersey couldn't see the "cunning" that came with stardom, Putkoski also said:
"I'm passionate about shared experiences, which I thought had protected our partnership…We had been through a lot together, a lot of not-so-great stuff, a lot of wonderful fun."
Regarding Bourdain's version of events, she said her ex is "quite dramatic" and that life can "seem dark" looking back on it.
Karen Rinaldi, editor of "Kitchen Confidential," backed up that sentiment, saying Bourdain had romanticized some of his experiences as a drug addict.
Years after their split, the "Parts Unknown" host still viewed Putkoski's decision to end their marriage as a "great betrayal." After the divorce, he went to the Caribbean, which they frequented during their time together.
While on the islands, Anthony Bourdain admits he didn't value his life and behaved in a reckless and "suicidal" way. He drove in irresponsible circumstances and abused substances.
The National Suicide Prevention Lifeline is 1-800-273-8255. Other international suicide hotlines are available at befrienders.org.
amomama