Women News
Tony Bennett, 96, says 'life is a gift, even with Alzheimer's' – He cares for his beloved grandson and cooks for his family
Tony Bennett and Susan Crow Bennett. | Source: Getty Images
Tony Bennett suffers from Alzheimer's at 96

Tony finds strength and cooks for the family

Tony holds his newborn grandson in his arms in an adorable photo
Despite being diagnosed with Alzheimer's, 96-year-old Tony Bennett's musical talent has not faded, nor has his love for his family. The legendary singer-songwriter continues to cook for his family and is an avid grandfather.
Tony Bennett is an iconic singer and songwriter known for his smooth, crooning voice and refined style. He has released numerous albums and singles throughout his long career and has received numerous accolades for his contributions to the music industry.
Tony has been struggling with Alzheimer's disease for years. His wife, Susan Crow Bennett, confirmed his diagnosis in a recent profile for AARP magazine. Tony was diagnosed in 2016 but started showing significant signs of decline two years later while recording an album with Lady Gaga.
The 'Because of You' hitmaker first expressed concerns about his health in 2015, when he had trouble remembering the names of his fellow musicians. Tony eventually went to the doctor and was diagnosed by a neurologist at Lenox Hill Hospital in New York in 2016.
Tony Bennett and Lady Gaga attend the 57th Annual Grammy Awards at Staples Center on Sunday February 8, 2015 in Los Angeles, California. | Source: Getty Images
Susan shared that although his condition has progressed since diagnosis, the legendary singer fortunately did not experience the disorientation or bouts of rage, terror or depression that can sometimes be associated with the disease.
In a recent interview, Lady Gaga opened up about performing with Tony and the touching moment he remembered her name for the first time in a long time, despite being diagnosed with Alzheimer's.
Tony announced his name while they were on stage together at Radio City Music Hall in August, potentially his last time in front of a live audience. Tony and Lady Gaga released an album together in 2014 and another in 2021.
Susan has been with Tony for over 30 years and served as the musician's full-time carer. In an interview with "60 Minutes" host Anderson Cooper, she opened up about how her husband's memory changed and revealed:
"We're blessed in so many ways. He's very nice. He doesn't know he has it. [Alzheimer's]."
She said that although she misses the man her husband was before the illness, she noted that when he sings, he can tap into the parts of his memory and personality that remain unaffected by the illness.
Finding Happiness Amid Alzheimer's Disease
Susan was relieved that Tony still recognized her and all of their family. It was a bittersweet moment, as Tony's sporadic moments of clarity reminded him of how much his health had declined.
The famous entertainer often seemed confused about what was going on around him. Susan was in the middle of a conversation with a friend when Bennett asked about the weather outside. Tony's question came shortly after a walk in the park with Susan and their dog.
The famous musician also needed help understanding even the most basic objects in his household, such as a fork or keys.
Even though Alzheimer's disease makes things difficult for Tony, it does not allow him to control or dominate his life. He remains grateful and happy despite the challenges he has faced. He shared on Instagram:
"Life is a gift – even with Alzheimer's disease."
However, Tony's cooking skills are a brilliant part of his character that he cannot easily forget. He has a deep passion for cooking which he has shared with his family for years, alongside his love for singing.
The iconic singer revealed that he and Susan enjoy creating dishes inspired by his Italian roots. In a delicious Facebook video, the longtime pair could be seen expertly preparing a classic spaghetti dish with meatballs.
In the video, Tony was seen flipping meatballs on the pan, tossing pasta with tomato sauce and playing with his dog next to the table. After the cooking, the couple sat down with a glass of wine to enjoy their meal.
Tony has also created a playlist of classic songs for cooking enthusiasts to listen to while preparing their favorite meals. Several commenters expressed their joy that Tony spent time in the kitchen with his wife.
Breastfeeding newborn grandson
Not only is Tony a talented singer and performer, he is also a fantastic grandfather of five grandchildren. He truly cares about his family and demonstrates his love and dedication through his actions.
Despite his declining health, Tony showed strength when he welcomed his new grandson into the world in 2017. Photothe music icon can be seen cradling and nursing the precious baby boy close to his chest.
Tony looked proud as he smiled at his sleeping grandson. The child's name has not been made public, but it has been reported that he was the child of Tony's son Danny and his girlfriend Hadley Spanier.
The music superstar has four grandchildren: Remy, Kelsey, Jared and Austin. Remy and Kelsey are Danny's daughters, while Jared and Austin are sons of Tony's middle son, Dae.
Danny and Dae are Tony's children from his first marriage to his ex-wife, Patricia Beech. The award-winning singer also has two daughters, Antonia and Joanna, from his second marriage to his ex-wife, Sandra Grant Bennett.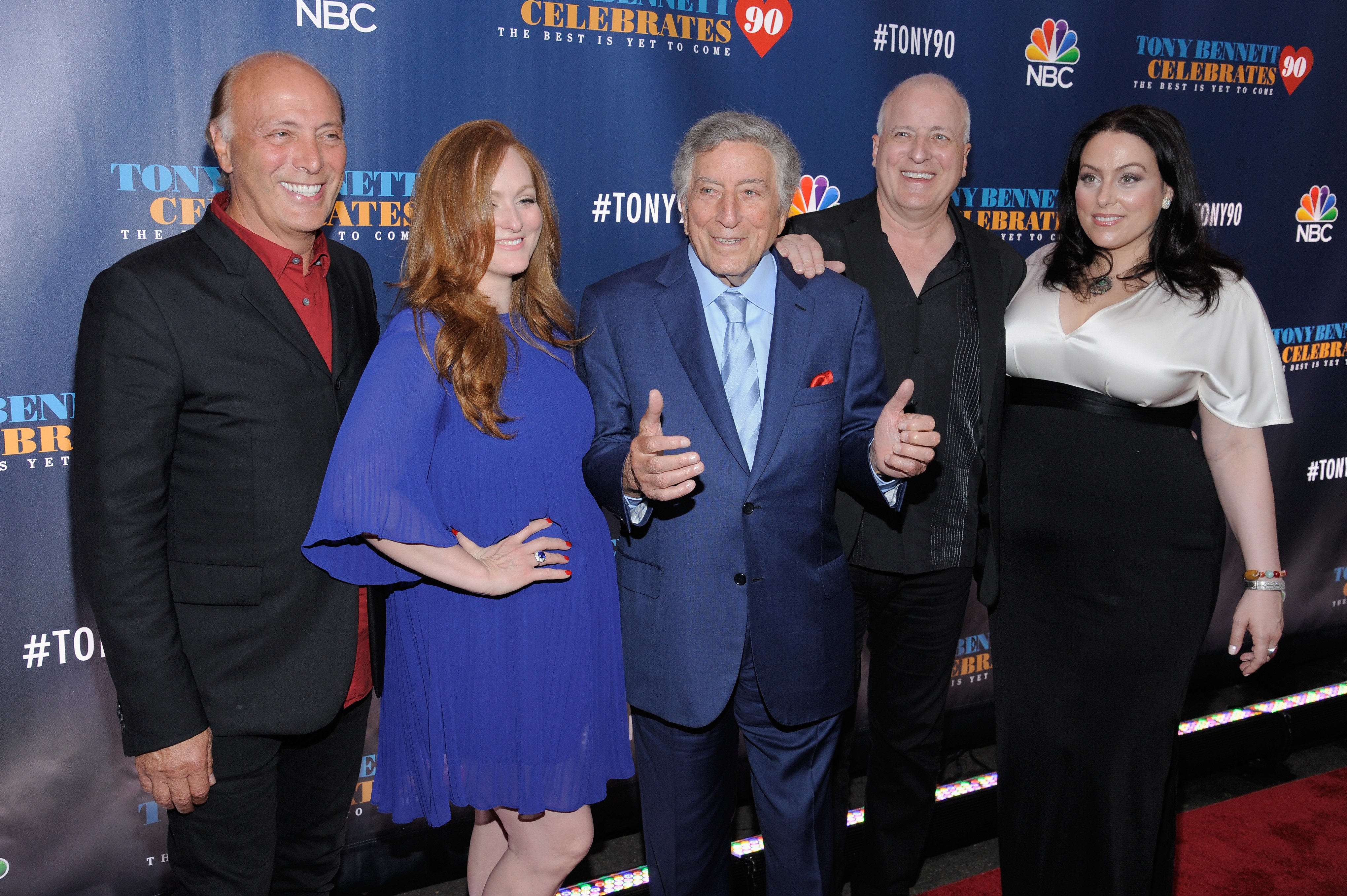 Danny Bennett with his children Danny, Antonia, Dae and Joanna Bennett attend 'Tony Bennett Celebrates 90: The Best Is Yet To Come' at Radio City Music Hall on September 15, 2016 in New York City. | Source: Getty Images
Tony and his current wife, Susan, have no children. Although she has no children, Susan is delighted with the role of stepmother in the life of her husband's children.
Despite health issues and advanced age, Tony maintains a positive outlook on life and his family. He takes pleasure in seeing his grandchildren flourish and accomplish great things.
Tony said he never worries about his age, refuses to take it easy and says he's "always wide awake". In fact, he even joked that his doctor liked to kick him out of his appointments because he was so healthy.
It's clear that Tony's strength and determination are unbreakable, making him a true inspiration to all. His resilience in the face of illness only reinforced his status as a legendary singer and songwriter.
amomama